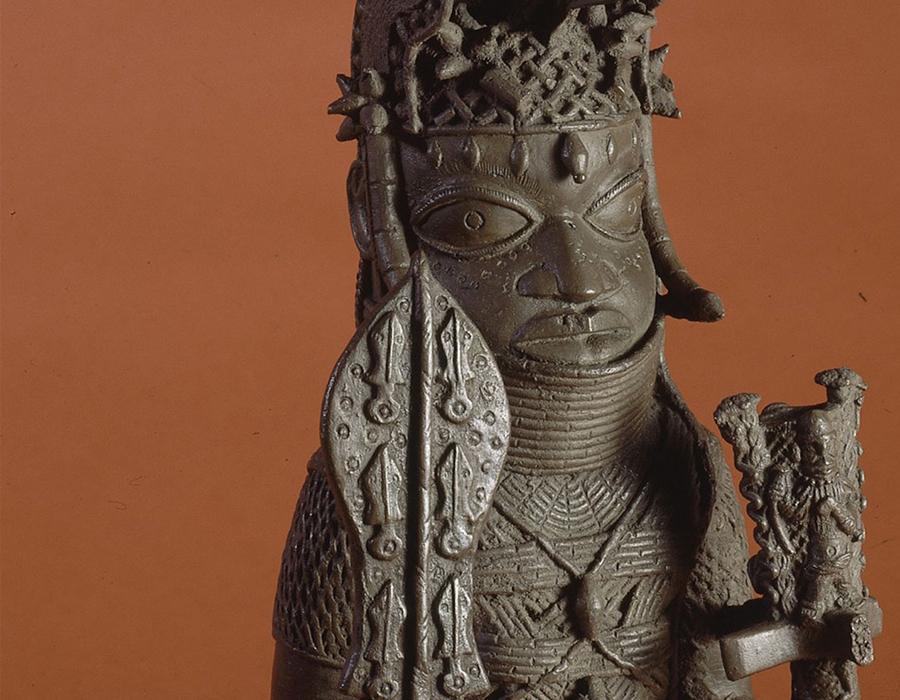 Benin collection
Benin collection at National Museums Liverpool.
In January 1897 the City of Benin, capital of the Edo Kingdom in southern Nigeria, possessed one of the most accomplished, long-surviving, and complex assemblages of court art to be found anywhere in the world. Today Benin's reigning monarch Oba Ewuare II has the distinction of representing a royal dynasty that began at about the beginning of the fourteenth century, in spite of the fact that the Benin monarchy was reconstituted under British colonial administration in 1914 and was incorporated within the Nigerian nation state in 1960. But although Oba Ewuare II's dynastic line remains the longest in existence anywhere, most of the many commemorative altarpieces and other royal artworks that helped to underpin the spiritual and political authority of Benin's Obas over the Edo Kingdom for hundreds of years have been scattered around the world. More than 3000 of these works of great cultural significance are now to be found in museums and private collections, mainly in Europe and North America.
The story of how the Edo Kingdom's priceless royal inheritance was dismantled and stolen by a British military force in February 1897 is one among other similar tales. It began in the 1880s with a competitive 'scramble' between European nations for African territories, resources and markets. British traders and colonial officials increasingly saw independent states, like the Edo Kingdom, as obstructions to British commercial interests and territorial claims over large parts of West Africa. Britain's inglorious colonial expansion into the region towards the end of the 19th century was achieved through trickery, illegitimate 'treaties' and threats, as well as lethal fire power. Liverpool trading firms operating in the Niger Delta region played a prominent part in this story and Liverpool's World Museum, as it is now called, was one of the first museums to exhibit stolen commemorative altarpieces from Benin's ransacked palace complex from October 1897.
This web page serves to share World Museum's Benin collection online as a globally accessible resource for museums, researchers, and Edo stakeholders in Nigeria and the diaspora. Approximately two thirds of the Benin collection consists of artworks that were acquired directly or indirectly from participants in the British looting of Benin City in 1897. The rest of the works were mainly acquired after 1897 with no known link to the looting, while four are understood to have been in Liverpool before 1897. 
The collection information provided here is not authoritative or complete, but is intended to assist knowledge exchange and discussion about the future of dispersed collections looted from Benin City in 1897. This page compliments World Museum's participation in the Digital Benin project, which was conceived to re-unite royal Edo artworks from collections around the globe in a merged online database that aims to provide a key resource for understanding the history and dispersal of Benin's royal inheritance.