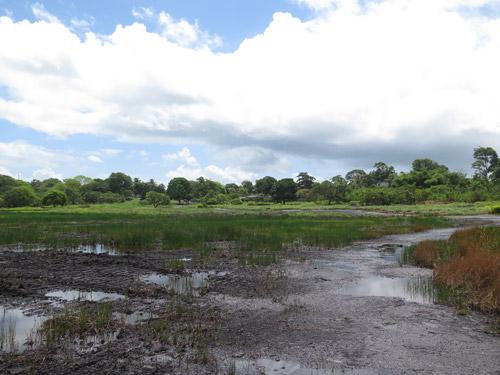 Trinidad and Tobago plant collection
We acquired this collection of 131 dried, pressed herbarium specimens from the Islands of Trinidad and Tobago in 2015. It includes 24 different species, with only 1 of them being a conifer Pinus caribaea. The rest are flowering plant species from a range of plant families including tropical examples of more well-known ones such as the Pea and Borage families.
This is part of the Seed Plants collection.
The specimens came to us via Dr Joanna Ostopkowicz's research work in the Caribbean, entitled 'Black pitch, carved histories: Prehistoric wood sculpture from Trinidad's Pitch Lake'. This project aimed to better understand the range and sources of materials used to carve ten prehistoric wooden objects recovered from Pitch Lake, Trinidad.  The woods used for the carvings were identified to genus level, including Andira sp., (common name: Angelin), Terminalia dichotoma (Oliver), Brosimum sp., (Gatia or Moussara), Carapa sp. (Carapo) and Platymiscium sp. (Roble). Read more about the field collecting in Joanna's blog. 
Joanna, along with colleagues from the National Herbarium of Trinidad and Tobago, collected finger-sized wood samples for her research into strontium values of the wood.   Strontium is an element that occurs naturally in groundwater and is absorbed along with nutrients by the tree's root systems during the course of their lives.  Measuring strontium tells us where the tree grew, providing a provenance. The project compared the results from the field-collected specimens to those from the artefacts to clarify where the wood in the artefacts may have originated.
Two herbarium samples of tree branchlets with flowers/fruits were also collected from each sample tree; one set for the national Herbarium of Trinidad and Tobago and one for Liverpool's herbarium here at World Museum.
World Museum's botany collection contains around 400,000 specimens from all over the world. However, only around 500 specimens, including a collection of grasses and wood veneers, come from the Caribbean Islands. This collection is therefore a great addition to our Extra-European herbarium at World Museum.