30th Birthday for National Museums Liverpool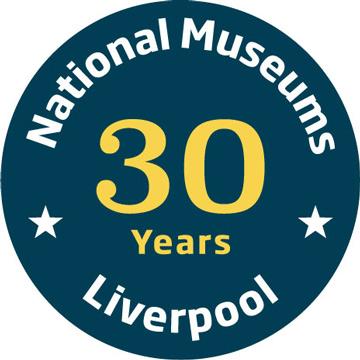 Liverpool's museums celebrate turning 30 with increased visitor figures
National Museums Liverpool is marking 30 years since it became a national museums service, with a boost in visitor figures to celebrate its landmark birthday.
In 1986, Liverpool's museums and galleries were transferred to the ownership of the nation due to the national importance of their collections.
Last year (2015/16), the eight museums and galleries in the group - including one of the most popular museums in the country outside London, the Museum of Liverpool – received more than 2.8 million visitors; an impressive 7% increase from the previous year's figures.*
David Fleming, Director of National Museums Liverpool, said:
"We're marking 30 years of being a national museums service this year, and it's brilliant to celebrate this occasion with such a boost to our visitor numbers. People are attracted to the Liverpool City Region from all over the world to visit our museums, which are undeniably world class.

"Being nationalised in 1986 was a huge milestone, as the nation recognised that Liverpool's museums are every bit as important as those in London."
The museums and galleries in Liverpool have been part of the city region's DNA for more than a century. Starting in Duke Street, Liverpool, in 1851, the small natural history collection called Derby Museum soon transferred to a new building on William Brown Street in 1860, where World Museum still exists today, welcoming some 700,000 visitors a year.
Along with the Walker Art Gallery, which also opened on William Brown Street in 1877, the group of museums has continued to grow over the past 165 years with the addition of the Lady Lever Art Gallery and Sudley House. The nationalised era began in 1986 with the opening of Merseyside Maritime Museum, one of the leaders in the renaissance of Albert Dock.
Recent years have seen the opening of two further museums, with the International Slavery Museum and Museum of Liverpool both having a huge impact in Liverpool and forging links around the world. Both museums welcomed almost 1.2 million visitors between them in 2015/16.
With eight museums and galleries, National Museums Liverpool is the only group of national museums in England outside of London. As attractions, they make a significant economic impact on the city region, with more than half of visitors coming from outside of Liverpool.
Phil Redmond, Chair of National Museums Liverpool, said:
"Liverpool's first museum service started 165 years ago when the 13th Earl of Derby donated collections to both complement and act as a counterbalance to those in London.

"165 years later, through many reincarnations, our museums and galleries, with their outstanding collections and international reputation, are still playing that role; a role that makes National Museums Liverpool the natural cultural powerhouse not just for the city-region, but for the entire North.

"National Museums Liverpool itself came into being in 1986, as a nationally funded service alongside the Merseyside Development Corporation, the two symbols of hope during a troubled time. The Merseyside Maritime Museum was the first building block in redeveloping the waterfront. The Museum of Liverpool was the latest.

"We are proud to celebrate 30 years, just as we are proud that, despite once again being in difficult times, National Museums Liverpool has shown how a national museums and galleries service can reach out, touch people and help change lives. It will continue to do so long into the future."
As part of National Museums Liverpool's 30th birthday celebrations, an online timeline charts key milestones and acquisitions over the past 30 years has been created, including:
• The discovery of Largen's Clawed Frog in 1986
• The acquisition of a propeller from Lusitania in 1989
• Peter Doig winning the John Moores Painting Prize with Blotter in 1993
• The opening of the Walker Art Gallery's pioneering children's gallery, Big Art, in 2006
• Commissioning artist Ben Johnson to paint The Liverpool Cityscape in 2008
• Award-winning dementia awareness training, House of Memories, launched in 2012
• The re-opening of the Lady Lever Art Gallery's South End galleries in 2016
www.liverpoolmuseums.org.uk/30years
#NML30
Notes to Editors
* Visitor Figures
Total visits 2015/16 – 2,847,986
Total visits 2014/15 – 2,654,302
= Increase of 7 %
National Museums Liverpool
National Museums Liverpool comprises eight venues, including some of the most visited museums in England outside of London. Our collections are among the most important and varied in Europe and contain everything from Impressionist paintings and rare beetles to a lifejacket from the Titanic. We attract more than 2.8 million visitors annually. Our venues are the Museum of Liverpool, World Museum, the Walker Art Gallery, Merseyside Maritime Museum, International Slavery Museum, Seized! (UK Border Force National Museum), Sudley House and the Lady Lever Art Gallery.