Alphonse Mucha: In Quest of Beauty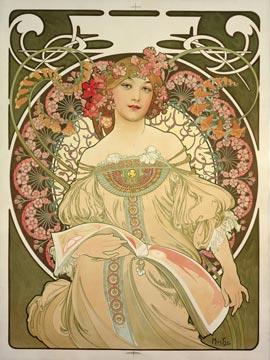 Major touring exhibition heads to Liverpool's Walker Art Gallery in June
Works of art by one of the most influential artists of the Art Nouveau movement will travel to Liverpool for the Walker Art Gallery's Alphonse Mucha: In Quest of Beauty exhibition, which runs from 16 June to 29 October 2017.

This major touring exhibition from the Mucha Foundation explores the work of Alphonse Mucha (1860-1939) around the theme of beauty. The Czech-born artist rose to fame in Paris in the late 1890s with his elegant designs for decorative panels and his iconic illustrations that featured on posters and product advertisements.

Showcasing around 100 works primarily drawn from the Mucha Trust collection, the exhibition will include drawings, paintings, photographs and a rare Mucha sculpture. It will also include a number of key Aesthetic and Art Nouveau works from National Museums Liverpool's collections, as well as sculptures by Auguste Rodin (1840-1917), a friend of Mucha's.
Xanthe Brooke, Curator of European Fine Art at the Walker Art Gallery, said:
"The works of Alphonse Mucha are undoubtedly some of the most widely-recognised examples of the Art Nouveau style, and still a popular choice for interior decoration and design.

"Prints of his most distinctive illustrative posters adorn the walls of many people's homes, and it's fantastic to see that Art Nouveau is still embraced by contemporary audiences and reflected in modern culture. We're looking forward to welcoming visitors to the Walker to see a huge array of his works, showing the depth of style and skill that Mucha employed to ensure an artistic legacy that lives on today."
The exhibition will include Gismonda, the first of six theatrical designs produced by Mucha for the French actress Sarah Bernhardt (1844-1923). Bernhardt was the greatest stage personality of her era, hailed as 'The Divine Sarah'. Gismonda proved to be such a popular design that posters featuring the artwork were stolen from hoardings in Paris at the time.

Following the success of his theatrical posters, Mucha signed an exclusive contract with a French publisher in 1896, producing some 80 designs with subjects ranging from consumer products such as perfume and confectionary to cultural and tourism events. The decorative designs reflected modern life in Paris at the time, referred to as 'La Belle Epoque'; translated to 'Beautiful Age'.

The decorative designs were also produced in large print runs and made available as affordable posters for the wider public to purchase. Mucha believed that attractive works of art elevated people's morale and improved the quality of their lives. His design formulas, known as 'le style Mucha', became a visual language for communicating his message of beauty.

Although he drew inspiration from a variety of influences, Mucha's style evolved from his Slavic roots. He integrated references to his homeland into his designs, including themes from nature, Slavic costume and folk art. The exhibition will showcase a preparatory pastel from Mucha's monumental Slav Epic series (1911-1926), which depicts a history of the Slav people.

Another key early influence on Mucha was the work of the British Pre-Raphaelite painter and designer Edward Burne-Jones (1833-1898). Burne-Jones' paintings became the success of Paris in 1889 after he exhibited there at the World Fair (Exposition Universelle). Mucha shared his appreciation for a tall, narrow design format and the curving pose of his female models.

The Art Nouveau style flourished across Europe with regional and national variants emerging. In Merseyside, its influence was felt in the Birkenhead-based Della Robbia Pottery Company (1893-1906), established by local artist and businessman Harold Rathbone and the sculptor/ceramicist Conrad Dressler. Decorative pottery by Della Robbia will feature in the exhibition.

Tickets for Alphonse Mucha: In Quest of Beauty are available to purchase in advance online, priced at £7 for adults and £5 for concessions.
The exhibition is free to anyone aged 18 and under and discounted tickets are available for existing members of National Museums Liverpool and other selected groups.
New members joining National Museums Liverpool before 29 October 2017 will receive their first entry to the exhibition for free.
For further information, and to purchase tickets or become a member, visit: www.liverpoolmuseums.org.uk/mucha
#alphonsemucha

Walker Art Gallery
William Brown Street, Liverpool, L3 8EL
Telephone 0151 478 4199
Open daily 10am-5pm
Entry to the permanent collection is free
www.liverpoolmuseums.org.uk/walker

Follow the Walker Art Gallery online:
Twitter: www.twitter.com/walkergallery
Facebook: www.facebook.com/walkerartgallery
Instagram: www.instagram.com/walkerartgallery

Notes to Editors
About the Walker Art Gallery
The Walker Art Gallery houses an internationally-renowned collection of paintings, sculpture and decorative art. It is one of Europe's finest galleries, with a collection that ranges from outstanding modern and contemporary works to Medieval and Renaissance masterpieces. Some of the greatest British artists of the last century are represented in the contemporary galleries, from Lucian Freud to David Hockney, while the Gallery's Impressionist collection is not to be missed. Visitors can also see paintings by 17th and 18th century masters including Poussin, Rembrandt and Gainsborough, before taking in the Walker's famed Pre-Raphaelite collection. Younger visitors will love Big Art for Little Artists, a gallery designed to introduce children to art in a fun and interactive way. The Walker Art Gallery is an Arts Council Collection National Partner. Between April 2016 and March 2019, the Gallery will curate and host an exciting and innovative series of contemporary art exhibitions, drawn from the Arts Council Collection.
www.liverpoolmuseums.org.uk/walker
About National Museums Liverpool
National Museums Liverpool comprises eight venues, including some of the most visited museums in England outside of London. Our collections are among the most important and varied in Europe and contain everything from Impressionist paintings and rare beetles to a lifejacket from the Titanic. We attract around 3 million visitors every year. Our venues are the Museum of Liverpool, World Museum, the Walker Art Gallery, Merseyside Maritime Museum, International Slavery Museum, Border Force National Museum, Sudley House and the Lady Lever Art Gallery.
www.liverpoolmuseums.org.uk