Ancient Animal Mummies farewell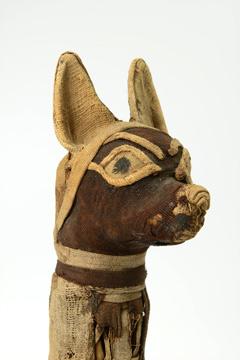 Egyptian animal mummy exhibition at World Museum to close
More than 100,000 people have visited Animal Mummies Revealed since the exhibition opened at the end of October last year. The first exhibition in the UK exploring ancient Egyptian animal mummies closes at World Museum in Liverpool on Sunday 26 February after its crowd-busting run.
Visitors have just a few more weeks to discover why Ancient Egyptians offered up animals as offerings to the gods. More than 59 specimens including mummified jackals, crocodiles, cats and birds are displayed alongside rare cultural artefacts that includes a bronze Ibis statuette – one of only two in Britain - 19th Century works of art, and previously unseen archives.
Animal Mummies Revealed also features photographs, archaeological archive material and travel journals that show how the animal mummies were excavated and selected by archaeologists and museum experts, and then distributed as curios and souvenirs, particularly in Britain. Bringing the story up-to-date, the exhibition shows how the study of mummies using X-ray and CT scanning technology has led to greater knowledge about the subject, though has still yet to reveal conclusively how animals and people were mummified.
Exhibition Curator, Dr Ashley Cooke said:
"We're thrilled that Animal Mummies Revealed has been so popular, with visitors enjoying the mummies that have come in all shapes and sizes, and not always what they first seem. The exhibition has been a good pre-cursor to the new ancient Egypt gallery at World Museum that is currently being renovated and refurbished to include more amazing objects and displays. It re-opens in the Spring, so visitors won't have to wait long".
Join us on Saturday 28 January for a day of free ancient Egypt themed activities inspired by Animal Mummies Revealed. Look out for Egyptian mummy wrapping demonstrations and a dramatic reconstruction of the infamous cat mummy auction of 1890 that took place in Liverpool. Visitors can also enjoy an afternoon of screen-printing and even make a pottery cat mummy coffin!
Animal Mummies Revealed was developed in partnership with Manchester Museum, the University of Manchester and Glasgow Museums. It is supported by a Wellcome Trust People Award and a Research Grant from the Leverhulme Trust.

Free entry
Open daily 10am-5pm
World Museum, William Brown Street,
Liverpool, L3 8EN
Telephone 0151 478 4393
liverpoolmuseums.org.uk/animalmummies
Facebook/worldmuseum
@World_Museum