Baroque Art from Rome to England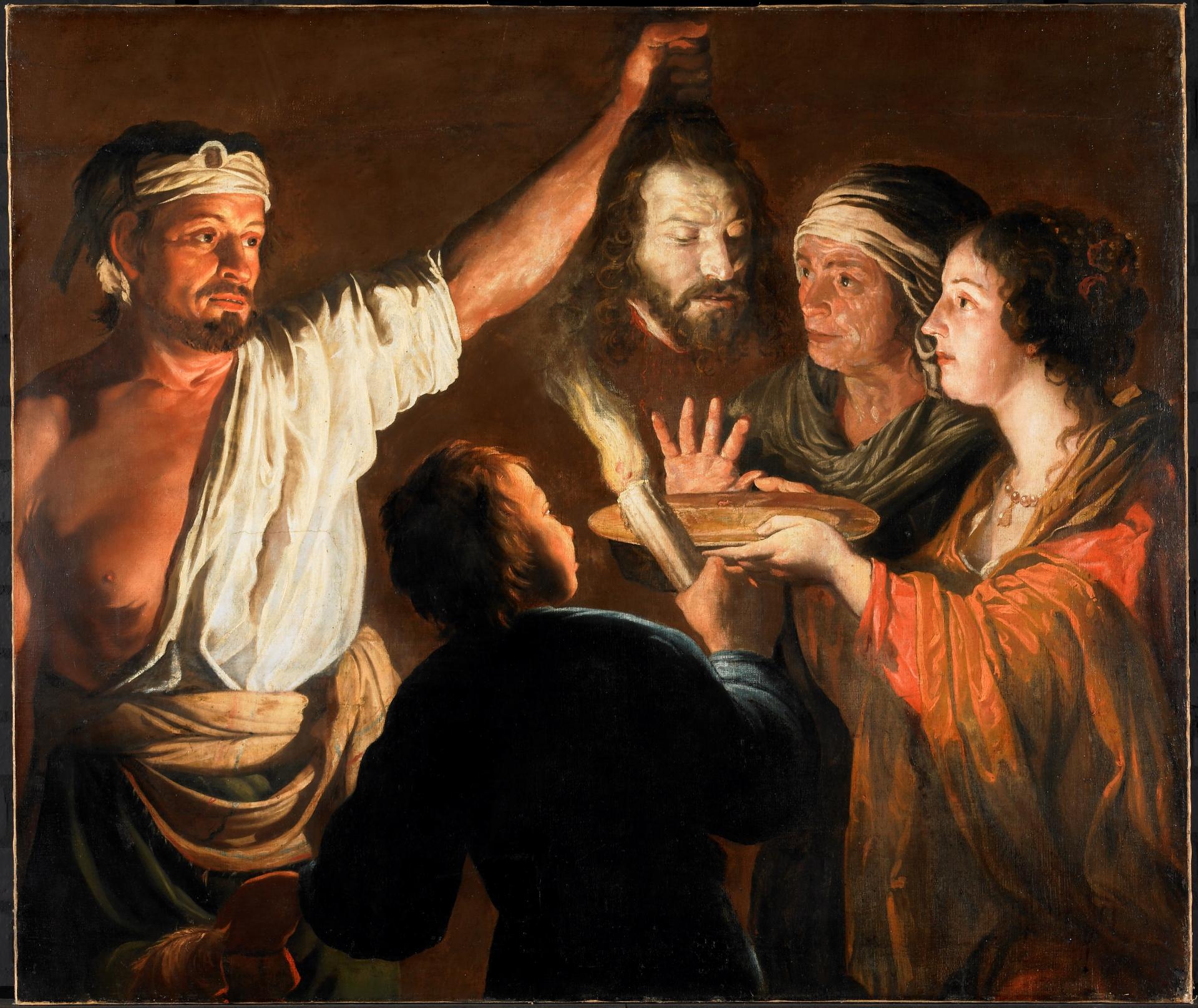 John the Baptist paintings together for the first time in a generation
From 30 March – 16 June 2019, the Walker Art Gallery in Liverpool will be exhibiting The Executioner with the Head of John the Baptist by William Dobson (painted between 1640 and 1646) next to the original composition, Salome receives the Head of John the Baptist by Matthias Stom (painted around 1630 – 1632), on loan from the National Gallery for this display.
The two paintings will be reunited for the first time in a generation.
Dobson copied Stom's painting probably while working at Charles I's court in Oxford. This display will provide an opportunity to compare the paintings and explore the relationship between Britain and the rest of Europe during the turbulent 1600s.
The display is a collaboration with the National Gallery Curatorial Traineeship Programme supported by Art Fund with the assistance of the Vivmar Foundation.
The Walker Art Gallery will also explore Baroque Europe and its tradition of copying by exhibiting other impressive and unseen 17th-century copies from its collection. These include St Jerome and a Rabbi after Guercino, which has never been displayed in the gallery before, as well as St Cecilia after Guido Reni and The Penitent Magdalene after Mateo Cerezo.
Kate O'Donoghue, National Gallery Curatorial Trainee supported by Art Fund with the assistance of the Vivmar Foundation, said:
"Baroque art is characterised by its drama, grandeur and emotive qualities. We want to connect British audiences with paintings from this era by focusing on the extraordinary story behind the Stom and Dobson works in particular. For just the second time since they were made about 380 years ago, and for the first time ever in Liverpool, these pictures will be reunited. Each is fascinating in its own right, but to see them together will be a rare and exciting opportunity. Dobson made some key changes in his version and viewing the works side by side will give us a chance to examine them up close. I think visitors will enjoy comparing them and spotting the differences.


"This display explores copying, which was common practice for painters in the 17th century. In the days before social media or sophisticated transport, copies were an essential way for artistic ideas to travel. The history of these paintings also encourages us to look at the relationship between Britain and the rest of Europe at the time, a topical subject in our society now."
Kate will be giving a free talk about these unique works and the fascinating stories behind them at the Walker Art Gallery at 12pm on Thursday 11 April.
http://www.liverpoolmuseums.org.uk/walker/events/displayevent.aspx?EventId=39285
Dobson's painting: unique for two reasons
William Dobson (1611 – 1646) is considered to be one of the greatest early English painters. His painting at the Walker Art Gallery, The Executioner with the Head of John the Baptist, is unique for two reasons. It is thought to be the only English work from the 17th century to be painted in the style of Italian painter Caravaggio. It was also unheard of for an English artist to depict such a Catholic scene in 17th-century Protestant England. With the country on the verge of civil war, it was a time of great political and religious turbulence. Dobson's decision to paint this violent, religious picture is considered a curious one.
Matthias Stom (about 1600 – after 1652) was a Dutch painter who worked mostly in Rome. Like many artists at the time, he was inspired by the dramatic lighting used by Caravaggio, and became famous for his theatrical candlelit scenes. Strongly contrasted light was commonly used by Baroque artists to add drama and tension to their paintings. Stom painted Salome receives the Head of John the Baptist between 1630 – 1632, most likely in Rome. It was brought to England by the 1640s, when the English painter William Dobson copied it. Shocking, religious images such as Stom's were rare in England in the 17th century.
Notes to Editors
About the Walker Art Gallery
The Walker Art Gallery houses an internationally-renowned collection of paintings, sculpture and decorative art. It is one of Europe's finest galleries, with a collection that ranges from outstanding modern and contemporary works to Medieval and Renaissance masterpieces. Some of the greatest British artists of the last century are represented in the contemporary galleries, from Lucian Freud to David Hockney, while the Gallery's Impressionist collection is not to be missed. Visitors can also see paintings by 17th and 18th-century masters including Poussin, Rembrandt and Gainsborough, before taking in the Walker's famed Pre-Raphaelite collection. Younger visitors will love Big Art for Little Artists, a gallery designed to introduce children to art in a fun and interactive way. The Walker Art Gallery is an Arts Council Collection National Partner.www.liverpoolmuseums.org.uk/walker
About National Museums Liverpool
National Museums Liverpool comprises eight venues, including some of the most visited museums in England outside of London. Our collections are among the most important and varied in Europe and contain everything from Impressionist paintings and rare beetles to a lifejacket from the Titanic. We attract more than 3 million visitors a year. Our venues are the Museum of Liverpool, World Museum, the Walker Art Gallery, Merseyside Maritime Museum, International Slavery Museum, Border Force National Museum, Sudley House and the Lady Lever Art Gallery.www.liverpoolmuseums.org.uk
National Museums Liverpool is regulated by the Department of Digital, Culture, Media and Sport (DCMS). Museums and galleries regulated by DCMS are exempt charities under Schedule 3 of the Charities Act 2011. Registered Office: World Museum, William Brown Street, Liverpool L3 8EN.

Art Fund
Art Fund is the national fundraising charity for art. In the past five years alone Art Fund has given £34 million to help museums and galleries acquire works of art for their collections. It also helps museums share their collections with wider audiences by supporting a range of tours and exhibitions, and makes additional grants to support the training and professional development of curators. Art Fund is independently funded, with the core of its income provided by 151,000 members who receive the National Art Pass and enjoy free entry to over 240 museums, galleries and historic places across the UK, as well as 50% off entry to major exhibitions and subscription to Art Quarterly magazine. In addition to grant-giving, Art Fund's support for museums includes Art Fund Museum of the Year (won by Tate St Ives in 2018) and a range of digital platforms.
The National Gallery
The National Gallery is one of the greatest art galleries in the world. Founded by Parliament in 1824, the Gallery houses the nation's collection of paintings in the Western European tradition from the late 13th to the early 20th century. The collection includes works by Bellini, Cézanne, Degas, Leonardo da Vinci, Monet, Raphael, Rembrandt, Renoir, Rubens, Titian, Turner, Van Dyck, Van Gogh and Velázquez. The Gallery's key objectives are to enhance the collection, care for the collection and provide the best possible access to visitors. More at nationalgallery.org.uk