Benedict Drew: Kaput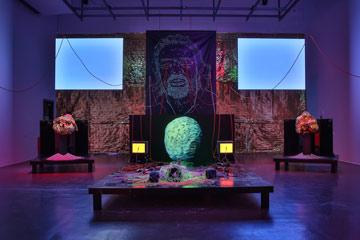 Richard Branson, space tourism and a mysterious saxophone at the Walker.
An Arts Council Collection work.
A large, fluorescent image of Richard Branson, with orange cables protruding from his eyes, is the focus of a new exhibition at the Walker Art Gallery. Benedict Drew: KAPUT, which runs from 28 October 2016 until 26 February 2017, explores the concept of space tourism through a thrilling, immersive installation owned by the Arts Council Collection.
Using a combination of video, audio and sculptural elements, artist Benedict Drew reflects on society's uncertain relationship with technology. Beneath the image of Branson – who founded Virgin Galactic, the first company dedicated to civilian space travel - Virgin spacecrafts soar across two screens, a foil backdrop flickers and the room buzzes with the sound of feedback, accompanied by the eerie sound of a saxophone.
For the visitor, psychedelic colours and music combine to create an environment that appears to be straight from the artist's imagination. KAPUT (2015) presents a dark, dystopian response to what Drew describes as 'the horrors of the modern world'.
Artist Benedict Drew said:
"KAPUT considers how the once utopian idea of space tourism was lost to the ultimate oligarch adventure, fronted by Virgin Galactic. Much in the same way, from the 17th century onwards, the European Grand Tour offered a tourism experience that could only be appreciated by the privileged, wealthy few. KAPUT proposes an alternative; to self-oscillate into a trance, to trust in the visions – there is knowledge in the visions – and to travel the inner spaceways."
Born in Australia in 1977, Whitstable-based Drew has exhibited artwork and performance pieces in solo and group shows both in the UK and internationally.
Running alongside KAPUT, the Walker will also present a selection of works by artists from north-west England. Looking North (28 October 2016 – 26 February 2017) showcases paintings, ceramics, sculpture and film, some of which have been drawn from the Arts Council Collection. Works by Mary Griffiths, Joe Fletcher Orr, Paul Rooney, Jason Thompson and Jesse Wine feature.
Visitors can also see ZOO LOGIC by Mark Leckey at the Gallery until 26 February 2016. This exhibition presents two unmissable installations by Turner Prize-winning artist Mark Leckey: Inflatable Felix and FEELINTHECAT; a 70th anniversary Arts Council Collection Commission.
The Walker Art Gallery has recently been announced as an Arts Council Collection National Partner. The Arts Council Collection is managed by Southbank Centre, London on behalf of Arts Council England.
Further details of the National Partner Programme will be announced on 27 October.
www.liverpoolmuseums.org.uk/kaput www.liverpoolmuseums.org.uk/lookingnorth
#WalkerACC
#ACCNationalPartners
#artscouncilcollection
Free entry
Open daily 10am-5pm
Walker Art Gallery
William Brown Street,
Liverpool, L3 8EL
Telephone 0151 478 4199
www.liverpoolmuseums.org.uk/walker
Follow the Walker Art Gallery online:
Twitter: www.twitter.com/walkergallery
Facebook: www.facebook.com/walkerartgallery
Instagram: www.instagram.com/walkerartgallery
Notes to Editors
About Benedict Drew
Solo Exhibitions 2015 KAPUT, QUAD, Derby. 2014 Benedict Drew Heads May Roll Matt's Gallery, London; The Persuaders', Adelaide Festival, SASA Gallery Adelaide, Australia; Zero Hour Petrified, Ilam Campus Gallery, School of Fine Arts University of Canterbury, New Zealand. 2013 The Onesie Cycle (VIP) - a solo exhibition across two venues, Phoenix and Two Queens Gallery, Leicester; The Onesie Cycle, Rhubaba, Edinburgh, Scotland. 2012 Now Thing, Whitstable Biennale; THIS IS FEEDBACK, Outpost, Norwich; Gliss, Cell Project Space, London; The Glass Envelope, Zabludowicz Collection, London; The Persuaders, Circa Site / AV Festival, Newcastle. Selected Group Exhibitions 2015 British Art Show 8, Leeds, Edinburgh, Norwich, Southampton. 2014 Acid Rain, Island Gallery, Brussels. 2013 Museum of Arts and Design, New York, USA; BLASTOMERE, Young Projects Gallery, Los Angeles, USA Bold Tendencies, London; SNAP: Art at the Aldeburgh Festival, Aldeburgh; R-U-Dead Yet? Summerhall, Edinburgh; Fresh Trauma, Ceri Hand Gallery, London; Is That All There Is?, Import Projects, Berlin; While It Lasts, A Show-reel. Eastside Projects, Birmingham; While It Lasts, A Show-reel. Milton Keynes Gallery; Unspecific Objects, The Royal Standard, Liverpool; LONG LIVE THE NEW FLESH, ICA, London (event and publication). 2012 Revolver Part 3, Matt's Gallery, London; The Stone of Folly, Downstairs at Great Brampton House, Hereford; Paraproduction, Boetzerlaer|Nispen, Amsterdam; Young London, V22, London; Soundworks, ICA, London; Containing the Possible, Pippy Houldsworth Gallery, London; There is not and never had been anything to understand, ASC Gallery, London; Things That Have Interested Me, Waterside Contemporary, London; Writtle Calling, radio broadcast; Whitstable Biennale, Whitstable; The Persuaders, AV Festival, Newcastle.
About the Walker Art Gallery
The Walker Art Gallery houses an internationally-renowned collection of paintings, sculpture and decorative art. From an outstanding collection of modern and contemporary works to Medieval and Renaissance masterpieces, it is one of Europe's finest galleries. Some of the greatest British artists of the last century are represented in the contemporary galleries, from Lucian Freud to David Hockney, while the Gallery's Impressionist collection is not to be missed. Visitors can also see paintings by 17th and 18th century masters including Poussin, Rembrandt and Gainsborough, before taking in the Walker's famed Pre-Raphaelite collection. Younger visitors will love Big Art for Little Artists, a gallery designed to introduce children to art in a fun and interactive way.
About National Museums Liverpool
National Museums Liverpool comprises eight venues, including some of the most visited museums in England outside of London. Our collections are among the most important and varied in Europe and contain everything from Impressionist paintings and rare beetles to a lifejacket from the Titanic. We attract more than 2.8 million visitors every year. Our venues are the Museum of Liverpool, World Museum, the Walker Art Gallery, Merseyside Maritime Museum, International Slavery Museum, Border Force National Museum, Sudley House and the Lady Lever Art Gallery.
About Arts Council Collection
The Arts Council Collection is a national collection of British art from 1946 to the present day and holds nearly 8,000 works which are available for loan to spaces across the UK. With more than 1,000 loans made to over 100 venues a year, it is seen by millions of people annually in public spaces from galleries and museums to hospitals, libraries and universities. Representing one of the most important collections of British modern and contemporary art in the world, it includes work from Francis Bacon, Barbara Hepworth and Henry Moore to Lucian Freud, Antony Gormley and Grayson Perry. The Collection supports and promotes British art and British artists by buying art when they are in the early stages of their career, and continues to acquire new work and support emerging artists. The Arts Council Collection is managed by Southbank Centre, London and the Sculpture Centre is located at Longside in Yorkshire Sculpture Park. www.artscouncilcollection.org.uk
About Arts Council Collection National Partner Programme
To mark the Arts Council Collection's 70th anniversary in 2016, Arts Council England has invested in a network of four National Partner museums and galleries across England, deepening their longstanding relationship with the Collection. The four National Partner museums and galleries are the Towner Art Gallery, Eastbourne, Birmingham Museums Trust, The Walker Art Gallery, National Museums Liverpool and the Collection's existing partner, Yorkshire Sculpture Park. The partners will provide a year-round home for art works within the Collection, hosting a special programme of 24 National Partner exhibitions over the next three years. Art works from the Collection will be displayed in National Partner galleries between April 2016 – March 2019, enabling even more people – particularly children and young people across England – to see and enjoy works from the Collection.
About Arts Council England
Arts Council England champions, develops and invests in artistic and cultural experiences that enrich people's lives. We support a range of activities across the arts, museums and libraries – from theatre to digital art, reading to dance, music to literature, and crafts to collections. Great art and culture inspires us, brings us together and teaches us about ourselves and the world around us. Between 2015 and 2018, we plan to invest to help create these experiences for as many people as possible across the country. www.artscouncil.org.uk
About Southbank Centre
Southbank Centre is the UK's largest arts centre, occupying a 21-acre site that sits in the midst of London's most vibrant cultural quarter on the South Bank of the Thames. Southbank Centre is home to the Royal Festival Hall, Queen Elizabeth Hall, Purcell Room and the Hayward Gallery as well as The Poetry Library. For further information please visit www.southbankcentre.co.uk. Arts Council Collection is managed by Southbank Centre on behalf of Arts Council England.