The Blind School: Pioneering People and Places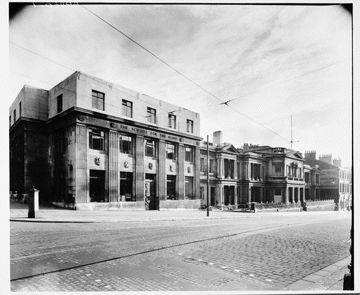 The history of UK's first school for blind people
Personal stories and objects reveal the history of the UK's first school for blind people, in a new exhibition to be staged at the Museum of Liverpool.
Founded in 1791, Liverpool's Royal School for the Blind, in particular its buildings and the everyday lives of students, is central to The Blind School: Pioneering People and Places, running at the Museum of Liverpool from 26 January until 15 April 2018.
Supported by the Heritage Lottery Fund (HLF) The Blind School: Pioneering People and Places has been made possible thanks to National Lottery players.
The exhibition features unique objects from the Museum's own collection alongside loans, personal stories and a film made in partnership with visually impaired and blind students from St Vincent's School for Sensory Impairment, West Derby.
The exhibition is curated in partnership with Accentuate's History of Place project, which explores 800 years in the lives of deaf and disabled people, and highlights accessible interpretation including audio description, BSL and multisensory features.
It is estimated today that there are one billion disabled people in the world. Yet the history of deaf and disabled people continues to be overlooked, despite their stories being intrinsic to the environments we live in and around every day. The Blind School: Pioneering People and Places, explores what the architectural legacy of the School can reveal about the lives of those connected with it.
The Liverpool Blind School was founded by the blind abolitionist and human rights campaigner Edward Rushton, along with a number of his blind and sighted associates.
Rushton had first hand experience of slavery through working on slave ships. His compassion for, and proximity to enslaved people led him to contract a disease which cost him his sight. As a result of his experiences of blindness and poverty and realising the poor treatment and life chances of many less wealthy blind people, he founded the school to offer training and skills.
The exhibition gives us a moving insight into the daily lives of the pupils, the strict rules that they had to follow, how they crafted superb objects for sale and their leisure pursuits. The exhibition also considers how although learning trades enabled students to earn a living this sometimes replaced the basic education they were entitled to.
Central to the story are the three purpose-built buildings that housed the school during its history and how changing attitudes reflected the changing architecture to meet the needs of pupils.
Kay Jones, Curator of Urban Community History said:
"We are proud to be working with History of Place on this exhibition. The story of Liverpool's Royal School for the Blind is not only a fascinating local story but has a much broader relevance too. The School has been through many changes and this exhibition draws on these to reflect changing attitudes in society.

"This remarkable, pioneering school was set up in Liverpool by blind and sighted individuals. As only the second school of its kind in the world, it led the way in educating and empowering blind people. It has changed hundreds of people's lives in its almost 300 year history, and continues to do so."
Esther Fox, Head of the Accentuate Programme said:
"Our History of Place project has been working with communities across the country to shine a spotlight on 800 years of history, specifically telling the stories of deaf and disabled people. Our exhibitions hosted by our partner museums represent a fantastic opportunity to showcase artefacts which have not been seen before as well as push the boundaries as to what we mean by making exhibitions accessible. Disabled people have been at the heart of the research process, along with the design and creation of the exhibition, this leads to a much richer and more authentic experience."
www.liverpoolmuseums.org.uk/blindschool
#BlindSchool
The Blind School: Pioneering Places and People is part of History of Place, a national project run by Accentuate, to explore the deep connections between the histories of deaf and disabled people and the built environment.
You can also visit History of Place's other exhibitions:
Brave Poor Things: Reclaiming Bristol's Disability History at M Shed, Bristol, until April 2018.
Without Walls: Disability and Innovation in Building Design at the Victoria and Albert Museum, London, 10 February – September 2018
Notes to Editors:
History of Place is a national project delivered by the Accentuate programme, supported by a £878,500 grant from the Heritage Lottery Fund
About Screen South / Accentuate
Screen South is a not for profit Creative Development company operating in the wider creative and cultural community. Accentuate is one of Screen South's portfolio of projects. As well as managing and delivering creative projects Screen South is involved with wide ranging partners to deliver educational and training programmes using various medium including film and other creative practices.
Screen South has a history of working in the Heritage sector through its involvement with regional film archives and projects like the Digital Film Archive Programme, delivering the hugely successful Kent in WW1 project and through the Accentuate programme which provided training in improving access and interpretation of Heritage sites in partnership with the Heritage Open Days initiative.
Accentuate, operating under the organisational umbrella of Screen South, launched in December 2009 as the 2012 Legacy Programme for the South East inspired by the Paralympic Movement. Accentuate continues to challenge perceptions of disability by providing life-changing opportunities for Deaf and disabled people to participate and lead within the cultural sector. Alongside the History of Place project, Accentuate in partnership with Bath Spa University is also managing a multi-partner research project funded by Arts and Humanities Research Council entitled D4D - Disability and Community: Dis/engagement, Dis/enfranchisement, Dis/parity and Dissent.
www.screensouth.org | www.accentuateuk.org | www.historyof.place | www.d4d.org.uk
Museum of Liverpool
The Museum of Liverpool is one of the country's most visited museums outside of London. It is the largest newly-built national museum in Britain for more than a century, demonstrating Liverpool's unique contribution to the world. The first national museum devoted to the history of a regional city, it showcases popular culture while tackling social, historical and contemporary issues. It has attracted more than four million visitors since opening in July 2011. The prestigious Council of Europe Museum Prize for 2013 was awarded to the Museum for its commitment to human rights as well as its work with children and families from all backgrounds.
The Museum has received generous support from several major funders, and grants from trusts and foundations, corporate support and individual donations. Major funders include the Northwest Regional Development Agency (NWDA), The European Regional Development Fund (ERDF), the Heritage Lottery Fund (HLF), the Department for Culture Media and Sport (DCMS),Garfield Weston Foundation and the Clore Duffield Foundation.
The Northwest Regional Development Agency (NWDA) was responsible for the sustainable economic development and regeneration of England's Northwest and had five key priorities: Business, Skills and Education, People and Jobs, Infrastructure and Quality of Life.
The European Development Fund (ERDF) is making a real difference to people and businesses in the North West. With €755 million to invest between 2007 and 2013, ERDF is enhancing the competitiveness of the region's economy by supporting growth in enterprise and employment. ERDF in the North West is managed by the Department for Communities and Local Government – for further information visit www.communities.gov.uk/erdf.
Using money raised through the National Lottery, the Heritage Lottery Fund (HLF) sustains and transforms a wide range of heritage for present and future generations to take part in, learn from and enjoy. From museums, parks and historic places to archaeology, natural environment and cultural traditions, we invest in every part of our diverse heritage. HLF has supported more than 30,000 projects allocating £4.5billion across the UK.
About National Museums Liverpool
National Museums Liverpool comprises eight venues, including some of the most visited museums in England outside of London. Our collections are among the most important and varied in Europe and contain everything from Impressionist paintings and rare beetles to a lifejacket from the Titanic. We attract more than 3 million visitors every year. Our venues are the Museum of Liverpool, World Museum, the Walker Art Gallery, Merseyside Maritime Museum, International Slavery Museum, Seized! (UK Border Force National Museum), Sudley House and the Lady Lever Art Gallery.