Boost for Border Force Museum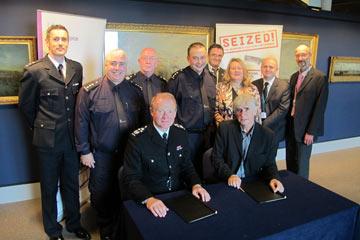 Seized! receives 20 year support from lead partner
Liverpool's Border Force National Museum has been given a major boost through a new agreement between its key partners.
National Museums Liverpool and Border Force have put pen to paper on a new 20 year agreement to manage the popular Museum - also known to visitors as Seized! The Border and Customs uncovered.
The Museum, which is free entry, is located in Merseyside Maritime Museum.
Border Force is the law enforcement command within the Home Office responsible for protecting UK borders. After backing the Museum for the last two decades it has now pledged support until at least 2024.
Sir Charles Montgomery, Director General of Border Force, recently visited to sign a Trust Deed establishing long-term support for the Museum to carry out its work.
The Museum, which opened in 1994, allows visitors to enter a dark and unseen world of smuggling, intrigue and danger, where things are not always what they seem. A key theme is anti-smuggling. This includes detective work, crime fighting, patrolling frontiers and investigation.
Steve Butler, Curator of Border Force National Museum Collection, said:
"It's fantastic to have this support which cements our relationship for the next 20 years. The Museum tells some key stories around border protection, the danger of fake goods and the illegal trade in endangered species.

"There is a rich education programme. We have worked with thousands of teenagers through our pioneering anti-drugs programme Rush. The on-going support from Border Force means we can carry on this valuable work and reach out to visitors and teenagers for years to come."
Object highlights at the Museum: Albert Einstein's landing card, given to him as he fled the Nazis, a drug smugglers body suit, a replica white rhino horn, bullet damaged baboon skull reflecting illegal on line trade.
More information at www.liverpoolmuseums.org.uk/seized
Notes to Editors
About National Museums Liverpool
National Museums Liverpool comprises eight venues. Our collections are among the most important and varied in Europe and contain everything from Impressionist paintings and rare beetles to a lifejacket from the Titanic.
We attract more than 2.7m visitors every year. Our venues are the International Slavery Museum, Lady Lever Art Gallery, Merseyside Maritime Museum, Museum of Liverpool, Sudley House, Border Force National Museum, Walker Art Gallery and World Museum.
Merseyside Maritime Museum is situated at the Albert Dock. It contains a variety of objects associated with the social and commercial history of the port of Liverpool.
About Border Force
Border Force is a law enforcement command within the Home Office responsible for protecting the UK border. Border Force was created in March 2012. It is responsible for entry controls and customs functions at the border, including our juxtaposed controls in France and Belgium, covering responsibilities including immigration and security checks, prevention of people trafficking, anti-smuggling of banned and restricted goods including drugs and weapons and protection of border revenue.