Can you dig it?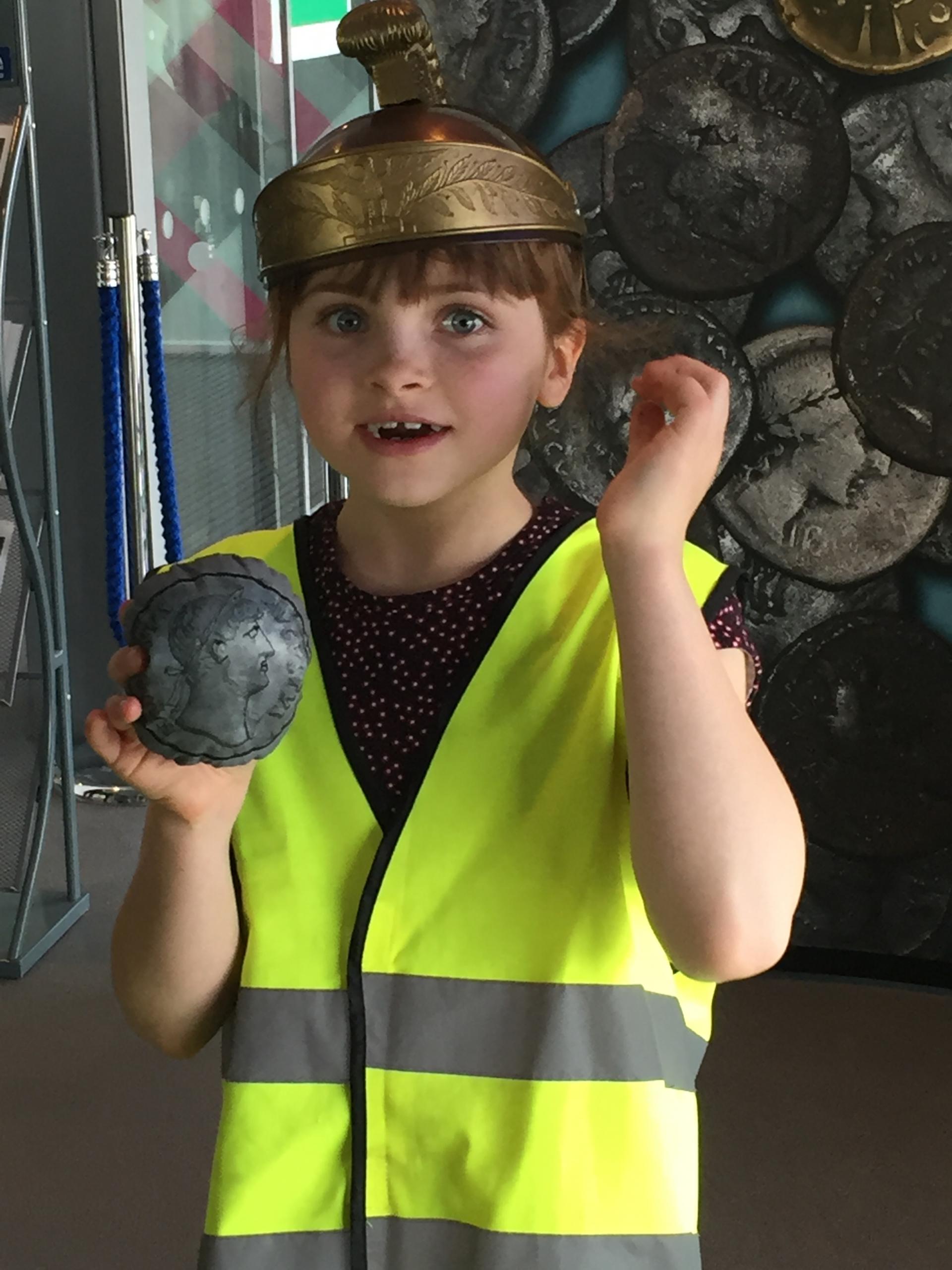 Festival of Archaeology at Museum of Liverpool
The Museum of Liverpool is digging around the history of the local area with events for all the family from 22 to 30 July 2017.
From the five thousand year old technique of using a bow drill to make a Stone Age pendant, to 21st century facial reconstruction technology from Liverpool John Moores University's Face Lab, visitors can get hands-on with some of the most exciting aspects of archaeological work.
The programme of treasure hunts, talks, trails, object-handling and more, promises to be a perfect start to the summer holidays and opportunity to develop a love for history and an appreciation for Merseyside's dynamic past.
Liz Stewart, Curator of Archaeology and the Historic Environment at the Museum of Liverpool, said:
"July is always an exciting time of year for the archaeology team at Museum of Liverpool, as we celebrate the annual, national, Festival of Archaeology.

"We're hosting an array of fun activities for people of all ages with an interest in archaeology and history, as well as for those who might be new to the subject. Throughout the nine days visitors can discover Liverpool's lost castles, make a piece of Roman-inspired jewellery and learn how archaeologists find and record the objects we see on display in Museums.

"The Festival of Archaeology is a national scheme co-ordinated by the Council of British Archaeology. We're extremely proud that the Museum of Liverpool is the largest hub of events in the North West, reflecting the importance of the archaeological work undertaken by our team."
www.liverpoolmuseums.org.uk/archaeology
Did you know?
• There are more than 100,000 objects in the Museum of Liverpool's archaeology collection.
• The archaeological collections at the Museum range from Mesolithic microliths to modern money.
• There is archaeology under your feet when you visit the Museum of Liverpool. An excavation in advance of the building works recovered more than a tonne of pottery dumped in order to reclaim land and build the Manchester Dock.
• The Museum's timeline includes the oldest known meal on Merseyside; hazelnuts, roasted around 8500 BC by hunter-gatherer people in the Mesolithic period.
Events:
Face Lab
Thursday 27 July
1pm - 4pm
Discover the skills and technology behind Liverpool John Moores University's Face Lab with hands-on activities. Explore facial reconstruction including celebrity face ID from plaster casts, basic facial reconstruction skills and techniques, trials with haptic 3D modelling software, surface scanning and computerised facial reconstruction. Suitable for all visitors.
Stone Age Pendant-making
Saturday 29 July
12.30 - 3.30pm
Join Travellers Through Time to try your hand at using a Stone Age bow drill to make your very own pendant. Suitable for all visitors.
Little Diggers
Saturday 22 & Monday 24 - Friday 28 July
Ticketed sessions: 11.30am, 1pm and 2.30pm
Follow the clues to find the treasures hidden around the Museum in this fun and informative hunt especially for our younger visitors. Suitable for children 3-7 years old.
Roman Fibula-making
Saturday 22 July
12.30 - 3.30pm
Join Travellers Through Time to make your own Roman-style brooch using bent wire and beads. Suitable for all visitors.
Let's Be Archaeologists
Monday 24 to Wednesday 26 July
Ticketed sessions: 11am, 2pm and 3pm
Be an archaeologist and make your own discoveries about Liverpool and the surrounding areas. Carry out excavations of Roman, Viking, Tudor and Victorian sites, whilst learning about the importance of evidence and investigating the finds. Suitable for families.
Archaeology Crafternoon
Monday 24, Wednesday 26, Saturday 29 and Sunday 30 July 1 - 4pm
Tuesday 25 and Thursday 27 July 11 - 12.30pm and 1 - 4pm
Get making! Learn more about the archaeology of our region and make something to take home with you too. Suitable for families.
Curatorial Talks
Friday 28 July
12.30pm - 4.30pm
Join our archaeologists to learn about latest discoveries and highlights from the collection in a series of five curatorial talks. Suitable for adults.
• 12.30pm How do we date Prehistory? - Ron Cowell, Curator of Prehistory
• 1.15pm Treasure 20 - Vanessa Oakden, Portable Antiquities Scheme Finds Liaison Officer
• 2.00pm Lost Liverpool Castles - Liz Stewart, Curator of Archaeology and the Historic Environment
• 2.45pm Prized Pots - Jeff Speakman, Assistant Curator of Regional Archaeology
• 3.30pm Copper and the Pattens, Salt and the Blackburnes, Flour and the Dumbells - Mark Adams, Curator of Regional and Community Archaeology
Archaeology Object Handling
Monday 24 - Sunday 30 July
Intervals
Join the venue's Education team to take a look at the Museum's archaeology handling collection. Suitable for all visitors.
Fun Finds
24 July
1.30 - 4pm
See some of the latest discoveries from Merseyside and learn how archaeologists interpret and record finds. Suitable for all visitors.
Timeline Tours
27 July
11.30
Explore the timeline of Merseyside's past from Ice Age to present through this fascinating tour.
As part of the Festival of Archaeology, a wonderful and rare fragment of Anglo-Saxon sculpture is on display for the first time, accompanied by evidence of Merseyside's earliest use of pottery, both found during the recent excavations at Bromborough, Wirral, in a new display, Lost and found…and found again.
These finds, on display until 2018, indicate a long history of human activity in the area. The earliest objects suggest there was a Neolithic /Bronze Age settlement in the area around 6,000 years ago.
Notes to Editors:
Museum of Liverpool
The Museum of Liverpool is one of the country's most visited museums outside of London. It is the largest newly-built national museum in Britain for more than a century, demonstrating Liverpool's unique contribution to the world. The first national museum devoted to the history of a regional city, it showcases popular culture while tackling social, historical and contemporary issues. It has attracted more than two million visitors since opening in July 2011. The prestigious Council of Europe Museum Prize for 2013 was awarded to the Museum for its commitment to human rights as well as its work with children and families from all backgrounds. The Museum has received generous support from several major funders, and grants from trusts and foundations, corporate support and individual donations. Major funders include the Northwest Regional Development Agency (NWDA), The European Regional Development Fund (ERDF), the Heritage Lottery Fund (HLF), the Department for Culture Media and Sport (DCMS),Garfield Weston Foundation and the Clore Duffield Foundation.
The Northwest Regional Development Agency (NWDA) was responsible for the sustainable economic development and regeneration of England's Northwest and had five key priorities: Business, Skills and Education, People and Jobs, Infrastructure and Quality of Life.
The European Development Fund (ERDF) is making a real difference to people and businesses in the North West. With €755 million to invest between 2007 and 2013, ERDF is enhancing the competitiveness of the region's economy by supporting growth in enterprise and employment. ERDF in the North West is managed by the Department for Communities and Local Government – for further information visit www.communities.gov.uk/erdf.
Using money raised through the National Lottery, the Heritage Lottery Fund (HLF) sustains and transforms a wide range of heritage for present and future generations to take part in, learn from and enjoy. From museums, parks and historic places to archaeology, natural environment and cultural traditions, we invest in every part of our diverse heritage. HLF has supported more than 30,000 projects allocating £4.5billion across the UK. www.hlf.org.uk
About National Museums Liverpool
National Museums Liverpool comprises eight venues, including some of the most visited museums in England outside of London. Our collections are among the most important and varied in Europe and contain everything from Impressionist paintings and rare beetles to a lifejacket from the Titanic. We attract more than 3 million visitors every year. Our venues are the Museum of Liverpool, World Museum, the Walker Art Gallery, Merseyside Maritime Museum, International Slavery Museum, Border Force National Museum, Sudley House and the Lady Lever Art Gallery.