Chinese New Year Spectacular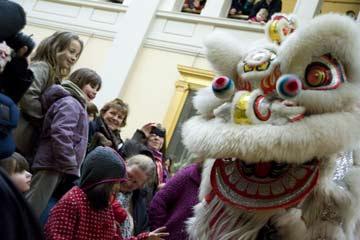 Lady Lever Art Gallery to host three days of free events and activities
Celebrate Chinese New Year with a host of exciting free events and activities taking place at the Lady Lever Art Gallery from 19-21 February.
Visitors can enjoy live music and performances, including colourful lion and dragon dances, Chinese storytelling and calligraphy demonstrations.
There will also be drop-in craft workshops for families to take part in, from 1-4pm daily. Little ones will love the chance to get hands-on making masks, collages and Chinese zodiac animals.
Jon Marrow, Senior Education Manager, said:
"We're looking forward to marking Chinese New Year with three days of free fun at the Gallery. Working closely with the Wirral Chinese Association, we've developed a fantastic programme of events and activities for the whole family to enjoy."
The celebrations take place as the Lady Lever looks ahead to the re-opening of its South End galleries in spring 2016. The galleries house an internationally-renowned collection of Chinese ceramics, which will be redisplayed as part of the major development project.
Jon Marrow continued:
"In September 2014, we received a major grant from the Heritage Lottery Fund (HLF) to improve the South End galleries, which house our fabulous Chinese ceramic collections. This exciting news makes this year's celebrations even more special as we look forward to the new galleries opening next year."
The Gallery is well-placed to welcome in the Year of the Goat, as one of its most renowned paintings is William Holman Hunt's The Scapegoat. Hanging in the Main Hall of the Gallery, the painting is perfectly positioned at the centre of the three-day festivities.
The Year of the Goat can also be referred to as the Year of the Sheep as both words have the same meaning in Cantonese.
The Lady Lever Art Gallery, located in Port Sunlight village, Wirral, is open from 10am-5pm daily. Chinese New Year events are taking place at a number of National Museums Liverpool's venues across Merseyside. For the full list of events, visit liverpoolmuseums.org.uk/chinesenewyear
Chinese New Year events at the Lady Lever Art Gallery:
Craft workshops
19, 20, 21 February, 1-4pm
Join the Lady Lever team in the Activity Rooms for seasonal collage fun!
Chinese New Year gallery trail
19, 20, 21 February, 10am-5pm
Explore the Gallery with a free themed trail. Trails can be picked up from the Information Desk.
Chinese New Year storytelling
19 February, 1pm, 2pm & 3pm
Hear some terrific tales while discovering more about Chinese New Year superstitions and customs.
Chinese harp performance
20 February, 1pm, 2pm & 3pm
Enjoy enchanting music in the Main Hall, performed by musicians from Pagoda Arts.
Lion & dragon dance performance
21 February, 1pm & 2pm
Watch a spectacular gallery performance of the lion and dragon dances, performed by the Liverpool Cantonese School of Kung Fu.
Singme Merseyside choir performance
21 February, 3pm
Singme Merseyside bring the celebrations to a close with a selection of their favourite songs.
Notes to editors
About the Lady Lever Art Gallery
The Lady Lever Art Gallery houses one of the UK's greatest collections of fine and decorative art. An extensive programme of restoration and improvement is currently underway in the South End of the Gallery. The £2.8m project will see 500 square metres of gallery space transformed. The galleries will be returned to their original architectural design and more than 1,500 objects will be redisplayed, including the best collection of Wedgwood jasperware in the world, one of the finest collections of Chinese porcelain in Europe and outstanding 18th century paintings, furniture and sculpture. The scheme will be funded through donations, corporate sponsorship and major grants, including a generous grant of £1.2m from the The Heritage Lottery Fund (HLF).For more information on the project, visit liverpoolmuseums.org.uk/leverplans
Lady Lever Art Gallery Port Sunlight Village, Wirral L62 5EQ
Admission FREE
Open 10am-5pm daily
Information 0151 478 4136
Website www.liverpoolmuseums.org.uk
Twitter www.twitter.com/leverartgallery
Facebook www.facebook.com/ladyleverartgallery
About the Heritage Lottery Fund
Using money raised through the National Lottery, the Heritage Lottery Fund (HLF) aims to make a lasting difference for heritage, people and communities across the UK and help build a resilient heritage economy. From museums, parks and historic places to archaeology, natural environment and cultural traditions, we invest in every part of our diverse heritage. HLF has supported over 36,000 projects with more than £6bn across the UK. www.hlf.org.uk.
Laura Bates, HLF press office, 020 7591 6027 lbates@hlf.org.uk
About National Museums Liverpool
National Museums Liverpool comprises eight venues. Our collections are among the most important and varied in Europe and contain everything from Impressionist paintings and rare beetles to a lifejacket from the Titanic. We attract more than 2.7 million visitors every year. Our venues are the International Slavery Museum, Lady Lever Art Gallery, Merseyside Maritime Museum, Museum of Liverpool, Sudley House, UK Border Force National Museum, Walker Art Gallery and World Museum.