Collection in Focus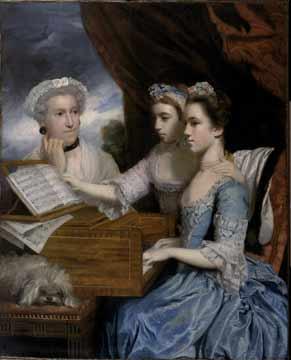 Lever's art collection joins the Holts' at Sudley House
Nine paintings from the Lady Lever Art Gallery have gone on temporary display at Sudley House, providing visitors with a rare opportunity to compare works collected by two of Merseyside's most renowned art collectors.
National Museums Liverpool has chosen to tour the artworks to Sudley House, located in South Liverpool, while a major programme of restoration is underway at the Lady Lever Art Gallery located in Port Sunlight village, Wirral. By displaying them at Sudley House the public are still able to see these wonderful artworks, and learn more about the restoration project taking place at the Lady Lever Art Gallery.
The £2.8 million South End Development Project is funded through donations, corporate sponsorship and major grants, including a generous grant of £1.4m from the Heritage Lottery Fund (HLF).
The paintings from the Lady Lever Art Gallery – which include works by Joshua Reynolds, John Francis Rigaud and Rene Theodore Berthon – are being shown at Sudley House, the former home of Victorian shipping merchant George Holt, which houses the only surviving Victorian art collection in Britain that is still hanging in its original setting.
Charlotte Keenan, Curator of British Art at National Museums Liverpool, said:
"We are pleased to be able to show a selection of artwork from the Lady Lever Art Gallery, while the redevelopment of its South End galleries takes place."

"This is an exciting opportunity for both Sudley House and the Lady Lever Art Gallery, as it is the first time the collections of these two renowned art enthusiasts have been on display in the same gallery."
Both Holt and Lever had a passion for art and collected some world renowned works. However, the two collectors had quite different tastes and reasons for purchasing their paintings.
Holt did not collect art simply as a status symbol, as some merchant collectors may have. The majority of the collection was bought for his home and the collection was assembled to delight, instruct and give pride to a comfortable household.
Lever originally began collecting paintings to use in his soap advertisement campaigns and would go to exhibitions with an eye for finding paintings that would lend themselves to this.
Sandra Penketh, Director of Art Galleries at National Museums Liverpool, said:
"William Hesketh Lever built the Lady Lever Art Gallery to give people the chance to see art and be inspired by it. It now houses one of the greatest collections of fine and decorative art in the UK.

"The exciting programme of restoration that is currently taking place will return the South End galleries to their original architectural design. When completed in 2016, more than 1,500 items will be redisplayed from William Hesketh Lever's impressive collections."
Lever's early purchases were driven by his desire for commercial success. He would commission artists to replicate the paintings, but would instruct them to replace objects in the painting, such as a clock on a mantelpiece or a cup and saucer on a table, with boxes of Sunlight soap from his product line. Most of the paintings positioned in the main hall at the Lady Lever were collected for Lever's own enjoyment, when he became a wealthy businessman.
Lever collected paintings, Chinese porcelain, furniture, Wedgwood pottery and other artefacts to decorate and furnish his many homes. When he opened the Lady Lever, he personally picked out the best of his collections and placed them into the Gallery.
The scale of the paintings at Sudley House is relatively small, as the size of the rooms prevented Holt from purchasing large and dramatic paintings. His taste for paintings reflected everyday life and he favoured works with overt religious themes, or saintly overtones.
Today, Sudley House is one of only a few period homes decorated in a Victorian style that still has many of its original features. It houses the only surviving Victorian merchant art collection in Britain still hanging in its original location.
Despite their differences, the collectors shared some similar ideas and values. Holt and Lever were philanthropists and used their wealth to help others and the City of Liverpool.
Holt was a supporter of education. He founded the Liverpool Institute High School for Boys and also helped fund the University of Liverpool, with a building being named after him.
Lever built Port Sunlight village to provide his employees with suitable housing. He also campaigned for better housing, welfare and working conditions for those employed by Lever Brothers.
Notes to editors
About National Museums Liverpool
National Museums Liverpool comprises eight venues. Our collections are among the most important and varied in Europe and contain everything from Impressionist paintings and rare beetles to a lifejacket from the Titanic. We attract more than 2.7 million visitors every year. Our venues are the International Slavery Museum, Lady Lever Art Gallery, Merseyside Maritime Museum, Museum of Liverpool, Sudley House, UK Border Force National Museum, Walker Art Gallery and World Museum.
About Sudley House
Sudley House – located in Mossley Hill, South Liverpool - contains the UK's only Victorian merchant's art collection in its original domestic setting. Highlights include paintings by Landseer and Turner, major Pre-Raphaelite works and a group of 18th-century portraits by Gainsborough, Reynolds, Romney and Leighton.
About the Lady Lever Art Gallery
The Lady Lever Art Gallery houses one of the UK's greatest collections of fine and decorative art. An extensive programme of restoration and improvement is currently underway in the South End of the Gallery. The £2.8m project will see 500 square metres of gallery space transformed. The galleries will be returned to their original architectural design and more than 1,500 objects will be redisplayed, including the best collection of Wedgwood jasperware in the world, one of the finest collections of Chinese porcelain in Europe and outstanding 18th century paintings, furniture and sculpture. The scheme will be funded through donations, corporate sponsorship and major grants, including a generous grant of £1.4m from the Heritage Lottery Fund (HLF).For more information on the project, visit liverpoolmuseums.org.uk/leverplans

About the Heritage Lottery Fund
Using money raised through the National Lottery, the Heritage Lottery Fund (HLF) aims to make a lasting difference for heritage, people and communities across the UK and help build a resilient heritage economy. From museums, parks and historic places to archaeology, natural environment and cultural traditions, we invest in every part of our diverse heritage. HLF has supported over 36,000 projects with more than £6bn across the UK. www.hlf.org.uk.