CONTRIBUTIONS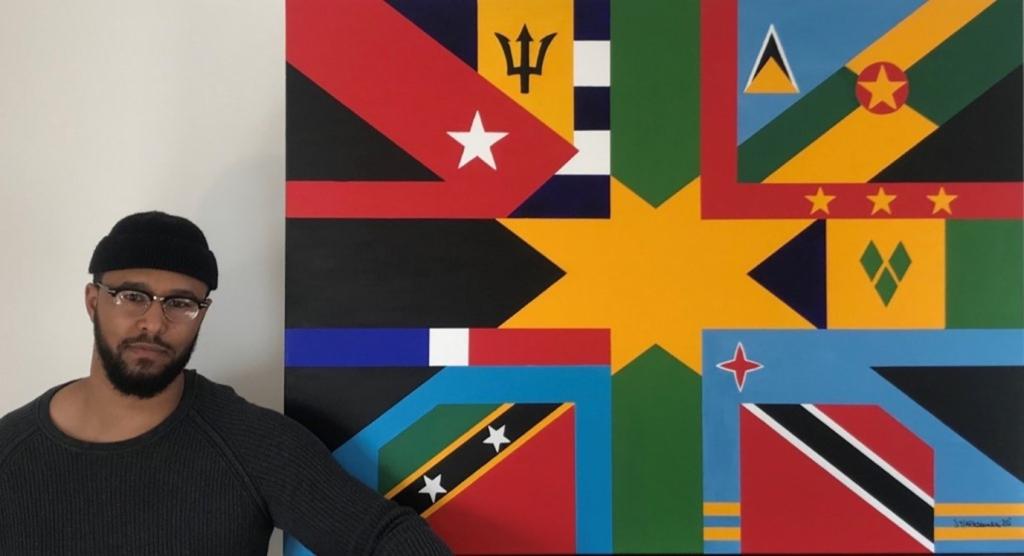 AN ODE TO WINDRUSH
5 October 2020: International Slavery Museum is delighted to announce the acquisition of Contributions painting by emerging artist Shane D'Allessandro Born in London with Jamaican and Italian heritage, Shane's painting of the Union Jack is an ode to the Windrush generation, capturing the Caribbean contribution to British Society – something which is often overlooked or misremembered.
This year marks 72 years since one of the first large groups of migrants from the Caribbean disembarked at the Port of Tilbury. Unveiling this artwork during Black History Month is an opportunity to shine a spotlight on Black talented artists such as Shane and showcase their contribution to the art world.
Emily Smith, Curator of Contemporary Forms of Slavery said: "The International Slavery Museum is thrilled to have a limited edition printed of Shane 's work. It is a powerful and striking creation, portraying long-standing and current British history. It is a timely addition to our galleries with Black History Month to commemorate and celebrate often undervalued and forgotten contributions of Black people and communities."
Celebrating not only the Windrush generation and their contributions, this artwork has a personal story for Shane; his paternal grandparents were part of this generation who supported Britain during and after World War Two.
When asked why Shane wanted International Slavery Museum to house his artwork he commented: 'I wanted it to be in a venue that would really understand what the painting is trying to convey, and the weight of that message. I want visitors to interact with the painting and come away with a deeper understanding of the impact this generation had to British life.'
It is no secret that the Windrush generation faced constant overt and institutional discrimination. However, despite all this, they showed great tenacity by working, creating homes and starting families in Britain. This artwork serves as an expression of solidarity with them. The significance of Black achievement, resilience and contribution to society is eternal, and International Slavery Museum is proud to celebrate and honour those who have drastically changed the course of history to educate and empower others.
Notes to Editors
International Slavery Museum
The International Slavery Museum opened in August 2007. It is situated on the third floor of the Merseyside Maritime Museum at the Royal Albert Dock. It is the only national museum in the world to cover the transatlantic slave trade and its legacies as well as contemporary forms of slavery and enslavement. It is also an international hub for resources on human rights issues and campaigning.