Creative treats for mums at National Museums Liverpool press release
Gifts in store for Mother's Day at Liverpool's museums and art galleries.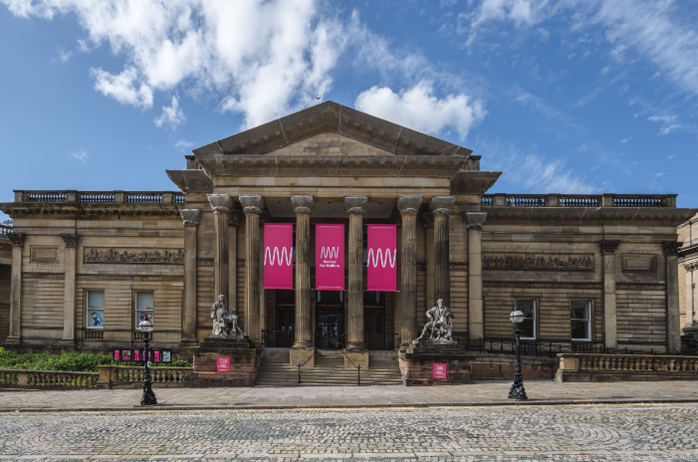 National Museums Liverpool (NML) has treats in store for mums and special people across the region, as its venues prepare for a busy Mother's Day.
Thousands of visitors will step through the doors of NML's seven museums and art galleries on Sunday 19 March, with a line-up of wonderful exhibitions and displays that are popular with families and mums of all ages.
Karen O'Connor, National Museums Liverpool's Director of Commercial Enterprises, said: "Mother's Day is one of our
est Sundays of the year. It's always lovely to see generations of families enjoying themselves at our venues - from
our aquarium at World Museum, to the Titanic and Liverpool story at Maritime Museum. With many of our displays and exhibitions free to enter or 'pay what you think', there's loads of options for fun family days out.
"Our online shop is attracting shoppers looking for a creative gift too – and National Museums Liverpool's retail team have picked out some of our favourite gifts for the mums and mother figures in people's lives. We've also added membership gifts for those wanting to create memorable experiences throughout the year."
A selection of special treats for Mother's Day:
Vintage Liverpool Academy of Arts Poster - £4.95 from National Museums Liverpool
This exclusive gift is a reproduction of the advertising poster for the Liverpool Academy of Arts First Annual Exhibition 1901, designed by J. Herbert McNair.
Forget Me Not Necklace - £30 from National Museums Liverpool
This hand-crafted necklace with pendant made with real Forget Me Not flowers encased in resin, comes complete with a sterling silver chain.
Kathryn Maple: A Year of Drawing Book - £24 from National Museums Liverpool
The first monograph on the work of British artist Kathryn Maple - including paintings and mixed-media works created for her Under a Hot Sun exhibition, which is currently on display at the Walker Art Gallery.
Kimono Stitched Notebook - £5.50 from National Museums Liverpool
A beautiful notebook, stitched with a wraparound cover design of a detail from wedding outer-kimono (uchikake) from the V&A collection.
Orange Tree Cushion - £26 from National Museums Liverpool
These William Morris inspired cushions feature the Orange Tree visual on both sides, with piped edging and fibre filed pad.
Love My Mum Ankle Socks - £8 from National Museums Liverpool
A Mother's Day favourite, these soft, floral ankle socks by Powder Designs come with a cute gift bag.
Mothering Sunday event - free at National Museums Liverpool's Sudley House
With free music and crafting, visitors can transform old paper into beautiful spring flowers (from 11am-3.30pm) and there will be a special choral performance from Pastoral Choir in the afternoon (12.30pm-1.30pm). The Sudley House café will also be open serving a selection of delicious treats.
Gift of membership - National Museums Liverpool membership from £30
For those wanting to gift an experience and support the work of the charity, National Museums Liverpool membership gifting starts from £30 (from £45 for a family membership) - giving unlimited access to major exhibitions, invitations to special members-only exclusive events and discounts in cafés and shops. Members also receive 15% discount when buying gifts from the online shop.
There is also an opportunity to support the Renaissance Rediscovered appeal at the Walker Art Gallery. The first 100 people to donate £50 or more will receive a limited-edition tote bag when the refurbished galleries reopen in Summer 2023.
National Museums Liverpool looks after some of the most visited museums in England outside of London. It relies on funding, as well as membership, donations and income from its shops, cafés and events, to keep its attractions and the work it does in the community running.
More Mother's Day gifts are available from National Museum Liverpool's online shop: https://shop.liverpoolmuseums.org.uk/collections/mothers-day
To find out what's on at National Museums Liverpool's venues, visit https://www.liverpoolmuseums.org.uk/whatson