Daliso Chaponda performs at World Museum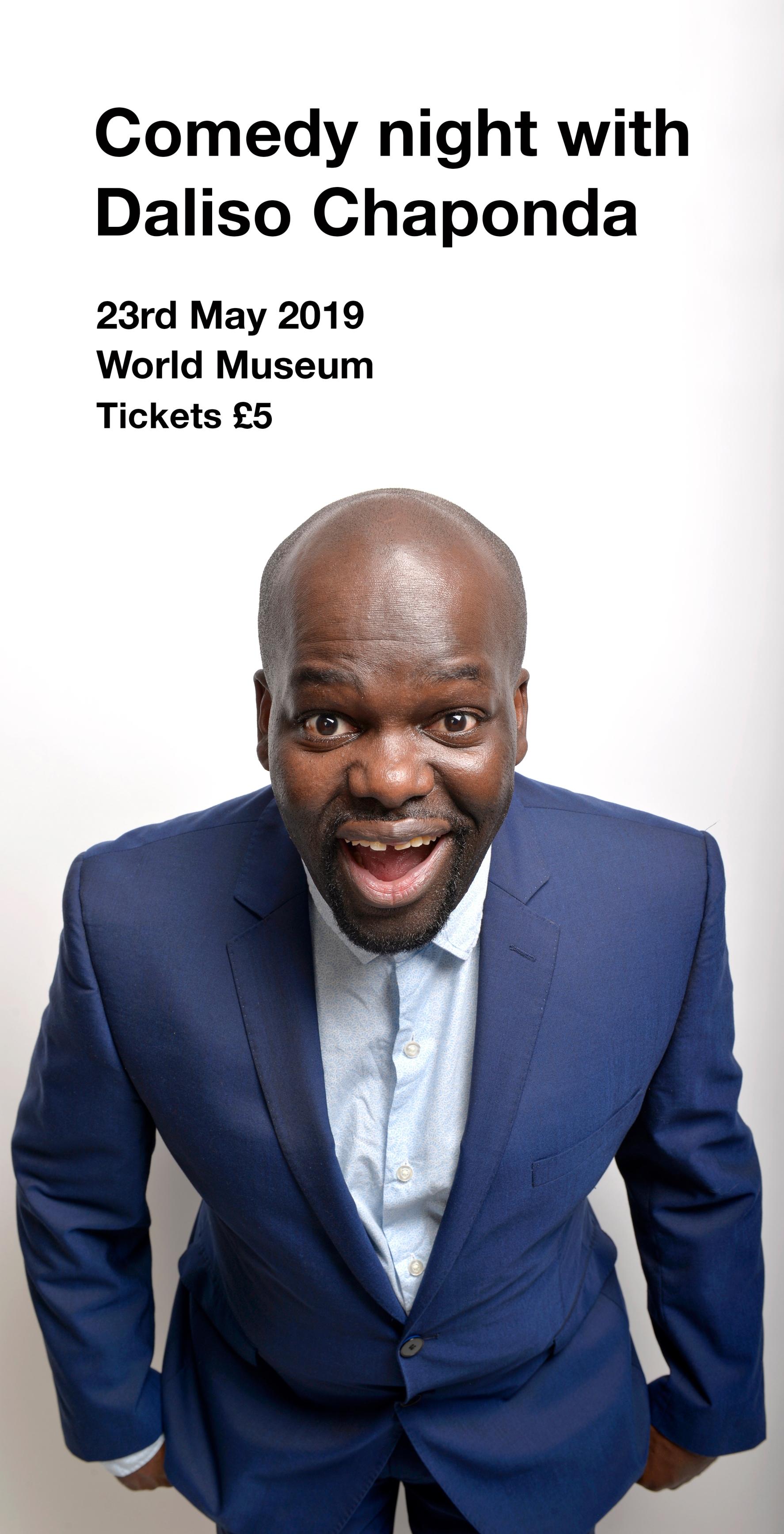 Britain's Got Talent finalist explores Museum's collections for one night only
#WMWhereNext
Join us for an exclusive night of comedy and entertainment on 23 May, as Britain's Got Talent star, Daliso Chaponda, takes us through his unusual interaction with Liverpool's World Museum, and his thoughts on the World Cultures gallery. It promises to be a rip-roaring show, as he brings his wit and unique style to the World Museum. Confronting the current collection, Daliso is one of a number of artists who have been invited to respond to World Museum's World Cultures gallery.
Featuring collections from Africa, The Americas, Asia and Oceania, the artists' brief is to consider how these objects are displayed, and the narrative of the stories – and how/if this presentation should be changed.
Senior Curator Emma Martin comments:
"We are working with a group of inspiring and creative people, using film, comedy and poetry, which will change the way we display the collections. Their 'provocations' are going to be theatrical, imaginative and in some cases argumentative as we begin to expose the difficult and contested histories of the collections by talking openly about how objects from around the world came to Liverpool."
As part of these exciting plans, World Museum is inviting you to take part. Do you have an object with a great story that you would like to see in the Museum? If so, then send us a photograph of this object with some text as to why you think it should be displayed in the World Cultures gallery. Daliso will announce the winner on the evening of his performance.
Laugh and learn with us, as Daliso works up new material for one night only.
Please note that the event is suitable for ages 14+.
Notes to Editors
About World Museum
Experience the world at your fingertips at World Museum, where millions of years of the Earth's history are revealed through incredible exhibits and hands-on activities. Find out how humans have shaped the world we inhabit, from Africa to the Americas, Asia and Europe. Explore underwater life in the Aquarium and complete your visit by blasting off on a spectacular journey through space and time as the universe unfolds around you in the Planetarium. World Museum's Ancient Egypt gallery, which houses one of the finest ancient Egyptian and Nubian collections in Europe, opened in 2017. World Museum was awarded a VisitEngland Gold Accolade for excellence in 2015.
About National Museums Liverpool
National Museums Liverpool comprises eight venues, including some of the most visited museums in England outside of London. Our collections are among the most important and varied in Europe and contain everything from Impressionist paintings and rare beetles to a lifejacket from the Titanic. We attracted more than 4 million visitors in 2018. Our venues are the Museum of Liverpool, World Museum, the Walker Art Gallery, Merseyside Maritime Museum, International Slavery Museum, Border Force National Museum, Sudley House and the Lady Lever Art Gallery. National Museums Liverpool is regulated by the Department of Digital, Culture, Media and Sport (DCMS). Museums and galleries regulated by DCMS are exempt charities under Schedule 3 of the Charities Act 2011. Registered Office: World Museum, William Brown Street, Liverpool L3 8EN.
About Daliso Chaponda
Daliso shot to fame on Britain's Got Talent and has gone on to amass over 200 million views on Facebook and YouTube. He wrote and starred in his own BBC Radio 4 show Citizen of Nowhere and has appeared on The Apprentice: You're Fired, The News Quiz, Unspun with Matt Forde and The Now Show.