A day to remember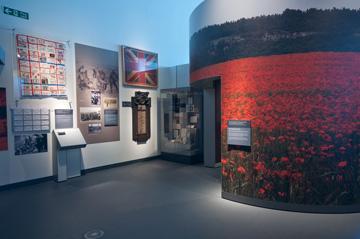 First World War family history day returns to the Museum of Liverpool
Join us at the Museum of Liverpool for a free First World War family history day on Saturday 21 November from 10:30am – 4.30pm.

The day is designed to help visitors' search for local relatives who served in the First World War and to give an understanding of people's experiences on the Front.

The Museum, which looks after the collections of The King's Regiment displayed in the City Soldiers gallery, is working with local experts and societies to assist in research of soldiers from the area and is pleased to be welcoming special visitors to this year's event.

Visitors will be able to access the Devereux database, the Museum of Liverpool's key source of information about local men who served with the King's Regiment in the War. It has now been updated to include almost 92,000 records – an increase of almost 10,000 soldier's records, as well as 2,000 images that were not previously available. The King's Regiment database compiler, along with Graham Sacker, a renowned expert on the Machine Gun Corps (MGC), will both be attending on the day to help visitors with their queries.

Other experts and historians from a number of societies and organisations will be on hand to assist with family history research, from:

• Liverpool History Society
• The Royal Army Medical Corps
• Manchester and Cheshire King's Regiments
• The Western Front Association
• Liverpool and South West Lancashire Family History Society
• The Liverpool First World War Research Committee
• The Liverpool Pals
• The King's Regiment Association
• John Moores University

Karen O'Rourke, Curator of Urban and Military History at the Museum of Liverpool said:
"Now in its fourth year, the Family History Day was created with the aim of helping visitors discover the links between our collections and their own genealogy. Many have discovered that they had relatives who served in the King's Regiment during the First World War through searching the Devereaux database, information that may have otherwise been unknown, or not known in as much detail."
As well as meeting experts on the day, visitors can enjoy a range of family-friendly fun activities, including making a sweetheart pincushion inspired by those made by soldiers and loved ones. Visitors can also chat to a researcher from the Merseyside At War project and find out how to become a volunteer story-gatherer. As well as a handling session with First World War objects, Liverpool Wargames Association will also re-enact a battle in miniature with model soldiers.
For more information visit liverpoolmuseums.org.uk/mol
Notes to editors
Museum of Liverpool
The Museum of Liverpool is the largest newly-built national museum in Britain for more than a century, demonstrating Liverpool's unique contribution to the world. Opened in July 2011, it attracted more than 2 million visitors in its first year, and is the first national museum devoted to the history of a regional city. It showcases popular culture while tackling social, historical and contemporary issues and is a fantastic, free family day out.

The Museum has received generous support from several major funders, along with grants from trusts and foundations, corporate support and individual donations. Major funders include the Northwest Regional Development Agency (NWDA), The European Regional Development Fund (ERDF), the Heritage Lottery Fund (HLF) and the Department of Culture Media and Sport (DCMS)

The Northwest Regional Development Agency (NWDA) was responsible for the sustainable economic development and regeneration of England's Northwest and had five key priorities: Business, Skills and Education, People and Jobs, Infrastructure and Quality of Life.

The European Development Fund (ERDF) is making a real difference to people and businesses in the North West. With €755 million to invest between 2007 and 2013, ERDF is enhancing the competitiveness of the region's economy by supporting growth in enterprise and employment. ERDF in the North West is managed by the Department for Communities and Local Government – for further information visit www.communities.gov.uk/erdf.

Using money raised through the National Lottery, the Heritage Lottery Fund (HLF) sustains and transforms a wide range of heritage for present and future generations to take part in, learn from and enjoy. From museums, parks and historic places to archaeology, natural environment and cultural traditions, we invest in every part of our diverse heritage. HLF has supported more than 30,000 projects allocating £4.5billion across the UK. www.hlf.org.uk

City Soldiers gallery
Created in 1685, the King's Regiment is one of Britain's oldest regiments. It has been Liverpool's regiment since 1881, and is now amalgamated into the Duke of Lancaster's Regiment. Focusing on its long history and relationship with the city, the gallery utilises the King's Regiment collection, which includes film, video, memoirs, uniforms, medals, trophies and weaponry, to tell the Regiment's story. Visitors will be inspired to research their family history, using the collection and archive information as a starting point.

About National Museums Liverpool
National Museums Liverpool comprises eight venues, including some of the most visited museums in England outside of London. Our collections are among the most important and varied in Europe and contain everything from Impressionist paintings and rare beetles to a lifejacket from the Titanic. We attract nearly 2.7 million visitors every year. Our venues are the Museum of Liverpool, World Museum, the Walker Art Gallery, Merseyside Maritime Museum, International Slavery Museum, Border Force National Museum, Sudley House and the Lady Lever Art Gallery.