A Degas finds home at the Walker Art Gallery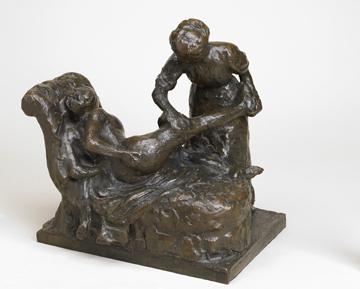 Bequeathed to the nation by Lucian Freud.
La Masseuse (The Masseuse), a sculpture by Edgar Degas has found a permanent home at the Walker Art Gallery as part of the government's Acceptance In Lieu (AIL) scheme, administered by Arts Council England.
Once owned by the renowned painter, Lucian Freud, the sculpture was one of three by Degas, bequeathed to the nation upon the artist's death in 2011. La Masseuse was allocated to the Walker following a competitive process with other UK museums and galleries.
La Masseuse, which is Degas' only two-figure sculpture (his other sculptures are solitary figures), joins the Walker's impressive collection of Impressionist and Post-Impressionist work, which also features the painting Woman Ironing by Degas.
The sculpture will be displayed alongside Woman Ironing and together they explore Degas' mastery in conveying movement and exertion. The sculpture's attention to the physicality and wearisome work of mundane female labour is mirrored in the painting; a theme which ran through much of Degas' works in the 1890s.
You are invited to send a reporter and photographer to view the sculpture on Monday 1 July at 10.30 at the Walker Art Gallery. Curator of European Art, Xanthe Brooke is available for interview.
The emphasis of La Masseuse on the effects of physical activity on bare female flesh is likely to be one of the aspects that attracted Lucian Freud. In several ways Freud was Degas' modern-day equivalent, and a number of the similarities between the artists can be seen in this work: the awkward pose, the 'fleshy' nude and the play of light on bare skin.
Curator of European Art, Xanthe Brooke said: "La Masseuse is a true treasure for any gallery and we are thrilled to be adding it to our collection.
"Degas' sculptures were as ground-breaking as his paintings. He thought of them rather like his sketches or drawings, as a way of developing a composition. Displaying La Masseuse alongside Woman Ironing (the only painting from his laundresses series on public display in the UK), provides a unique insight into Degas' genius for depicting human, and in particular female, endeavour.
"We're very grateful to Arts Council England for allocating the sculpture to the Walker Art Gallery, where it will be appreciated by an enthusiastic and diverse audience."
Alan Davey, Chief Executive, Arts Council England, said: "The Acceptance in Lieu scheme is a great success story for this country's cultural heritage and for the audiences who enjoy it. The scheme has seen thousands of important pieces of art made available for public display, attracting audiences from near and far, and inspiring budding artists – just as Lucian Freud clearly enjoyed and may have been inspired by this wonderful piece by Degas."
http://www.liverpoolmuseums.org.uk/degas
Notes to Editors:
Artist biography
French artist Edgar Degas (19 July 1834 – 27 September 1917) is widely considered one of the greatest artists of the late 19th Century. He is also regarded as one of the founders of Impressionism although he roundly rejected the term.  An outstanding draftsman, Degas was particularly masterly in depicting movement, as can be seen in his renditions of dancers, racecourse subjects and female nudes.
Arts Council
Arts Council England champions, develops and invests in artistic and cultural experiences that enrich people's lives. We support a range of activities across the arts, museums and libraries – from theatre to digital art, reading to dance, music to literature, and crafts to collections. Great art and culture inspires us, brings us together and teaches us about ourselves and the world around us. In short, it makes life better. Between 2010 and 2015, we will invest £1.9 billion of public money from government and an estimated £1.1 billion from the National Lottery to help create these experiences for as many people as possible across the country. www.artscouncil.org.uk Acceptance in Lieu The Acceptance in Lieu (AIL) Scheme allows those who have a bill for Inheritance Tax to pay the tax by transferring important cultural, scientific or historic objects to the nation. Material accepted under the scheme is allocated to public collections and is available for all.
About National Museums
Liverpool National Museums Liverpool comprises eight venues. Our collections are among the most important and varied in Europe and contain everything from Impressionist paintings and rare beetles to a lifejacket from the Titanic.  We attract more than three million visitors every year. Our venues are the International Slavery Museum, Lady Lever Art Gallery, Merseyside Maritime Museum, Museum of Liverpool, Sudley House, Border Force National Museum (Seized! The Border and Customs Uncovered), Walker Art Gallery and World Museum.  One of the finest art galleries in Europe the Walker Art Gallery is home to renaissance masterpieces, Tudor portraits and one of the best collections of Victorian and Pre-Raphaelite art in the country. An outstanding collection of contemporary art includes work by David Hockney, Lucian Freud and Banksy.
Walker Art Gallery
William Brown Street, Liverpool     
Admission FREE
Open 10am-5pm every day
Information 0151 478 4199
Website liverpoolmuseums.org.uk/walker
Twitter www.twitter.com/walkergallery
Facebook www.facebook.com/walkerartgallery