Dementia App wins top award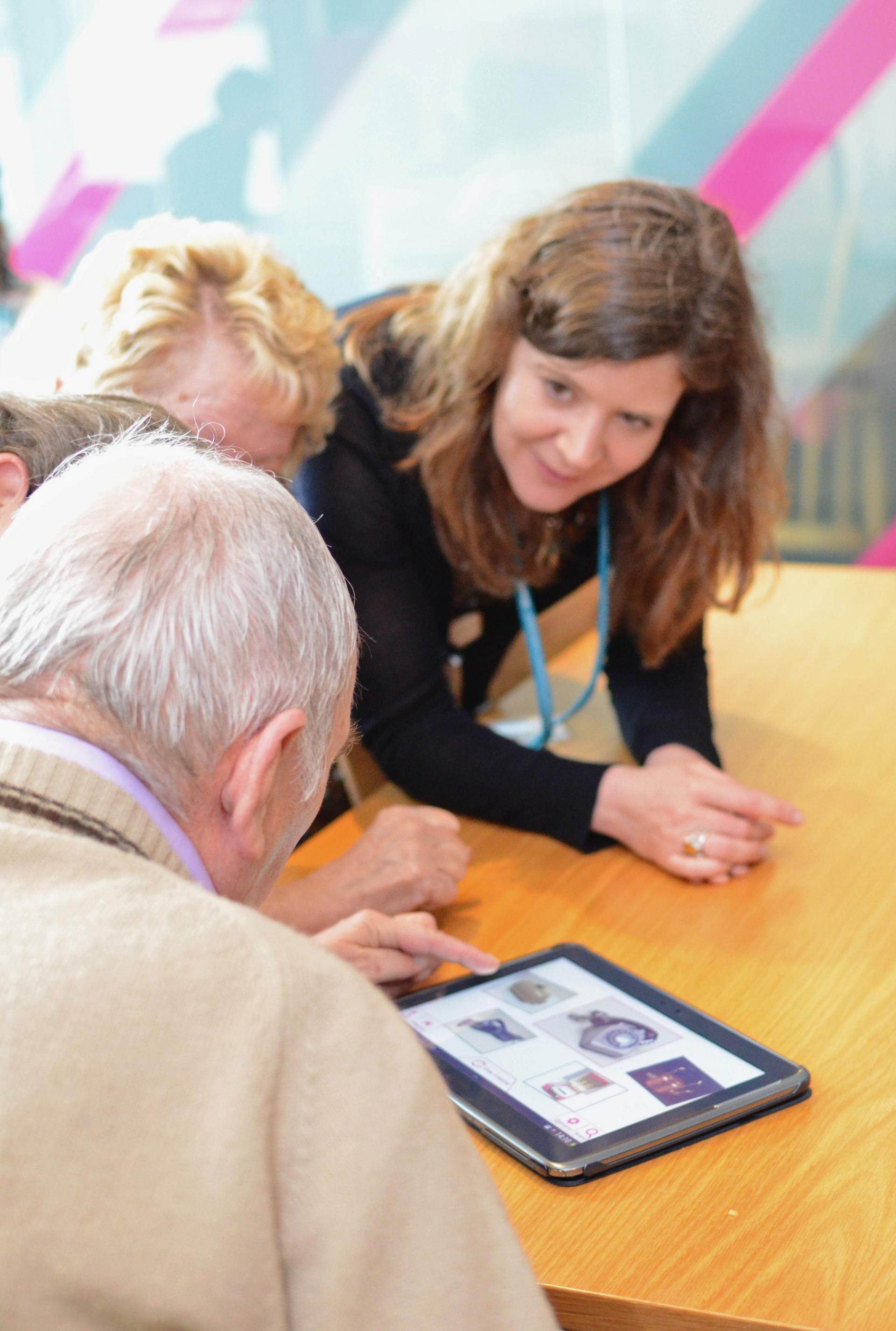 App created by National Museums Liverpool wins European prize
A digital app created by National Museums Liverpool, has won a top European dementia award.
The My House of Memories app was one of three European projects to be shortlisted for the Innovate Dementia Award, which was announced on 23 October at the World Health and Design Forum in Eindhoven.
Carol Rogers, Executive Director of Education, Communities and Visitors at National Museums Liverpool said:
"We are so proud to win this award for our My House of Memories app. It demonstrates that the work we're doing to help people living with dementia is having a real positive impact.

"Along with our House of Memories dementia training programme, we have been striving to create a piece of technology that people can use in their own homes and care settings. The success of the app shows that museum resources can be used effectively to help enrich and improve the lives of those living with dementia, their families and carers.

"Our next step is to develop the app further with commercial partners, so we are able to reach a wider audience. We are looking to tailor the app's capabilities to engage with people in different geographical locations for example, using museum resources found at other venues beyond National Museums Liverpool."
Dementia is a universal issue. Something that touches all walks of life. With diagnosis expected to double in the next 30 years, we will all be affected by dementia.
The My House of Memories app has been co-produced with people living with dementia and their carers, from organisations including Innovate Dementia and individual members of their Regional Stakeholder Platform, Mersey Care NHS Trust, Liverpool John Moores University and members of the Mossley Hill Hospital Memory Group.
It is about connecting people and enabling families and carers to continue building relationships with people who are living with dementia. Using a simple format to stimulate memory, it allows people to browse social history objects from the Museum of Liverpool's collection to prompt reminiscence, which can instigate conversation, special moments and shared memories between parents, sons and daughters, carers and their clients.
The app's content themes are wide ranging and designed to be intuitive, allowing users to follow a memory path of their choice. The objects featured are brought to life with multimedia, and app-users can save objects to their own memory trees, memory boxes or memory timelines. Carers can also create personal profiles for the different people they support.
Since it was launched at the House of Commons in June earlier this year, the app has already been downloaded more than 1,400 times.
Phil Redmond, Chair of National Museums Liverpool said:
"I am extremely proud of what National Museums Liverpool has achieved with House of Memories. It is a wonderful example of the pioneering work the organisation has been doing in utilising our shared cultural assets: our shared memories illustrated with our globally important collections, to provide those working with the UK's ageing population the tools to help address issues such as dementia.

"It is also a model of how public funding should be used in a co-ordinated way and I am sure National Museums Liverpool will continue to be an exemplar of how best to integrate cultural assets with wider social policy. What Liverpool does today, the world generally follows later."
National Museums Liverpool also has wider aspirations to develop the app further, adapting the content for different locations around the country. It is part of the organisation's wider House of Memories dementia awareness programme, which has been running since 2012. To date, House of Memories has trained more than 5,000 carers across Merseyside, the North and Midlands to gain awareness and develop deeper understanding of dementia using local museums and cultural venues as a vital resource.
Carol Rogers continues:
"Although the app uses objects from our social history collection here in Liverpool, they are relevant to people everywhere. The objects act as prompts to unlock people's own collections of memories that might be tucked away at the back of their minds, inspiring conversation and interaction. If we can make the app accessible to every care home across the country, it would be a fantastic achievement."
Details of how to download the My House of Memories app on ITunes and Google Play can be found at http://liverpoolmuseums.org.uk/app
It has been funded by the Mi (More Independent) Partnership, which aims to help people live more independently through the use of technology.
www.liverpoolmuseums.org.uk/houseofmemories
http://liverpoolmuseums.org.uk/app
Notes to editors
About National Museums Liverpool
National Museums Liverpool comprises eight venues, including some of the most visited museums in England outside of London. Our collections are among the most important and varied in Europe and contain everything from Impressionist paintings and rare beetles to a lifejacket from the Titanic. We attract more than 2.7 million visitors every year. Our venues are the Museum of Liverpool, World Museum, the Walker Art Gallery, Merseyside Maritime Museum, International Slavery Museum, Border Force National Museum, Sudley House and the Lady Lever Art Gallery.
About House of Memories
House of Memories has been running at the Museum of Liverpool since 2012, training more than 5,000 carers across Liverpool and the north to date.
The programme has received recognition from NHS England North West for their Learning Together in Health and Social Care Award 2013, won the 2014 Museums & Heritage award for Best Educational Initiative, was Highly Commended at the 2014 Dementia Friends Awards in the National initiative category, and is cited as an example of best practice in the Museums Association's new vision for the impact of museums: Museums Change Lives. To mark Adult Learners' Week 2014, House of Memories was recently given the North West Learning Life Skills Project Award.