Dementia award for Liverpool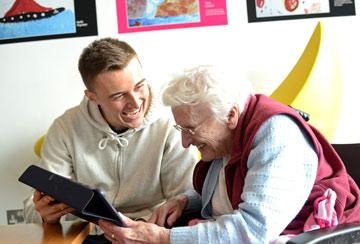 National Museums Liverpool wins Dementia Friendly Award
National Museums Liverpool's House of Memories dementia training programme has won a national award for its partnership work.
The pioneering programme, which has already trained more than 9,000 people across the North West and nationally, has won the Dementia Friendly Award for Best Dementia Friendly Partnership Working.
More than 300 applications were submitted for the awards, which took place in London last Tuesday and saw House of Memories and 25 other organisations shortlisted for seven awards.
Carol Rogers, Executive Director of Education and Visitors at National Museums Liverpool said:
"We are so proud to have won this award for House of Memories. It demonstrates that the work we're doing to help people living with dementia is having a really positive impact.

"Having started the programme in 2012 it has gone from strength to strength, which is credit to not only National Museums Liverpool, but the partnerships that we have formed and the people we have met, who have helped to develop the programme over the last three years.

"What began as a training programme for health and social care professionals now includes a digital app, a memory suitcase loan service, a 'buddy' day programme for families and carers of people living with dementia, and an intergenerational resource for our younger visitors to share with their older relatives when visiting museums.

"All these aspects of the programme have been developed in partnership with others, including those living with dementia who have given us valuable insights into their lives and what we as museums can do to help them live better with dementia. We thank them for their continued help and support in making a great success of this project and its ongoing development."
Dementia is a universal issue. Something that touches all walks of life. With diagnosis expected to double in the next 30 years, we will all be affected by dementia.
In June 2014, the My House of Memories app was launched at the House of Commons. This unique and innovative free digital memory resource for IPads and other tablets, has been co-created by people living with dementia and their carers. It has since been expanded to include new content from museum partners in the South East; the British Museum, Bexley Heritage Trust, The Cinema Museum and Brighton Royal Pavilion and Museum.
House of Memories has been running since 2012. Having trained more than 9,000 care professionals across the UK, the programme has also joined with a number of housing associations to empower their workforce, tenants, neighbourhoods and local communities to gain awareness of dementia and develop a deeper understanding of dementia.
In 2013, the programme began expanding outside the Liverpool City Region with the help of the Department of Health (DoH). The programme has teamed up with health, social care and museum partners in the North of England, the Midlands and most recently the South East, to take the training into other cultural venues, demonstrating an innovative approach that is transferable to any town or city. This autumn the training will also be delivered to North West NHS workers.
2015 has seen the launch of the House of Memories 'Buddy Day' programme with the help of Liverpool City Council, inviting carers, family members, friends and community volunteers to take part in the training, which has previously been available to professional carers.
Details of how to download the My House of Memories app on ITunes and Google Play can be found at http://liverpoolmuseums.org.uk/app
It has been funded by the Mi (More Independent) Partnership, which aims to help people live more independently through the use of technology.
www.liverpoolmuseums.org.uk/houseofmemories
http://liverpoolmuseums.org.uk/app
Notes to editors
About National Museums Liverpool
National Museums Liverpool comprises eight venues, including some of the most visited museums in England outside of London. Our collections are among the most important and varied in Europe and contain everything from Impressionist paintings and rare beetles to a lifejacket from the Titanic. We attract more than 2.7 million visitors every year. Our venues are the Museum of Liverpool, World Museum, the Walker Art Gallery, Merseyside Maritime Museum, International Slavery Museum, Border Force National Museum, Sudley House and the Lady Lever Art Gallery.
About House of Memories
House of Memories has been running at the Museum of Liverpool since 2012, training more than 5,000 carers across Liverpool and the north to date.
The programme has received recognition from NHS England North West for their Learning Together in Health and Social Care Award 2013, won the 2014 Museums & Heritage award for Best Educational Initiative, was Highly Commended at the 2014 Dementia Friends Awards in the National initiative category, and is cited as an example of best practice in the Museums Association's new vision for the impact of museums: Museums Change Lives. To mark Adult Learners' Week 2014, House of Memories was recently given the North West Learning Life Skills Project Award.