Discover Hockney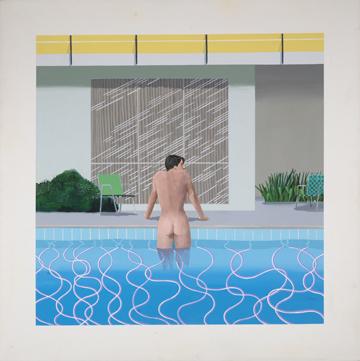 Free talks explore the artist's early techniques and inspiration
Discover the early influences and inspiration behind one of Britain's most iconic artists, David Hockney, with a range of free talks at the Walker Art Gallery.
Understand more about the ways poetry, landscape and his sexuality influenced his work and the techniques he employed.
Education Manager at the Walker, Christina Waugh said: "We've put together a range of free talks which cover a range of early influences on David Hockney and complement our fascinating exhibition. The talks will enlighten visitors on key aspects of Hockney's early career and bring to sharp focus the inspiration and drive behind his iconic work."
David Hockney: Early reflections is on display at the Walker Art Gallery until 16 March 2014 under The Arts Council Collection Partnerships supported by Christie's scheme.
Considered to be one of the most influential artists of the 20th century, the exhibition brings together a unique selection of paintings and prints, which chart the early development of this important artist.
Talks:
 
David Hockney and the Poetry of Constantine Cavafy
4 February 2014
1-2pm
Pele Cox, previously Poet in Residence at The Royal Academy of Arts, explores Hockney's love of poetry and for this talk focuses on his etchings that illustrate the work of this famous Greek poet.
Drop in
Hockney the print maker
11 February 2014
1-2pm
From photos to faxes, Hockney has continued to make use of 'the multiple'. Artist and printmaker Emma Gregory explores Hockney's use of printmaking and how it feeds his practice, making reference to the prints in the exhibition.
Drop in
Hockney exhibition tour
4 March 2014
1-2pm
'This is a show about the fascination of struggle' The Independent 11 Oct 2013.
Join us for a guided tour of the exhibition and find out more about Hockney and his early works, with a close look at some of the exhibition highlights.
Drop in
Art as Autobiography: The early work of David Hockney
15 March 2014
1-2pm
Join writer and photographer Christopher Sykes for a lecture covering the period from Hockney's childhood to when the artist left the Royal College of Art, based on his acclaimed book Hockney: The Biography.
Book at the welcome desk or call 0151 478 4199
David Hockney: Early reflections is part of National Museums Liverpool's Modern Masters series, part funded by the European Union - the European Regional Development Fund (ERDF).
Featuring work from the Walker's own collection, including Peter Getting out of Nick's Pool, which won the John Moores Painting Prize in 1967, together with key pieces from the Arts Council Collection and other loans, the exhibition explores Hockney's early influences.
With almost 40 pieces on display dating between 1960 to 1978, the exhibition is an insight into Hockney's prodigious talent which was evident even as a student.
An audio guide accompanies the exhibition.
www.liverpoolmuseums.org.uk/hockney
Notes to editors
Artist biography
Born in Bradford in 1937, Hockney's stellar reputation was established while he was still a student; his work was featured in several of the annual Young Contemporaries exhibitions, one of which heralded the birth of British Pop Art. He visited Los Angeles in 1964 and settled there soon after. He is closely associated with southern California and has produced a large body of work there over many decades. In recent years the artist has relocated to Bridlington, Yorkshire where his work has focused on documenting the rural landscape. The artist was elected a Royal Academician in 1991 and recently appointed a member of the Order of Merit by the Queen.
About the Arts Council Collection Partnerships supported by Christie's
The Arts Council Partnerships supported by Christie's is a partnership with four regional museums. During the four year scheme, which started in 2012, the partner museums – Birmingham Museums and Art Gallery, Leeds Museums and Galleries, Manchester Art Gallery and the Walker Art Gallery, Liverpool – will create a dynamic programme of displays and exhibitions based on loans from the Arts Council Collection combined with their own collections.
Over the course of the scheme, the Arts Council Collection will also provide sustained curatorial and technical support in developing displays and exhibitions of works from the Collection, as well as offering a place on the Acquisitions Committee each year for one curator from a regional museum partner. The support from Christie's for an initial period of two years will go directly to the museums towards curatorial research, transport, display and education.
Arts Council Collection which is run by Southbank Centre on behalf of Arts Council England, is one of Britain's foremost national collections of post-war British Art. As a collection 'without walls', it has no permanent gallery; it can be seen on long term loan to museums, galleries, schools, hospitals, colleges and charitable associations and in touring exhibitions and displays at home and abroad.   It is also, importantly, one of the most widely circulated and easily accessible collection of its kind, with nearly 8000 works available for loan.  Established in 1946 to promote and enrich knowledge of contemporary art, the Collection continues to acquire works by artists, many at an early stage of their career, living and working in Britain and to foster the widest possible access to modern and contemporary across the UK. It includes work by Francis Bacon, Tracey Emin, Lucian Freud, Antony Gormley, Barbara Hepworth, David Hockney, Anish Kapoor, Henry Moore, Bridget Riley and Wolfgang Tillmans. For more information visit www.artscouncilcollection.org.uk
Christie's
Christie's is a name and place that speaks of extraordinary art, unparalleled service and expertise, as well as international glamour. Founded in 1766 by James Christie, Christie's has since conducted the greatest and most celebrated auctions through the centuries providing a popular showcase for the unique and the beautiful. Christie's offers over 450 auctions annually in over 80 categories, including all areas of fine and decorative arts, jewellery, photographs, collectibles, wine, and more. Prices range from $200 to over $100 million. Christie's also has a long and successful history conducting private sales for its clients in all categories, with emphasis on Post-War and Contemporary, Impressionist and Modern, Old Masters and Jewellery. Christie's has a global presence with 53 offices in 32 countries and 10 salerooms around the world including in London, New York, Paris, Geneva, Milan, Amsterdam, Dubai, Zürich, and Hong Kong. More recently, Christie's has led the market with expanded initiatives in growth markets such as Russia, China, India and the United Arab Emirates, with successful sales and exhibitions in Beijing, Mumbai and Dubai.
*Estimates do not include buyer's premium. Sales totals are hammer price plus buyer's premium and do not reflect costs, financing fees or application of buyer's or seller's credits.
ERDF in the Northwest
ERDF is making a real difference to people and businesses in the North West. With €755 million to invest between 2007 and 2013, ERDF is enhancing the competitiveness of the region's economy by supporting growth in enterprise and employment.
ERDF in the North West is managed by the Department for Communities and Local Government – for further information visit https://www.gov.uk/erdf-programmes-progress-and-achievements
About National Museums Liverpool
National Museums Liverpool comprises eight venues. Our collections are among the most important and varied in Europe and contain everything from Impressionist paintings and rare beetles to a lifejacket from the Titanic.                                                         
We attract more than three million visitors every year. Our venues are the International Slavery Museum, Lady Lever Art Gallery, Merseyside Maritime Museum, Museum of Liverpool, Sudley House, Border Force National Museum (Seized! The Border and Customs Uncovered), Walker Art Gallery and World Museum.
One of the finest art galleries in Europe, the Walker Art Gallery is home to renaissance masterpieces, Tudor portraits and one of the best collections of Victorian and Pre-Raphaelite art in the country. An outstanding display of contemporary art includes work by David Hockney, Lucian Freud and Banksy.
Walker Art Gallery William Brown Street, Liverpool     Admission FREE
Open 10am-5pm every day                                           Information 0151 478 4199
Website liverpoolmuseums.org.uk/walker
Twitter www.twitter.com/walkergallery
Facebook www.facebook.com/walkerartgallery