Downton Abbey costumes star in new exhibition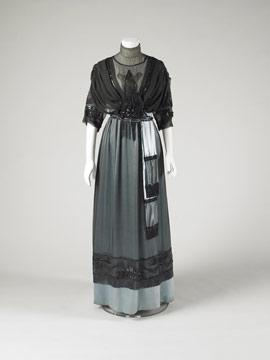 Elegance and glamour at the Lady Lever Art Gallery
A stylish new exhibition showcases ten exquisite outfits created for ITV's 'Downton Abbey' television series.
Glamorous gowns worn by much-loved characters, including the Dowager Countess of Grantham, Lady Mary and Lady Grantham, are among those on display in 'Style from the Small Screen' at the Lady Lever Art Gallery from 10 October to 18 January 2015.
Blurring the lines between fiction and reality, the exhibition compares costumes from the hit TV programme with historic garments from 1912-1923, drawn from National Museums Liverpool's own collection. Featuring two dresses never shown before and one outfit from the Tinne collection, the original dresses are glamorous and glitzy examples of a new era in women's fashion.
The 'Downton Abbey' costumes are all produced by Cosprop, a leading costumier to TV, film and stage. The fine detail and workmanship of the costumes gives some fascinating insight into the effort and eye for detail required to create a convincing sense of time and place in period dramas.
The display also looks at the evolving tastes at the turn of the 20th Century. From the more demure late Victorian style of Maggie Smith's Dowager Countess of Grantham character, to the more daring glamour of the start of the 'roaring 20s', the costumes mirror some of the major changes in society.
Curator of Costume and Textiles, Pauline Rushton said:
"Cosprop's costumes created for 'Downton Abbey' are fabulously detailed and a 'must-see' for any fans of the programme, who will be thrilled to be able to get a close look at costumes worn by their favourite characters.

"They also provide a great springboard for the 'real thing' from our own collection. Dazzling evening gowns made from rich fabrics and glittering sequins and glass beads are thrilling examples of the escapism fashion could offer those who could afford it, as well as an indication of changing attitudes in society."
About National Museums Liverpool
National Museums Liverpool comprises eight venues, including some of the most visited museums in England outside of London. Our collections are among the most important and varied in Europe and contain everything from Impressionist paintings and rare beetles to a lifejacket from the Titanic.
We attract more than 3 million visitors every year. Our venues are the Museum of Liverpool, World Museum, the Walker Art Gallery, Merseyside Maritime Museum, International Slavery Museum, Border Force National Museum, Sudley House and the Lady Lever Art Gallery.
The Lady Lever Art Gallery houses one of the UK's finest collections of fine and decorative art. It has the best collection of Wedgwood jasperware anywhere in the world and its collection of Pre-Raphaelite paintings is internationally renowned.