The eagle has landed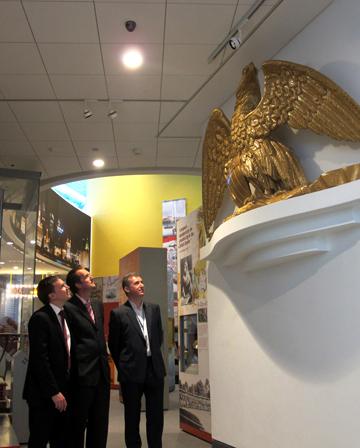 U.S. consulate eagle takes up residence at Museum of Liverpool
On Wednesday 21 May the Museum of Liverpool welcomed a new resident.
The gilded bald eagle which adorned the world's first U.S. consulate on Paradise Street has taken its place at the entrance to the Museum's Global City Gallery, which explores Liverpool's international links.
Lent to the Museum by Liverpool ONE / Grosvenor, the eagle was removed from its original 'perch' in 2003 when the area's redevelopment began. It has since undergone conservation, and a full size replica – which was revealed in December 2013 – has taken its place.
Paul Gallagher said: "This eagle is a clear representation of Liverpool's deep-rooted relationship with North America, which goes back centuries. It's an important part of the city's history, and as a social history museum we couldn't wish for a more appropriate object to highlight the significant links that were forged more than 200 years ago.
"We've worked hard with Liverpool ONE to make sure the eagle is displayed in a prominent position at the entrance to our Global City gallery, ensuring it can't be missed by our visitors. Our life size Liver Bird replica gets a lot of attention, but we hope the new bird in the Museum will get its fair share too!"
In 1790, only seven years after winning its independence from Britain, the United States of America chose Liverpool as the site for its first ever consulate. The city's growing transatlantic trade made it a vital partner for the USA, keen to exploit further commercial opportunities with Liverpool, Britain and beyond.
The consulate building stood in Paradise Street near to the quayside of Steers Dock, the world's first commercial enclosed wet dock. Above its entrance graced the wooden sculpture of a gilded bald eagle, the proud symbol of the newly unified country.
Many Americans visiting the city were seamen, and the eagle was a recognisable icon if they needed help or advice in an unknown town.
Chris Bliss, Liverpool ONE Estate Director said: "It's fantastic to see the eagle on display in the Museum. Although we unveiled an exact replica on the original consulate building last year, we were very keen that local people and visitors to Liverpool would be able to see the original in all its glory.
"While adorning the consulate, it was exposed to the elements for many years and was becoming increasingly vulnerable with age as it's made of wood. Since it was taken into conservation it has been expertly restored, and we know it will be well looked after in its new home so it can be enjoyed for many years to come."
The consulate eventually closed after the Second World War, when Liverpool's importance as an international port declined. The building had a number of uses before it became The American Eagle pub and finally The Eagle before closure in 2003 to make way for the Liverpool ONE redevelopment in 2008.
Notes to editors:
Museum of Liverpool
The Museum of Liverpool is one of the country's most visited museums outside of London. It is the largest newly-built national museum in Britain for more than a century, demonstrating Liverpool's unique contribution to the world. The first national museum devoted to the history of a regional city, it showcases popular culture while tackling social, historical and contemporary issues. It has attracted more than two million visitors since opening in July 2011. The prestigious Council of Europe Museum Prize for 2013 was awarded to the Museum for its commitment to human rights as well as its work with children and families from all backgrounds.
 
The Museum has received generous support from several major funders, and grants from trusts and foundations, corporate support and individual donations. Major funders include the Northwest Regional Development Agency (NWDA), The European Regional Development Fund (ERDF), the Heritage Lottery Fund (HLF), the Department for Culture Media and Sport (DCMS),Garfield Weston Foundation and the Clore Duffield Foundation.

The Northwest Regional Development Agency (NWDA) was responsible for the sustainable economic development and regeneration of England's Northwest and had five key priorities: Business, Skills and Education, People and Jobs, Infrastructure and Quality of Life.

The European Development Fund (ERDF) is making a real difference to people and businesses in the North West. With €755 million to invest between 2007 and 2013, ERDF is enhancing the competitiveness of the region's economy by supporting growth in enterprise and employment. ERDF in the North West is managed by the Department for Communities and Local Government – for further information visit www.communities.gov.uk/erdf.

Using money raised through the National Lottery, the Heritage Lottery Fund (HLF) sustains and transforms a wide range of heritage for present and future generations to take part in, learn from and enjoy. From museums, parks and historic places to archaeology, natural environment and cultural traditions, we invest in every part of our diverse heritage.  HLF has supported more than 30,000 projects allocating £4.5billion across the UK.  www.hlf.org.uk  
About National Museums Liverpool
National Museums Liverpool comprises eight venues, including some of the most visited museums in England outside of London. Our collections are among the most important and varied in Europe and contain everything from Impressionist paintings and rare beetles to a lifejacket from the Titanic. We attract more than 2.7 million visitors every year. Our venues are the Museum of Liverpool,  World Museum, the Walker Art Gallery, Merseyside Maritime Museum, International Slavery Museum, Border Force National Museum, Sudley House and the Lady Lever Art Gallery.
About Liverpool ONE
Liverpool ONE is one of Europe's leading retail and leisure destinations, set in the heart of Liverpool city centre. Built around the existing streets of Liverpool, the 1.65million sq ft contemporary open-air complex is a stylish must-see destination for those who love to shop, eat, drink and relax.

Liverpool ONE includes over 160 stores, bars and restaurants, a fantastic 14 screen cinema, an indoor adventure golf course and a five-acre park. Stores include high street favourites such as Topshop, John Lewis and Debenhams. Harvey Nichols have also launched their pop-up Food Market on Manesty's Lane and Hotel Chocolat, Home Coffee and menswear specialists, Simon and Simon have also recently opened at the thriving retail complex.

Peter's Lane, Liverpool ONE's designer fashion hub, is the home of big brand style. It plays host to stores including Whistles, Radley, Reiss, Hobbs, The Kooples, Karen Millen and Flannels. You'll also find the first Beauty Bazaar, Harvey Nichols in the UK, it's the ultimate luxury beauty experience and one-stop destination for all things beauty. The boutique arcade is nestled perfectly within Liverpool ONE, neighbouring other big high street brands.
Liverpool ONE has recently been awarded Green Flag Status for its popular Chavasse Park. The prestigious Green Flag Award Scheme is judged by Keep Britain Tidy. Liverpool ONE is the only new city centre commercial development in the country to include a park that has Green Flag status.

For more information on Liverpool ONE please visit: www.liverpool-one.com.

Please use the below social media channels to tag Liverpool ONE:
Facebook: www.facebook.com/LiverpoolONEOfficialPage
Twitter: @Liverpool_ONE