Early Christmas gift for Santa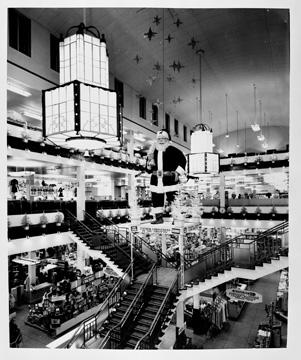 NML Chair funds Blackler's Santa restoration at Museum of Liverpool
Chair of National Museums Liverpool, Phil Redmond CBE, and his wife Mrs Alexis Redmond MBE, have stepped in to fund the restoration of the giant Santa that once signified Christmas to shoppers at Blackler's department store.
At almost seven metres high, Blackler's Giant Santa was displayed for over twenty years from the 1960s to the 1980s, as a decoration and to advertise the store's grotto. Following Blackler's closure in 1988, Santa fell into disrepair, making infrequent appearances around the city, often to raise funds for charity.
The 3D Santa was one of two created by artist Peter Blazey whilst working there. When Blackler's closed, Peter bought many of the props he had created, later donating both of Blackler's Santas to the Museum of Liverpool. The other smaller 2D Santa can currently be seen overlooking the Pier Head in the People's Republic gallery at the Museum of Liverpool.
The cost of restoring Santa is estimated to be £10,000. What is left of him was recently given to National Museums Liverpool - Santa's head, hands and boots being the only parts that have survived. On hearing about the plight of the much-loved Santa, Phil and Alexis stepped in to pay for the new torso, ensuring Santa remains a seasonal Scouse highlight. The rest of the model will also be fully restored, with a plan to display it at the Museum of Liverpool for Christmas 2016.
Director of the Museum of Liverpool, Janet Dugdale said:
"It's is a fantastic early Christmas present for National Museums Liverpool and everyone at the Museum of Liverpool is very excited. We're grateful to Phil Redmond and I know our visitors will look forward to seeing the city's most famous Santa again. Once completed, he'll go on annual display, bringing festive cheer to everyone."
Phil Redmond said:
"Christmas is always a special time and a trip into town at Christmastime as a child was magical. I remember the shop window displays, lights and of course, the grottos. Blackler's was always my favourite I remember the giant Santa well – along with the rocking horse that is also in the Museum of Liverpool. Christmas is always special in Liverpool, on hearing of Santa's fate and the offer to rebuild him, Alexis and I couldn't resist bringing back such a memorable seasonal icon. We also hope that Santa will be at the Museum of Liverpool every Christmas from 2016 and captivate future generations of visitors – no matter how young they are!"
Notes to Editors
Museum of Liverpool
The Museum of Liverpool is the largest newly-built national museum in Britain for more than a century, demonstrating Liverpool's unique contribution to the world. Opened in July 2011, it attracted more than 2 million visitors in its first year, and is the first national museum devoted to the history of a regional city. It showcases popular culture while tackling social, historical and contemporary issues and is a fantastic, free family day out.
The Museum has received generous support from several major funders, along with grants from trusts and foundations, corporate support and individual donations. Major funders include the Northwest Regional Development Agency (NWDA), The European Regional Development Fund (ERDF), the Heritage Lottery Fund (HLF) and the Department of Culture Media and Sport (DCMS)
The Northwest Regional Development Agency (NWDA) was responsible for the sustainable economic development and regeneration of England's Northwest and had five key priorities: Business, Skills and Education, People and Jobs, Infrastructure and Quality of Life.
The European Development Fund (ERDF) is making a real difference to people and businesses in the North West. With €755 million to invest between 2007 and 2013, ERDF is enhancing the competitiveness of the region's economy by supporting growth in enterprise and employment. ERDF in the North West is managed by the Department for Communities and Local Government – for further information visit https://www.gov.uk/government/organisations/department-for-communities-and-local-government.
Using money raised through the National Lottery, the Heritage Lottery Fund (HLF) sustains and transforms a wide range of heritage for present and future generations to take part in, learn from and enjoy. From museums, parks and historic places to archaeology, natural environment and cultural traditions, we invest in every part of our diverse heritage. HLF has supported more than 30,000 projects allocating £4.5billion across the UK. www.hlf.org.uk
About National Museums Liverpool
National Museums Liverpool comprises eight venues, including some of the most visited museums in England outside of London. Our collections are among the most important and varied in Europe and contain everything from Impressionist paintings and rare beetles to a lifejacket from the Titanic. We attract more than 3 million visitors every year. Our venues are the Museum of Liverpool, World Museum, the Walker Art Gallery, Merseyside Maritime Museum, International Slavery Museum, Border Force National Museum, Sudley House and the Lady Lever Art Gallery.