An English lady's wardrobe release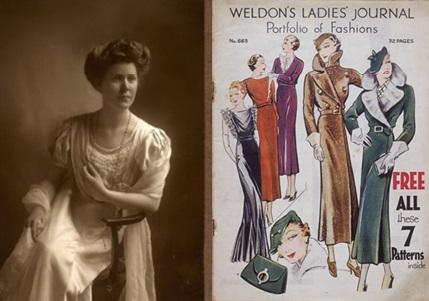 The Walker Art Gallery will display more than 70 outfits in a new exhibition that explores shopping and style in Liverpool during the interwar years. An English lady's wardrobe (25 October 2019 to 1 March 2020) will offer new insight into Liverpool's wealthy Tinne family, showcasing clothing and accessories purchased by Mrs Emily Margaret Tinne (1886-1966).
The Tinne Collection is the largest collection of a single person's clothing in any UK gallery. The Walker has displayed numerous items from the collection over recent years, but An English lady's wardrobe will be the largest exhibition yet. In addition to Emily Tinne's clothing, it will feature costumes belonging to her children as well as outfits worn by the family's servants.
The Walker has been given access to a large number of letters written by members of the Tinne family, revealing new information about their lives. As well as providing a fascinating insight into the family's home life, the letters – which now belong to Emily Tinne's granddaughter – include detailed descriptions of life in Liverpool during the Second World War Blitz.
Pauline Rushton, Senior Curator at National Museums Liverpool, said:
"The Tinne Collection provides a wonderful snapshot of life in a middle-class Liverpool family between the First and Second World Wars. The inclusion of photographs of the family home, along with personal letters, means that visitors will really get to know the Tinnes through the exhibition.

"Emily Tinne's love of shopping was extraordinary, and her vast wardrobe transports us back to a very different Liverpool. From the prestigious, Parisian-inspired department stores providing made-to-measure services, to the highly skilled tailors, milliners and shoemakers, Liverpool was well equipped to cater to the needs of the wealthy elite living in Britain's greatest port city."
In its entirety, the Tinne Collection comprises more than 700 items, which the exhibition will draw from. Kindly donated by family members in 1967 and more recently, the items range from a wool bathing suit worn by Emily Tinne during her honeymoon, to fashion magazines and paper dress patterns used by her dressmaker to create some of her outfits.
Much of the clothing that will be shown dates from 1910 to 1939. Early outfits represent the Edwardian style, while later dresses characterise the looser, drop-waisted styles associated with the 1920s. A number of sharper, tailored outfits from the 1930s will feature, while an impressive selection of hats will be showcased to further illustrate the changing styles of the period.
The exhibition will feature daywear, evening dresses, outdoor wear, underwear and accessories, including jewellery, shoes and handbags. Sumptuous velvet and fashionable machine-made lace feature in a number of outfits, while others demonstrate an Art Deco influence. The outfits were worn on outings to the theatre, to concerts and to charitable events.
Emily Tinne (née McCulloch) was born in Calcutta and spent her early childhood living in India where her father, a Presbyterian minister, was the principle of a theological college. She attended boarding school in England and eventually trained as a domestic science teacher in Edinburgh. She moved to Liverpool to live with her uncle who worked as a surgeon.
She married Dr Philip Frederic Tinne, a Liverpool GP, in 1910. Dr Tinne's family were Dutch sugar merchants and ship owners who had amassed vast amounts of money through the trade. Together they raised six children and spent most of their lives living in Clayton Lodge on Aigburth Road. The property was sold to developers in 1969, but was eventually demolished.
The reason for Emily Tinne's passion for shopping is unknown, but her marriage would certainly have offered new levels of financial freedom, as well as more leisure time. As was common for women at the time, she stopped working after marriage.
However, her domestic responsibilities were minimal as the family employed nannies and servants. As the children grew older, Emily was free to become involved with many charitable organisations, often related to women's welfare.
Central to the exhibition will be a focus on the Liverpool ladies' outfitters and department stores where many of the outfits were purchased. Archival images and film footage will offer a nostalgic glimpse of the city's most prestigious shops, including Cripps on Bold Street, the Bon Marché and George Henry Lee's on Church Street and Basnett Street, Owen Owen Ltd in Clayton Square and Lewis's on Ranelagh Street.
To purchase tickets, or to become a member of National Museums Liverpool, visit: liverpoolmuseums.org.uk/wardrobe
Notes to editors
About the Walker Art Gallery
The Walker Art Gallery houses an internationally-renowned collection of paintings, sculpture and decorative art. It is one of Europe's finest galleries, with a collection that ranges from outstanding modern and contemporary works to Medieval and Renaissance masterpieces. Some of the greatest British artists of the last century are represented in the contemporary galleries, from Lucian Freud to David Hockney, while the Gallery's Impressionist collection is not to be missed. Visitors can also see paintings by 17th and 18th century masters including Poussin, Rembrandt and Gainsborough, before taking in the Walker's famed Pre-Raphaelite collection. Younger visitors will love Big Art for Little Artists, a gallery designed to introduce children to art in a fun and interactive way. The Walker Art Gallery is an Arts Council Collection National Partner. Between April 2016 and March 2019, the Gallery will curate and host an exciting and innovative series of contemporary art exhibitions, drawn from the Arts Council Collection. www.liverpoolmuseums.org.uk/walker
About National Museums Liverpool
National Museums Liverpool comprises eight venues, including some of the most visited museums in England outside of London. Our collections are among the most important and varied in Europe and contain everything from Impressionist paintings and rare beetles to a lifejacket from the Titanic. We attracted more than 4 million visitors in 2018. Our venues are the Museum of Liverpool, World Museum, the Walker Art Gallery, Merseyside Maritime Museum, International Slavery Museum, Border Force National Museum, Sudley House and the Lady Lever Art Gallery. National Museums Liverpool is regulated by the Department of Digital, Culture, Media and Sport (DCMS). Museums and galleries regulated by DCMS are exempt charities under Schedule 3 of the Charities Act 2011. Registered Office: World Museum, William Brown Street, Liverpool L3 8EN. www.liverpoolmuseums.org.uk