Family History Day at Museum of Liverpool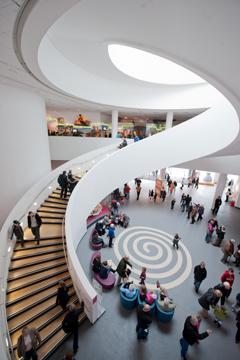 Uncover your family's First World War story
A special family history day will help visitors find out more about relatives who served in the First World War at Museum of Liverpool on Saturday 3 September from 10.30-4pm.
The Museum, which looks after the collections of the King's Regiment, will provide access to a database which contains the biographical details of more than 90,000 men who served in the Regiment during the First World War. Genealogy and research experts are on hand to assist with those hoping to learn more about the King's Regiment, including Pals and Territorials; local men who signed up with other units, as well as advice on how to access local and national research resources.
Karen O'Rourke, Curator of Urban and Military History said:
"Museum of Liverpool's family history day is a fantastic opportunity to learn more about how your relatives might have served during the First World War.

"This year we have been marking 100 years since the Battle of the Somme, a battle in which local men played a significant role. We expect to have lots of people who've seen the centenary commemorations and are interested in finding out more about how their own family might have been involved."
Experts and historians from the following societies and organisations will be on hand to speak to visitors:
• National Museums Liverpool
• King's Regiment Database
• King's Regiment Archive
• King's Regiment Association
• Armed Forces charities
• Liverpool and South West Lancashire Family History Society
• Liverpool Record Office
• Liverpool History Society
• Liverpool Pals Memorial Fund
• Major Paul Knight (local historian – Mesopotamia & Territorials)
• Western Front Association
• Liverpool John Moores University
• Liverpool Wargames Association
The Museum's First World War handling collection will be available for visitors to get an up close understanding of military life and that of the Home Front. In addition there will be themed family crafts, music and dancing, roleplayers and live demonstrations by the Liverpool Wargames Association.
The Museum's latest exhibition, First World War: Charity and Liverpool's Home Front continues the themes of the day. An exploration of the work undertaken by some of the charity organisations formed at this time to give much needed assistance to the returning soldiers and their families, it also looks at how those charities are still carrying out essential work today.
www.liverpoolmuseums.org.uk/firstworldwar
The King's Regiment Collection at the Museum of Liverpool
City Soldiers – Created in 1685, the King's Regiment is one of Britain's oldest regiments. It has been Liverpool's regiment since 1881, and is now amalgamated into the Duke of Lancaster's Regiment. Focusing on its long history and relationship with the city, the gallery utilises the King's Regiment collection, which includes film, video, memoirs, uniforms, medals, trophies and weaponry, to tell the Regiment's story. Visitors will be inspired to research their family history, using the collection and archive information as a starting point.
Follow the Museum of Liverpool on Twitter (@MuseumLiverpool) as it marks the appalling loss of lives of local men who served during the First World War every day during the Somme centenary.
Notes to Editors
About National Museums Liverpool
National Museums Liverpool comprises eight venues, including some of the most visited museums in England outside of London. Our collections are among the most important and varied in Europe and contain everything from Impressionist paintings and rare beetles to a lifejacket from the Titanic. We attract more than 2.8 million visitors annually. Our venues are the Museum of Liverpool, World Museum, the Walker Art Gallery, Merseyside Maritime Museum, International Slavery Museum, Seized! (UK Border Force National Museum), Sudley House and the Lady Lever Art Gallery.
About the Museum of Liverpool
The Museum of Liverpool is one of the country's most visited museums outside of London. It is the largest newly-built national museum in Britain for more than a century, demonstrating Liverpool's unique contribution to the world. The first national museum devoted to the history of a regional city, it showcases popular culture while tackling social, historical and contemporary issues. It has attracted more than two million visitors since opening in July 2011. The prestigious Council of Europe Museum Prize for 2013 was awarded to the Museum for its commitment to human rights as well as its work with children and families from all backgrounds.
The Museum has received generous support from several major funders, and grants from trusts and foundations, corporate support and individual donations. Major funders include the Northwest Regional Development Agency (NWDA), The European Regional Development Fund (ERDF), the Heritage Lottery Fund (HLF), the Department for Culture Media and Sport (DCMS),Garfield Weston Foundation and the Clore Duffield Foundation.
The Northwest Regional Development Agency (NWDA) was responsible for the sustainable economic development and regeneration of England's Northwest and had five key priorities: Business, Skills and Education, People and Jobs, Infrastructure and Quality of Life.
The European Development Fund (ERDF) is making a real difference to people and businesses in the North West. With €755 million to invest between 2007 and 2013, ERDF is enhancing the competitiveness of the region's economy by supporting growth in enterprise and employment. ERDF in the North West is managed by the Department for Communities and Local Government – for further information visit www.communities.gov.uk/erdf.
Using money raised through the National Lottery, the Heritage Lottery Fund (HLF) sustains and transforms a wide range of heritage for present and future generations to take part in, learn from and enjoy. From museums, parks and historic places to archaeology, natural environment and cultural traditions, we invest in every part of our diverse heritage. HLF has supported more than 30,000 projects allocating £4.5billion across the UK.
www.hlf.org.uk