First World War: Charity and Liverpool's Home Front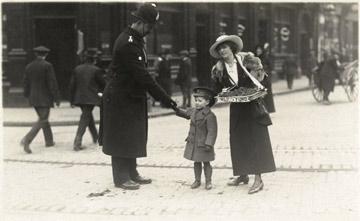 Exhibition examines untold stories of First World War
First World War: Charity and Liverpool's Home Front, supported by Armed Forces Covenant, runs from 17 June to October 2016 at the Museum of Liverpool.

The exhibition explores the many charity organisations established at the time through photographs, oral histories and case studies.
It is part of a series of exhibitions, events and displays being held at the Museum for the centenary period of the First World War.
The exhibition opens ahead of the 100 year anniversary of the First Day of the Somme (1 July 1916), when the British Army suffered its worst single day of casualties. The 20,000 British servicemen who lost their lives are well documented and remembered in numerous memorials. However less is known about the 40,000 men who survived but suffered terrible injuries and trauma. Due to rapidly progressing medical and technological advances, men who would have died in earlier conflicts, survived the First World War. Government and society therefore had to learn quickly how to deal with a generation of both mentally and physically wounded people.
The exhibition also considers the essential role charitable organisations continue to provide today for those who have a connection to the Armed Forces.
Karen O'Rourke, Curator of Urban and Military History said:
"The First World War had a massive impact on British society. Dealing with men and their families, who were coming to terms with debilitating physical injuries was only part of the problem. The other significant issue was shell shock and other mental health issues, which were widespread and of which there was very little understanding.

"With a particular focus on Liverpool, our exhibition examines how these charities paved the way for better support for ex-servicemen, something which continues to be relevant today."
There are a number of charities featured in the exhibition; in particular Soldiers, Sailors and Airmen Families Association (SSAFA), the Royal British Legion and Blind Veterans UK are highlighted.
As part of the wider project Museum of Liverpool's House of Memories, an award-winning training programme for carers of people living with dementia, recently held bespoke sessions for those caring for ex servicemen and women. In addition three memory suitcases, made specifically for the Veterans of the Army, Navy and the Royal Air force are now available for carers to borrow.
www.liverpoolmuseums.org.uk/houseofmemories
Permanent displays at Museum of Liverpool pay homage to the many servicemen and women - in particular members of the King's Regiment - who played such an important role in the War. The displays From Waterfront to Western Front and the City Soldiers Gallery look into Liverpool soldiers' experiences on the Front Line.
www.liverpoolmuseums.org.uk/firstworldwar
Notes to Editors:
Museum of Liverpool
The Museum of Liverpool is one of the country's most visited museums outside of London. It is the largest newly-built national museum in Britain for more than a century, demonstrating Liverpool's unique contribution to the world. The first national museum devoted to the history of a regional city, it showcases popular culture while tackling social, historical and contemporary issues. It has attracted more than two million visitors since opening in July 2011. The prestigious Council of Europe Museum Prize for 2013 was awarded to the Museum for its commitment to human rights as well as its work with children and families from all backgrounds.
The Museum has received generous support from several major funders, and grants from trusts and foundations, corporate support and individual donations. Major funders include the Northwest Regional Development Agency (NWDA), The European Regional Development Fund (ERDF), the Heritage Lottery Fund (HLF), the Department for Culture Media and Sport (DCMS),Garfield Weston Foundation and the Clore Duffield Foundation.
The Northwest Regional Development Agency (NWDA) was responsible for the sustainable economic development and regeneration of England's Northwest and had five key priorities: Business, Skills and Education, People and Jobs, Infrastructure and Quality of Life.
The European Development Fund (ERDF) is making a real difference to people and businesses in the North West. With €755 million to invest between 2007 and 2013, ERDF is enhancing the competitiveness of the region's economy by supporting growth in enterprise and employment. ERDF in the North West is managed by the Department for Communities and Local Government – for further information visit www.communities.gov.uk/erdf.
Using money raised through the National Lottery, the Heritage Lottery Fund (HLF) sustains and transforms a wide range of heritage for present and future generations to take part in, learn from and enjoy. From museums, parks and historic places to archaeology, natural environment and cultural traditions, we invest in every part of our diverse heritage. HLF has supported more than 30,000 projects allocating £4.5billion across the UK.
About National Museums Liverpool
National Museums Liverpool comprises eight venues, including some of the most visited museums in England outside of London. Our collections are among the most important and varied in Europe and contain everything from Impressionist paintings and rare beetles to a lifejacket from the Titanic. We attract more than 2.8 million visitors every year. Our venues are the Museum of Liverpool, World Museum, the Walker Art Gallery, Merseyside Maritime Museum, International Slavery Museum, Border Force National Museum, Sudley House and the Lady Lever Art Gallery.