First World War hero's medals come to Liverpool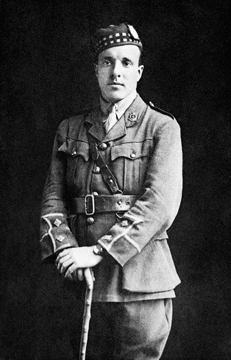 Captain Noel Chavasse's (VC and Bar, MC) medal group on show at the Museum of Liverpool
The medals of Captain Noel Chavasse, the only serviceman to be awarded the Victoria Cross (VC) twice during the First World War, go on display at the Museum of Liverpool from 31 July to 5 January 2018.
Timed to coincide with the centenary of the Third Battle of Ypres, (Passchendaele) (31 July 1917), it is the first time this important medal group, on loan from Lord Ashcroft KCMG PC, has gone on public display in Liverpool, the family's home from 1900. The medals will also be on display for the centenary of Chavasse's death (4 August 1917).
Janet Dugdale, Director of the Museum of Liverpool, said:
"The name 'Chavasse' is forever associated with heroism and courage thanks to the actions of Noel, and other members of the family, during the First World War. In unimaginably appalling conditions, Captain Chavasse saved the lives of many of his men, losing his own as a consequence in 1917. This group of medals tells a powerful story of the extremes of human sacrifice. We're extremely proud to be bringing them to Liverpool on the centenary of his death."
The medals, which are part of the Lord Ashcroft Gallery at IWM London, are a highlight in a citywide programme of events:
• 31 July - Free talks at the Museum of Liverpool about the life and times of Chavasse and the Third Battle of Ypres (also known as Passchendaele). The talks will mark the centenary of the first day of Ypres and give visitors a fuller understanding of the significance of the medals. Real and replica items from the First World War handling collection will also be available, giving visitors some insight into life on the Front.
• Also on display at the Museum until 1 September, are stained glass windows, commissioned by the Chavasse family in memory of 'those who died' and 'those who gave their life' during the First World War.
• There will be two significant civic events in August to mark 100 years since the death of Noel Chavasse. A Commemorative Paving Stone will be unveiled at Abercromby Square on Tuesday 29 August, followed by a re-creation of his Memorial Service at Liverpool Parish Church, a century to the day after it took place.
Lord Mayor of Liverpool, Councillor Malcolm Kennedy, said:
"Noel Chavasse was a courageous medical doctor whose selfless actions saved many lives. He was completely devoted to his duty and in his own words as he lay dying, he wrote 'Duty called and called me to obey'. He had been set for a brilliant career in medicine, but instead he became one of the most extraordinary soldiers Britain has ever seen, winning the Victoria Cross twice and that is why Liverpool is incredibly proud of him."
Lord Ashcroft KCMG PC, who owns the largest collection of VCs in the world, said:
"I am absolutely delighted that the medal group of Captain Noel Chavasse VC & Bar, MC is going to be on display at the Museum of Liverpool, in the city where both he and his family had such significant links. It is entirely appropriate that the centenary of Captain Chavasse's death should be marked in this way."

"I feel privileged and humbled to be the custodian of this courageous man's gallantry and service medals. Captain Chavasse deserves his unique position in history as the only 'double VC' of the Great War and his military career has come to epitomise self-sacrifice. As Captain Chavasse himself put is so succinctly as he lay dying: 'Duty called, and called me to obey'."
Noel Chavasse's medals are part of the Lord Ashcroft Collection on display at IWM London.
www.liverpoolmuseums.org.uk/Chavasse
Notes to Editors
About Noel Chavasse
Chavasse, a doctor who served with the Royal Army Medical Corps (RAMC), attached to the 10th Battalion of the King's (Liverpool Scottish) Regiment, was awarded his first VC in October 1916 for bravery in August that year at the Somme. Under constant fire and despite being hit by a shell splinter, Chavasse rescued injured men trapped in men in no-man's land, only yards away from the German trenches.
His second VC was awarded posthumously in September 1917 for gallantry at the Third Battle of Ypres (Passchendaele). Between 31 July and 2 August 1917, although wounded himself, he continued to tend to his men until his dug-out shelter was hit by a shell. This time he was fatally wounded and died on 4 August 1917.
Originally from Oxford, the Chavasse family moved to Liverpool in 1900 when Rev. Chavasse (Noel's father) was offered the Anglican Bishopric of Liverpool. Chavasse who was 16 at the time, attended Liverpool College before going on to study Medicine at Oxford University. In July 1909 he returned to Liverpool to continue his studies and work his first placement at the city's the Royal Southern Hospital. By June 1913 Chavasse was commissioned as a lieutenant by the RAMC and attached to the 10th Battalion of the King's (Liverpool Scottish) Regiment.
All seven of the Chavasse children partipated in the War Effort. Noel and his younger brother Aidan were both killed in 1917. Christopher (Noel's twin) and Bernard both survived the War. Twins, Majorie and May, were both hospital Ward Maids while the eldest daughter, Dorethea remained on Merseyside and worked on various war charity committees.
Lord Ashcroft KCMG PC
There is a full write-up on Captain Chavasse's life and bravery in Lord Ashcroft's latest gallantry book, Victoria Cross Heroes Volume II, which was published last year.
For more information, visit www.victoriacrossheroes2.com. Lord Ashcroft's VC and GC collection is on public display at the Imperial War Museum, London. For more information, visitwww.iwm.org.uk/heroes. For details about his VC collection, visit www.lordashcroftmedals.com. For more information on Lord Ashcroft's work, visit www.lordashcroft.com. Follow him on Twitter @LordAshcroft .
Imperial War Museum (IWM)
First World War Centenary
2014 - 2018 marks the centenary of the First World War, a landmark anniversary for Britain and the world. IWM is marking the centenary by leading a vibrant, four year programme of cultural activities across the world. For more information visit www.1914.org
Museum of Liverpool
The Museum of Liverpool is one of the country's most visited museums outside of London. It is the largest newly-built national museum in Britain for more than a century, demonstrating Liverpool's unique contribution to the world. The first national museum devoted to the history of a regional city, it showcases popular culture while tackling social, historical and contemporary issues. It has attracted more than two million visitors since opening in July 2011. The prestigious Council of Europe Museum Prize for 2013 was awarded to the Museum for its commitment to human rights as well as its work with children and families from all backgrounds. The Museum has received generous support from several major funders, and grants from trusts and foundations, corporate support and individual donations. Major funders include the Northwest Regional Development Agency (NWDA), The European Regional Development Fund (ERDF), the Heritage Lottery Fund (HLF), the Department for Culture Media and Sport (DCMS),Garfield Weston Foundation and the Clore Duffield Foundation.
The Northwest Regional Development Agency (NWDA) was responsible for the sustainable economic development and regeneration of England's Northwest and had five key priorities: Business, Skills and Education, People and Jobs, Infrastructure and Quality of Life.
The European Development Fund (ERDF) is making a real difference to people and businesses in the North West. With €755 million to invest between 2007 and 2013, ERDF is enhancing the competitiveness of the region's economy by supporting growth in enterprise and employment. ERDF in the North West is managed by the Department for Communities and Local Government – for further information visit www.communities.gov.uk/erdf.
Using money raised through the National Lottery, the Heritage Lottery Fund (HLF) sustains and transforms a wide range of heritage for present and future generations to take part in, learn from and enjoy. From museums, parks and historic places to archaeology, natural environment and cultural traditions, we invest in every part of our diverse heritage. HLF has supported more than 30,000 projects allocating £4.5billion across the UK. www.hlf.org.uk
About National Museums Liverpool
National Museums Liverpool comprises eight venues, including some of the most visited museums in England outside of London. Our collections are among the most important and varied in Europe and contain everything from Impressionist paintings and rare beetles to a lifejacket from the Titanic. We attract more than 3 million visitors every year. Our venues are the Museum of Liverpool, World Museum, the Walker Art Gallery, Merseyside Maritime Museum, International Slavery Museum, Border Force National Museum, Sudley House and the Lady Lever Art Gallery.