Free dementia workshops for family carers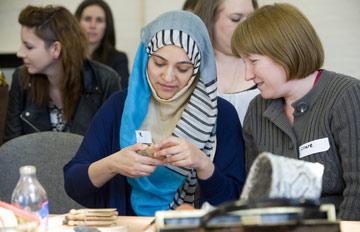 National Museums Liverpool takes dementia workshops on the road
This Sunday, 11 September, marks National Dementia Carers' Day, which recognises the important contribution family and informal carers make by caring for people living with dementia at home.
To mark the occasion, National Museums Liverpool has been commissioned by the Department of Health to launch a series of free dementia awareness workshops for family carers, partnering with cultural organisations across the country, including the British Museum.
The award-winning House of Memories dementia awareness for family carers workshops are also being held locally at the Museum of Liverpool, to provide the opportunity for family, friends, and community volunteers who provide support to people living with dementia, to gain help with dementia care through unique and innovative cultural resources.
Workshops at the Museum of Liverpool will take place twice-daily on Friday 25 November from 9:30am – 12:30pm and 1:30pm – 4:30pm. Free places can be booked by emailing learning@liverpoolmuseums.org.uk or calling 0151 478 4240.
The workshops include high-quality character-based video stories to help participants understand the experience of living with dementia and being a carer. People can also try out the My House of Memories app, and take part in dementia-friendly activities linked to the Museum of Liverpool, showing how cultural venues can be fantastic resources at helping unlock memories, improve communication and understanding, and enrich the lives of those living with dementia.
National Museums Liverpool has been providing dementia awareness training at the Museum of Liverpool since 2012. It has been taken all over the UK, and last year it was specially developed to provide support and resources to carers looking after close friends or family.
Carol Rogers, Executive Director of Education and Visitors, said:
"We have trained more than 10,000 carers across the UK, setting up our first workshops for family carers in Liverpool last year, to provide them with new ideas and perspectives on caring for their loved ones. Person-centred care is at the heart of our workshops, and acknowledges that an individual's personal history and memory is of huge importance.

"We know that dementia is an emotional subject to talk about, particularly if it affects a person you love. When you're caring for someone on a daily basis, it can be hard to see past the every day tasks. We have received some incredible feedback from previous workshops, and we hope people will take the opportunity to join us so we can steer them in a positive direction, and help improve the lives of those they care for who are living with dementia."
The Department of Health has commissioned National Museums Liverpool's House of Memories programme, to develop a national programme for family carers and community volunteers in three regions across England, as part of the Prime Minister's Challenge on Dementia 2020.
Other workshops will take place at:
• New Walk Museum and Art Gallery, Leicester, 2 November 2016
• Salford Museum and Art Gallery, 14 November 2016
• British Museum, London, 1 December 2016
For more information, please visit: www.liverpoolmuseums.org.uk/houseofmemories
@house_memories
www.facebook.com/thehouseofmemories
Notes to Editors
National Museums Liverpool
National Museums Liverpool comprises eight venues, including some of the most visited museums in England outside of London. Our collections are among the most important and varied in Europe and contain everything from Impressionist paintings and rare beetles to a lifejacket from the Titanic. We attract more than 2.8 million visitors annually. Our venues are the Museum of Liverpool, World Museum, the Walker Art Gallery, Merseyside Maritime Museum, International Slavery Museum, Seized! (UK Border Force National Museum), Sudley House and the Lady Lever Art Gallery.
House of Memories
House of Memories has been running at the Museum of Liverpool since 2012, training more than 10,000 carers across England to date. Part of the programme includes the award-winning My House of Memories app; a digital app, designed in consultation with people living with dementia and their carers, which was launched at the House of Commons in 2014.
House of Memories has received recognition from NHS England North West for their Learning Together in Health and Social Care Award 2013, won the 2014 Museums & Heritage award for Best Educational Initiative, was Highly Commended at the 2014 Dementia Friends Awards in the National initiative category, and is cited as an example of best practice in the Museums Association's vision for the impact of museums: Museums Change Lives. In 2015 House of Memories won the Best Dementia Friendly Partnership Working at the Alzheimer's Society's Dementia Friendly Awards.