Fresh Perspectives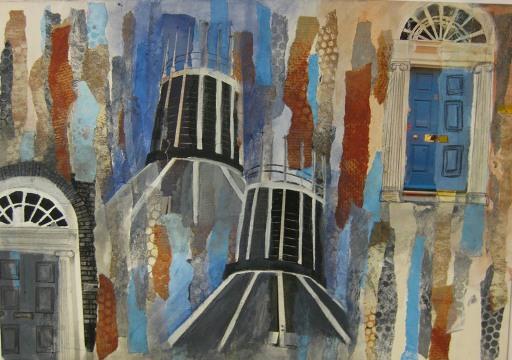 Wirral school pupils exhibit work at Lady Lever Art Gallery 
Wirral school pupils will have their paintings on show alongside the masters of art when they exhibit at Lady Lever Art Gallery.
Fresh Perspectives: Art from Wirral Schools opens on Saturday 9 February and runs until 7 April.
The exhibition features a diverse range of nearly 100 works including painting, collage and textiles created by Year 10 students from Prenton High School, South Wirral High School, Wallasey School and Weatherhead High School.
Lady Lever has held mini displays of schools' work in the past which proved very popular with visitors. The gallery was keen for students to put on a much larger exhibition this year to showcase the creative talents of Wirral's young people.
Sandra Penketh, Director of Art Galleries at National Museums Liverpool, said: "This exhibition provides a platform for young Wirral artists to show off their creations in of Europe's finest art galleries. The Lady Lever boasts paintings by the likes of Constable, Gainsborough and Millais. So the students are in esteemed company. They can feel very proud of their achievements."
The exhibition is supported by the Wirral-based Johnson Foundation, a long time supporter of both the Lady Lever Art Gallery and educational projects for local children and young people.
Susan Lunt, art teacher at South Wirral High School, said: "We are delighted to exhibit the work of our talented year 10 pupils at the Lady Lever. The students are thrilled to have this fantastic opportunity to display their artwork in such a prestigious and internationally renowned art gallery."
Simon Taylor, art teacher, Prenton High School for Girls said: "We are extremely proud to be part of the first Wirral schools' art exhibition at the Lady Lever Gallery. We were privileged to be asked to take part and feel it is a great honour for our students' artwork to be displayed alongside internationally renowned artists. As a Specialist Visual Arts College it has given us a wonderful opportunity to showcase a range of outstanding artwork from our students, and it is a great reward for all the hard work they have put in, that will hopefully inspire all our students to higher things."
Debra Freckleton Head of Art Weatherhead High School, said: "We are delighted to be part of this exhibition. It gives our students the opportunity to showcase their artwork to a wider audience and celebrate their achievements. It is inspiring for our girls to be part of a professional exhibition where their work will be shown amongst famous paintings and artefacts in such a lovely gallery."
Philip Duffy, Headteacher Wallasey School, said: "Wallasey school prides itself on the high quality of the Art work produced by students year on year. Anyone who visits the school cannot fail to be impressed at the stunning work produced. We are delighted to have been invited to contribute to this very important exhibition that celebrates the work of young people and staff at the school."
More information at http://www.liverpoolmuseums.org.uk/ladylever/
About National Museums Liverpool
National Museums Liverpool comprises eight venues. Our collections are among the most important and varied in Europe and contain everything from Impressionist paintings and rare beetles to a lifejacket from the Titanic. 
We attract more than three million visitors every year. Our venues are the International Slavery Museum, Lady Lever Art Gallery, Merseyside Maritime Museum, Museum of Liverpool, Sudley House, UK Border Force National Museum, Walker Art Gallery and World Museum.  
Lady Lever Art Gallery houses one of the UK's finest collections of fine and decorative art. It has the best collection of Wedgewood jasperware anywhere in the world and its collection of Pre-Raphaelite paintings is internationally renowned.