Funding boost for Museum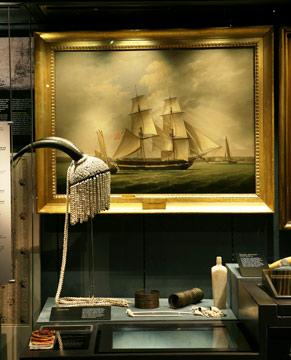 International Slavery Museum will use grant to develop collections.
The International Slavery Museum has received a big funding boost to help develop its collections. It was announced today (Tuesday 7 October) that a bid to the Heritage Lottery Fund (HLF) for £225,000 has been successful.
HLF's grant will help the museum enhance its already unparalleled transatlantic slave trade and contemporary slavery collections which tell a moving and powerful story.
Acquisitions will be twofold: the Transatlantic Slavery Collection, targeting items such as ivory tokens, abolitionist correspondence and objects and the Contemporary Slavery Collection, targeting objects which will increase public awareness of contemporary slavery and ignite discussion.
The funding will also enable the museum to develop public programmes using the collections and their stories, history and research to give a voice to the objects.
Dr Richard Benjamin, Head of the International Slavery Museum, said:
"This is a tremendous boost and enables the museum to develop our story about transatlantic slavery and modern day slavery. "There is nothing as immediate as being able to connect with a real object which has historical meaning. Real objects enable an emotional connection to strong personal stories of exploitation, the fight for justice and representation.

"It is also a step forward in our ambitious long-term plans to expand the museum into the Dr Martin Luther King building."
More than £880,000 has been granted to North West museums through today's HLF Collecting Cultures announcement.
Sara Hilton, Head of the Heritage Lottery Fund North West, said:
"Collecting Cultures is unique: HLF is the only funding body that currently offers this type of support for museums, libraries and archives. Building on past success, this second incarnation of the initiative is back by popular demand.

"This investment of over £880,000 will enhance collections across the North West - ranging from fashion to football – and encourage more public access and involvement."
The International Slavery Museum (situated on the third floor of Merseyside Maritime Museum), opened in 2007 and has welcomed nearly three million visitors to date.
The longer term plan for the development of the museum is to expand into the adjacent Dr Martin Luther King Jr Building. This will be the International Slavery Museum's new entrance, with spaces where visitors can engage in more education and community activity, research family history and view the museum's newest collections.
This ambitious scheme is subject to funding. You can learn more here: www.liverpoolmuseums.org.uk/ismfuture
Notes to editors
International Slavery Museum
The International Slavery Museum opened in August 2007. It is situated on the third floor of the Merseyside Maritime Museum at the Albert Dock. It is the only national museum in the world to cover transatlantic slavery and its legacies as well as contemporary forms of slavery and enslavement. It is also an international hub for resources on human rights issues and campaigning.
HLF Collecting Cultures
• This is the second time HLF has run Collecting Cultures, an initiative to support museums, libraries and archives in developing their collections through strategic acquisition projects. Grantees plan and deliver programmes of targeted purchase whilst developing staff skills and engaging a wider range of people with their collections.
• A list of other grants awarded across the UK is available on request.
• To date, HLF has invested a third of its total commitment - £2bn - to transforming museums, libraries and archives.
• Acquisitions must be at least 10 years-old to be eligible for HLF support.
• The Collecting Cultures programme is now closed for applications.
• For the Heritage Lottery Fund, please contact Katie Owen, Press Office, on tel: 020 7591 6036 mobile: 07973 613820. Or Laura Bates, HLF press office, 020 7591 6027 / lbates@hlf.org.uk
About National Museums Liverpool
National Museums Liverpool comprises eight venues. Our collections are among the most important and varied in Europe and contain everything from Impressionist paintings and rare beetles to a lifejacket from the Titanic.
We attract 2.7m visitors every year. Our venues are World Museum, Museum of Liverpool, the Walker Art Gallery, Merseyside Maritime Museum, International Slavery Museum, Border Force National Museum, Sudley House and the Lady Lever Art Gallery.