Funding support for local heritage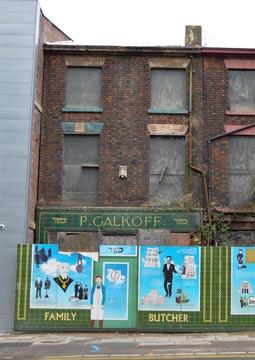 Galkoff's and the Secret Life of Pembroke Place project wins Heritage Lottery Fund support
Liverpool School of Tropical Medicine (LSTM) and National Museums Liverpool have received initial support from the Heritage Lottery Fund to support a collaborative project looking at two important heritage sites on LSTM's campus.
Galkoff's and the Secret Life of Pembroke Place is a project that will, over the coming months, investigate the history of Court Housing and the former Galkoff's butchers shop, situated opposite LSTM's original 1914 building. Development funding of £52,400 has been awarded to help LSTM and National Museums Liverpool carry out exploratory work with local people and organisations to progress plans and apply for a full grant next year.
Assistant Mayor and City Centre Councillor Nick Small said:
"I'm really pleased the grant has been secured from the Heritage Lottery Fund. This will allow all the partners involved to develop an excellent project and involve members of the public, as well as building a strong case for further support from the Heritage Lottery Fund."
If successful in attracting further funding from the Heritage Lottery Fund, the project will undertake extensive research into both sites on Pembroke Place, revealing stories of life in this area from the late 19th century to present day. Archaeological investigations will unearth evidence of how people lived in the Court Housing, the only example left in Liverpool and one of the few examples of this housing type that remains in the UK.
The proposed project would see the removal of Galkoff's historic tiles from a rapidly deteriorating building, conduct essential conservation works and remount the tiles in a new installation, alongside a Secret Life of Pembroke Place display within The People's Republic gallery at the Museum of Liverpool.
Galkoff's butchers shop opened in 1907 and was a supplier of kosher foods to the passenger ships that sailed to and from Liverpool, including Titanic. The 1930s green faience tiles are a distinctive feature on Pembroke Place, but have been falling off the derelict building over the past 20 years. There is now an opportunity to give this historically important local business a prominent place in the city's award-winning Museum of Liverpool, which receives about 750,000 visitors each year. Education activities, including workshops and talks will also allow the public and local schools to learn more about this unique history and become involved with the project.
Janet Dugdale, Director of the Museum of Liverpool, said:
"We're very pleased to have been granted a first round pass by the Heritage Lottery Fund for this important project. Exploration of both the beautiful frontage of Galkoff's and the remains of Court Housing at the rear, will unlock fascinating information about the people who lived in and around the area.

"Our curators and dedicated project team will be working closely with LSTM and the local community on this next stage to build a deeper understanding of the work required to create a meaningful interpretation and legacy of both Galkoff's and Pembroke Place."
All work will be supported by a team of volunteers. Janet continues:
"We are particularly interested in working with people from Liverpool's Jewish community and local historians who are familiar with the area and may have knowledge of the secret life of Pembroke Place. We have a public consultation event taking place at the Museum of Liverpool on Sunday 18 September 2016 at 2pm, so please do also contact us if you would like to attend to discover more about the project, provide feedback or register as a volunteer."
Email enquiries about the project and becoming a volunteer can be sent to: museumofliverpool@liverpoolmuseums.org.uk
Notes to Editors
About LSTM
Liverpool School of Tropical Medicine (LSTM) has been engaged in the fight against infectious, debilitating and disabling diseases since 1898 and continues that tradition today with a research portfolio in excess of well over £200 million and a teaching programme attracting students from over 65 countries.
About National Museums Liverpool
National Museums Liverpool comprises eight venues, including some of the most visited museums in England outside of London. Our collections are among the most important and varied in Europe and contain everything from Impressionist paintings and rare beetles to a lifejacket from the Titanic. We attract more than 2.8 million visitors annually. Our venues are the Museum of Liverpool, World Museum, the Walker Art Gallery, Merseyside Maritime Museum, International Slavery Museum, Seized! (UK Border Force National Museum), Sudley House and the Lady Lever Art Gallery.
About the Heritage Lottery Fund
Heritage Grants applications are assessed in two rounds. A first-round pass is given when HLF has endorsed outline proposals and earmarked funding. A first-round pass may also include an immediate award to fund the development of the project. Detailed proposals are then considered by HLF at second-round and as long as plans have progressed satisfactorily and according to the original proposal, an award for the project is confirmed.
About the Museum of Liverpool
The Museum of Liverpool is one of the country's most visited museums outside of London. It is the largest newly-built national museum in Britain for more than a century, demonstrating Liverpool's unique contribution to the world. The first national museum devoted to the history of a regional city, it showcases popular culture while tackling social, historical and contemporary issues. It has attracted more than two million visitors since opening in July 2011. The prestigious Council of Europe Museum Prize for 2013 was awarded to the Museum for its commitment to human rights as well as its work with children and families from all backgrounds.
The Museum has received generous support from several major funders, and grants from trusts and foundations, corporate support and individual donations. Major funders include the Northwest Regional Development Agency (NWDA), The European Regional Development Fund (ERDF), the Heritage Lottery Fund (HLF), the Department for Culture Media and Sport (DCMS),Garfield Weston Foundation and the Clore Duffield Foundation.
The Northwest Regional Development Agency (NWDA) was responsible for the sustainable economic development and regeneration of England's Northwest and had five key priorities: Business, Skills and Education, People and Jobs, Infrastructure and Quality of Life.
The European Development Fund (ERDF) is making a real difference to people and businesses in the North West. With €755 million to invest between 2007 and 2013, ERDF is enhancing the competitiveness of the region's economy by supporting growth in enterprise and employment. ERDF in the North West is managed by the Department for Communities and Local Government – for further information visit www.communities.gov.uk/erdf.
Using money raised through the National Lottery, the Heritage Lottery Fund (HLF) sustains and transforms a wide range of heritage for present and future generations to take part in, learn from and enjoy. From museums, parks and historic places to archaeology, natural environment and cultural traditions, we invest in every part of our diverse heritage. HLF has supported more than 30,000 projects allocating £4.5billion across the UK.
www.hlf.org.uk