Gallery acquires Picasso drawing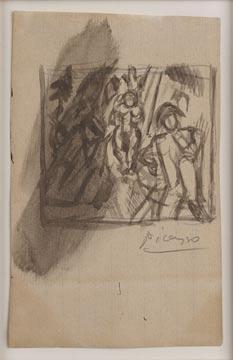 Walker Art Gallery receives a Picasso from Freud's collection
The Walker Art Gallery has acquired a drawing by Pablo Picasso (1881-1973), one of the most influential artists of the 20th century, which will go on public display from 14 July 2015.
The drawing, Study for Temptation of St Anthony (1909), will be on show for the first time as part of a new display at the Gallery, Picasso on Paper, which runs until 31 October 2015.
Formerly owned by the great British painter and collector Lucian Freud (1922-2011), the drawing was gifted to National Museums Liverpool by Arts Council England as part of the Acceptance in Lieu scheme.
Picasso on Paper will feature another drawing by the artist, Pau Cucurny with a dog (1903), acquired by National Museums Liverpool in 2000, along with a gouache watercolour by Spanish artist Enrique Garrán (?1899-1962), who was greatly influenced by Picasso's cubist style.
Xanthe Brooke, Curator of European Fine Art at National Museums Liverpool, said:
"Picasso is without doubt one of the most significant artists of the 20th century and we're very grateful to Arts Council England for allocating the drawing to us. It is a rare example of a religious theme by Picasso and shows him toying with the early cubist style he helped to create.

"It is also fascinating to note that the drawing once hung in the home of Lucian Freud, whose work is also on show at the Gallery. In fact, the frame that the drawing will be presented in here is the frame in which Freud displayed it, after receiving the drawing as a gift from his friend, the Picasso expert Sir John Richardson."
Study for Temptation of St Anthony depicts the sensual temptation which St Anthony the Great is believed to have faced during his time in the Egyptian desert. The erotic story fascinated Picasso early in his career and is here given a typical Picasso twist with the introduction of a Harlequin.
The drawing is the second major work from Lucian Freud's collection that the Walker Art Gallery has acquired through Arts Council England's Acceptance in Lieu scheme. In 2013, the Gallery received Degas' sculpture, The Masseuse (modelled mid-1890s, cast after 1918), which is on display in room 10.
Visitors can see Freud's Interior at Paddington (1951) in room 11 at the Walker Art Gallery, while the artist's Girl with Beret (1951) features in the Gallery's upcoming temporary exhibition, REALITY: Modern and Contemporary British Painting, which runs from 10 July to 29 November 2015.
Notes to Editors
About the Acceptance in Lieu scheme
The Acceptance in Lieu scheme is administered by Arts Council England and enables taxpayers to transfer important works of art and other important heritage objects into public ownership while paying Inheritance Tax, or one of its earlier forms. The taxpayer is given the full open market value of the item, which then becomes the property of a public museum, archive or library. For more information, visit: http://www.artscouncil.org.uk/what-we-do/supporting-museums/cultural-property/tax-incentives/acceptance-lieu/
About Arts Council England
Arts Council England champions, develops and invests in artistic and cultural experiences that enrich people's lives. We support a range of activities across the arts, museums and libraries – from theatre to digital art, reading to dance, music to literature, and crafts to collections. Great art and culture inspires us, brings us together and teaches us about ourselves and the world around us. In short, it makes life better. Between 2015 and 2018, we plan to invest £1.1 billion of public money from government and an estimated £700 million from the National Lottery to help create these experiences for as many people as possible across the country. www.artscouncil.org.uk
About National Museums Liverpool
National Museums Liverpool comprises eight venues. Our collections are among the most important and varied in Europe and contain everything from Impressionist paintings and rare beetles to a lifejacket from the Titanic.
We attract almost 2.7 million visitors every year. Our venues are the International Slavery Museum, Lady Lever Art Gallery, Merseyside Maritime Museum, Museum of Liverpool, Sudley House, Border Force National Museum (Seized! The Border and Customs Uncovered), Walker Art Gallery and World Museum.
About the Walker Art Gallery
One of the finest art galleries in Europe, the Walker Art Gallery is home to renaissance masterpieces, Tudor portraits and one of the best collections of Victorian and Pre-Raphaelite art in the country. An outstanding display of contemporary art includes work by David Hockney, Lucian Freud and Bridget Riley.