Gallery to expand LGBT collection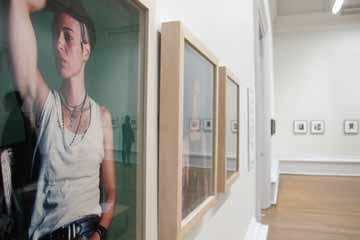 Walker Art Gallery awarded funding for diverse new works
The Walker Art Gallery has been awarded £60,000 by the Art Fund to expand its collection of works representing Lesbian, Gay, Bisexual and Transgender (LGBT) themes.
The funding will be granted as part of the New Collecting Awards, a landmark programme developed by the Art Fund to invest in talented curators with ambitions to develop collections within their galleries in innovative new ways.
Charlotte Keenan, Curator of British Art at National Museums Liverpool, is one of only five inaugural recipients selected from across the UK to benefit from the initiative, which will enable her to realise new ambitions for the Walker Art Gallery's collections.
Charlotte Keenan said:
"I am thrilled to have been awarded this funding, as it will really help with the work I am doing as a curator and to progress the social justice agenda of National Museums Liverpool as a whole.

"I'm looking forward to bringing LGBT stories to our visitors through historic and contemporary art, opening up the collections to new audiences and allowing us to incorporate LGBT narratives into our permanent displays on a scale that has rarely been seen before."
The funding will allow Charlotte to make several ambitious acquisitions of historic and contemporary art on behalf of the Walker Art Gallery, with each new work representing an LGBT theme or story.
The grant will also enable the Gallery to demonstrate how an LGBT perspective can enhance non-LGBT collections and reflect on the contribution of LGBT artists to art history – both nationally and internationally – within the gallery's permanent displays.
Stephen Deuchar, Director of the Art Fund, said:
"Great museums depend on having great curators, so we're keen to help support the profession wherever we can. The New Collecting Awards are intended to identify the star curators of the future and to support their collecting ambitions by giving them special acquisition grants, as well as offering mentoring and other assistance.

"We were extremely impressed by the quality of the applications, and by the presentations given by the 12 curators we shortlisted. We look forward to watching the five awardees in action – both through this project and in their longer term careers."
National Museums Liverpool is committed to representing LGBT themes across the organisation and was recently awarded a grant of £91,863 from the Esmée Fairbairn Collections Fund to support its Pride and Prejudice project.
The New Collecting Awards funding will enable the organisation to build on the work that has already been carried out in this area in order to cement the future presence and visibility of LGBT-related collections across its museums and galleries.
Notes to Editors
Charlotte Keenan's biography
Charlotte Keenan joined National Museums Liverpool in 2010 as the Assistant Curator of Fine Art. Based at the Walker Art Gallery she later took up the position of Curator of Works on Paper in 2011 before being appointed Curator of British Art in April 2014. Since her arrival she has curated several major exhibitions for the Gallery and carried out new research on the collection. Her current research interests include Edwardian and early 20th century British art with a focus on the artist Walter Sickert. In 2013 she was the inaugural Andrew W. Mellon Foundation Curatorial Scholar at the Yale Centre for British Art in New Haven, Connecticut, where she carried out new research on the Walker Art Gallery's collection of drawings by the artist. Charlotte studied Art History and English Literature at the University of Sussex and completed her Masters in Art History there in 2009. Charlotte was an Assistant Curator at Brighton Museum and Art Gallery before joining the Walker Art Gallery in 2010.
About the New Collecting Awards
The New Collecting Awards marks a significant new phase in the Art Fund's ongoing commitment to supporting curators and developing museum collections across the UK. It aims to:
Offer special acquisition grants to help a new generation of curators hone their skills in developing museum collections and in buying works of art
Help museums and galleries extend holdings into new areas, or deepen existing holdings in imaginative ways
Promote the value of research-led collecting and foster curatorial expertise at individual and institutional levels, thus enriching museum practice over the long term
The New Collecting Awards recipients will also receive funding dedicated to their own professional development – to spend on research, travel and training costs to support their proposed collecting plans, as well as the ongoing support of a mentor, Art Fund staff and trustees.
New Collecting Awards is made possible thanks to the generous support of a consortium of funders, including the Esmée Fairbairn Foundation, Sir Siegmund Warburg's Voluntary Settlement, The Wolfson Foundation, The Ruddock Foundation for the Arts, and contributions from private individuals.
About the Art Fund
The Art Fund is the national charity for art, driven by the belief that everyone should have access to great art. In the past five years the Art Fund has given £34m to help museums and galleries acquire works of art for their collections. The Art Fund also helps museums share their collections with wider audiences by supporting a range of tours and exhibitions, including ARTIST ROOMS and the 2013–18 Aspire tour of Tate's Constable's Salisbury Cathedral from the Meadows, and makes additional grants to support the training and professional development of curators.
The Art Fund is independently funded, with the core of its income provided by 117,000 members who receive the National Art Pass and enjoy free entry to over 230 museums, galleries and historic places across the UK, as well as 50% off entry to major exhibitions. In addition to grant-giving, the Art Fund's support for museums includes the annual Art Fund Prize for Museum of the Year (won by the Yorkshire Sculpture Park in 2014), a publications programme and a range of digital platforms including a website and the Art Guide app, promoting a network of over 650 museums and galleries across the country.
For further press information and images, please contact:
Madeline Adeane on 0207 225 4804 / madeane@artfund.org
About National Museums Liverpool

National Museums Liverpool comprises eight venues. Our collections are among the most important and varied in Europe and contain everything from Impressionist paintings and rare beetles to a lifejacket from the Titanic.
We attract more than 2.7 million visitors every year. Our venues are the International Slavery Museum, Lady Lever Art Gallery, Merseyside Maritime Museum, Museum of Liverpool, Sudley House, Border Force National Museum (Seized! The Border and Customs Uncovered), Walker Art Gallery and World Museum.
One of the finest art galleries in Europe, the Walker Art Gallery is home to renaissance masterpieces, Tudor portraits and one of the best collections of Victorian and Pre-Raphaelite art in the country. An outstanding display of contemporary art includes work by David Hockney, Lucian Freud and Bridget Riley.
Walker Art Gallery William Brown Street, Liverpool
Admission FREE
Open 10am-5pm daily
Information 0151 478 4199
Website liverpoolmuseums.org.uk/walker
Twitter www.twitter.com/walkergallery
Facebook www.facebook.com/walkerartgallery