The Gang: Photographs by Catherine Opie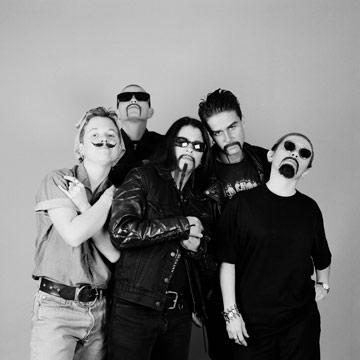 Exhibition of work by renowned American photographer
A new acquisition for the Walker Art Gallery takes the centre of a stunning collection of work by leading American photographer, Catherine Opie.
The Gang: Photographs by Catherine Opie (1990), which runs at the Walker from 4 October to 15 February 2015, is a major part of Liverpool's Homotopia Festival 2014.
The iconic image The Gang, presented to the Walker by the Contemporary Art Society with the support of the gallery, gives the exhibition its name and is one of 25 photographs by Opie on display. It features Opie's friends photographed together in a humorous pose that is defiant, yet tender.
Catherine Opie says,
"I made The Gang after individually shooting them all for the 1991 body of work, Being and Having. It was great to see them with their moustaches and I couldn't resist making some group photos of them… I think it is perfect in celebrating Homotopia as this work was made 20 years ago, in relationship to visibility within my own queer community. It is good to celebrate and reflect on equality that has been achieved and celebrated as well as the fight in regards to homophobia that continues."
The exhibition comprises both striking black and white and colour photographs taken from 1987 to 2012. The subjects are mostly Opie's friends from the lesbian, gay, bisexual, transgendered and queer community. The body of work is at times explicit and challenging in its content, but also playful and intimate.
The Walker Art Gallery's Head of Fine Art, Ann Bukantas said:
"We are thrilled to now hold The Gang in the Walker Art Gallery's collection. We're very grateful to Contemporary Art Society for presenting the piece, which is another demonstration of our commitment to inclusion and audience diversity. The acquisition has been the inspiration for this exhibition.

"Catherine Opie is an interesting artist whose work gives personal insight into an often marginalised community through her explorations of identity, sexuality and gender. What is unique about the work is the warmth and intimacy – and sometimes the humour - of the images which break down the sense of 'otherness' and instead evoke an increasing empathy. Her work is perfect for the context of the 2014 Homotopia Festival."
The Contemporary Art Society's Director, Caroline Douglas said:
"Catherine Opie is one of the most compelling portrait photographers worldwide and her work is emblematic of how artists reflect the changing values and mores of wider society.

"The donation of The Gang is the result of an intense period of research into works by artists who deal with LGBT themes and demonstrates our commitment to the Walker Art Gallery, to whom we have donated over 80 works since 1979."
The exhibition has been organised with the kind support of the artist, Stephen Friedman Gallery in London and Homotopia.
Notes to editors
About Homotopia
Homotopia is the UK's foremost LGBT (lesbian, gay, bisexual, trans*) arts and social justice organisation. Based in Liverpool, each November the arts festival of the same name features a bill of international Queer arts and culture, whilst year round, Homotopia delivers a range of arts, participation and education programmes in the UK and overseas.
About Contemporary Art Society
The Contemporary Art Society is a national charity that encourages an appreciation and understanding of contemporary art in the UK. With the help of our members and supporters we raise funds to purchase works by new artists which we give to museums and public galleries where they are enjoyed by a national audience; we broker significant and rare works of art by important artists of the twentieth century for public collections through our networks of patrons and private collectors; we establish relationships to commission artworks and promote contemporary art in public spaces; and we devise programmes of displays, artist talks and educational events. Since 1910 we have donated over 8,000 works to museums and public galleries - from Bacon, Freud, Hepworth and Moore in their day through to the influential artists of our own times - championing new talent, supporting curators, and encouraging philanthropy and collecting in the UK.
www.contemporaryartsociety.org
About National Museums Liverpool
National Museums Liverpool comprises eight venues. Our collections are among the most important and varied in Europe and contain everything from Impressionist paintings and rare beetles to a lifejacket from the Titanic.
We attract more than 2.7 million visitors every year. Our venues are the International Slavery Museum, Lady Lever Art Gallery, Merseyside Maritime Museum, Museum of Liverpool, Sudley House, UK Border Agency National Museum, Walker Art Gallery and World Museum.
One of the finest art galleries in Europe, the Walker Art Gallery is home to renaissance masterpieces, Tudor portraits and one of the best collections of Victorian and Pre-Raphaelite art in the country. An outstanding display of contemporary art includes work by David Hockney, Lucian Freud and Bridget Riley.