Gary Lawrence wins John Moores Painting Prize 2018 Visitors' Choice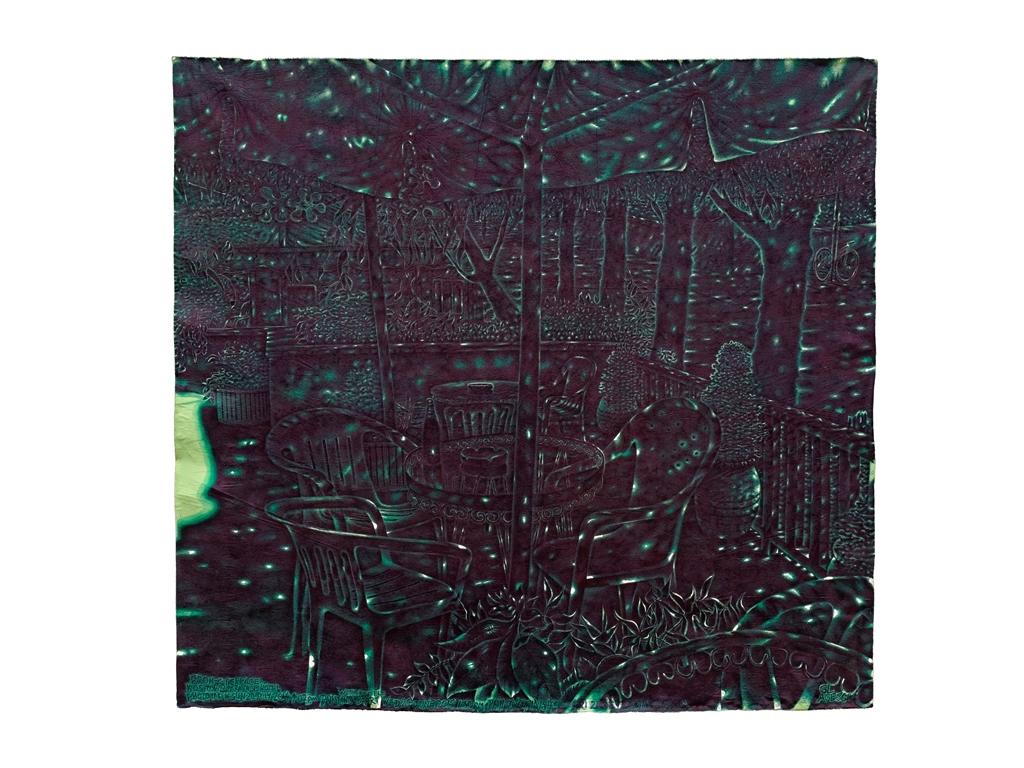 Artist scoops £2,018 award, sponsored by Rathbones
Visitors to the John Moores Painting Prize 2018 have spoken in their thousands and voted for Gary Lawrence's Kos Town Paradise Hotel Front Terrace to be their winner for this year's Visitors' Choice Prize.
The dark and deceptive painting has won the £2,018 prize, sponsored by Rathbones.
In total around 16,000 votes were collected for the Visitors' Choice, with many of those who voted for Gary's work taking the time to say what had drawn them to it:
"When you glance at it all you see is black, but as you stare, a picture forms. So clever, it reminds me of people – you don't see someone's true colours right away, it takes time for them to open up."

"The way the artist uses very few colours to depict the terrace is extraordinary. The white lights attract the viewer and the green completes the outlines. Entrancing."
Sandra Penketh, Director of Art Galleries at National Museum Liverpool, said:
"We are very pleased to award Gary the 2018 Visitors' Choice, on behalf of the John Moores Painting Prize audience, who so loved this magical painting."

"Gary Lawrence's Kos Town Paradise Hotel Front Terrace is almost supernatural. It is a painting that is otherworldly, yet if you give it a few moments, its subject matter is revealed. Lawrence's minimal colour palette, materials and the technique he uses demands that the viewer be active in deconstructing what they are looking at, almost like a slight of hand, transforming a mundane scene. It is clever and witty."
Artist Gary Lawrence said:
"I am delighted to have won the 2018 John Moores Visitors' Choice Prize. It is always eye-opening to get feedback on one's work but an acknowledgement such as this award is very humbling.

"Being part of this John Moores exhibition has been terrific. I'm massively grateful to all the staff at the Walker Art Gallery and to the sponsors Rathbones."
John Duffy, Senior Trust Manager at Rathbones, commented:
"Rathbones is delighted to present Gary Lawrence, the winner of the Visitors' Choice Prize, with a cheque for £2,018 and to continue our longstanding relationship with the competition in this way. It's always exciting to see which painting resonates with visitors to the John Moores Painting Prize exhibition. Congratulations Gary!"
Jacqui Hallum is the is the 30th winner of the £25,000 Prize, held biennially, which celebrates its 60th anniversary this year. Announced at the Walker Art Gallery for the opening of the Liverpool Biennial in July, Hallum received the £25,000 first prize for her work King and Queen of Wands (2017).
King and Queen of Wands was selected from a shortlist of five paintings, which also included Quilt by Billy Crosby; The Thunderous Silence of Your Presence by Tom Howse; GIANTS by Joseph O'Rourke and The Divide, Beyond Reasoning by Shanti Panchal. Each of these shortlisted artists received a prize of £2,500.
Established by Sir John Moores in 1957, the Prize has awarded more than £640,000 in prize money across 30 exhibitions, which have showcased more than 2,200 works of art. The Prize presents a rich history of post-war painting in Britain. The first exhibition was held only six years after the Walker Art Gallery re-opened following the Second World War. Hallum joins its esteemed alumni including David Hockney, Mary Martin, Peter Doig, Keith Coventry, Sarah Pickstone and Rose Wylie, among others.
Five prizewinning paintings from the fifth John Moores Painting Prize China are also displayed in the 2018 exhibition. Organised by the College of Fine Arts at Shanghai University, the China Prize was launched in 2010 to support the development of painting in China.
The John Moores Painting Prize is organised in partnership with the John Moores Liverpool Exhibition Trust. It is supported by its exhibition partner Weightmans. The exhibition is showing as part of Liverpool Biennial 2018, taking place across the city's public spaces, galleries and museums from 14 July to 28 October.
www.liverpoolmuseums.org.uk/johnmoores @JMPaintingPrize #jm2018
Notes to Editors
Rathbones
Rathbone Investment Management is one of the UK's largest and longest-established providers of high-quality, personalised discretionary investment services. It manages over £33.2 billion* of funds (as at 30 September 2016) for individuals, charities and trustees, and is part of Rathbone Brothers Plc, an independent company with a listing on the London Stock Exchange.
Investment management services are offered in Aberdeen, Birmingham, Bristol, Cambridge, Chichester, Edinburgh, Exeter, Glasgow, Jersey, Kendal, Liverpool, London, Lymington, Newcastle and Winchester.
*Includes funds managed by Rathbone Unit Trust Management.

About the Walker Art Gallery
The Walker Art Gallery houses an internationally-renowned collection of paintings, sculpture and decorative art. It is one of Europe's finest galleries, with a collection that ranges from outstanding modern and contemporary works to Medieval and Renaissance masterpieces. Some of the greatest British artists of the last century are represented in the contemporary galleries, from Lucian Freud to David Hockney, while the Gallery's Impressionist collection is not to be missed. Visitors can also see paintings by 17th and 18th-century masters including Poussin, Rembrandt and Gainsborough, before taking in the Walker's famed Pre-Raphaelite collection. Younger visitors will love Big Art for Little Artists, a gallery designed to introduce children to art in a fun and interactive way. The Walker Art Gallery is an Arts Council Collection National Partner. Between April 2016 and March 2019, the Gallery will curate and host an exciting and innovative series of contemporary art exhibitions, drawn from the Arts Council Collection.
www.liverpoolmuseums.org.uk/walker
About National Museums Liverpool
National Museums Liverpool comprises eight venues, including some of the most visited museums in England outside of London. Our collections are among the most important and varied in Europe and contain everything from Impressionist paintings and rare beetles to a lifejacket from the Titanic. We attract more than 3.3 million visitors every year. Our venues are the Museum of Liverpool, World Museum, the Walker Art Gallery, Merseyside Maritime Museum, International Slavery Museum, Border Force National Museum, Sudley House and the Lady Lever Art Gallery. National Museums Liverpool is regulated by the Department of Digital, Culture, Media and Sport (DCMS). Museums and galleries regulated by DCMS are exempt charities under Schedule 3 of the Charities Act 2011. Registered Office: World Museum, William Brown Street, Liverpool L3 8EN.