Glitz goes to Sudley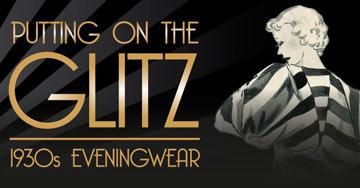 1930s fashion exhibition to open at Sudley House
Sudley House will be getting the Hollywood treatment when Putting on the Glitz, a glamorous 1930s fashion exhibition, opens its doors on 25 March 2016.
A stunning selection of 20 outfits from National Museums Liverpool's costume collection will be displayed at the South Liverpool gallery, revealing how the glitz and glamour of Hollywood was reflected in the fashions of the period.
Visitors can expect to see an elegant exhibition, exploring 1930s fashions at their best, when women embraced more fitted styles with longer hemlines, in contrast to the loose, flapper-style silhouettes of the previous decade.
The exhibition has already proved to be a hit in Port Sunlight at the Lady Lever Art Gallery, with more than 30,000 people visiting during its four-month run, before it closed in February.
Pauline Rushton, Curator of Costume and Textiles at National Museums Liverpool, said:
"The exhibition was so popular over at the Lady Lever Art Gallery - we didn't want it to end! Being able to have it on display at Sudley House is wonderful, as it's the perfect setting for such an elegant exhibition. We hope more people will come and see the exhibition, either for the first time, or even a second visit with the charming backdrop of Sudley. "
Visitors who saw the exhibition at the Lady Lever Art Gallery said this of their visits:
"What amazing frocks and accessories – such a glamorous period! Thank you for putting on the exhibition"
"Amazing to see the things that influence fashion and how it has changed since then. Nice music too!"
"My second visit to this fabulous exhibition – so interesting and I could come back again!".
Exhibition highlights include:
An evening dress that belonged to the daughter of the Chief Officer on the

Titanic.

A pearl and diamant

é

encrusted silk wedding dress bought from Brown's of Chester and garments purchased from Liverpool department stores George Henry Lee & Co. and Owen Owen Ltd.

A wonderful selection of accessories including shoes, stoles, handbags and hats, some of which were purchased by Liverpool doctor's wife and renowned shopper Mrs Emily Tinne (1887-1966).

A set of striking fashion illustrations which were designed for George Henry Lee & Co. by local illustrator Miss Winifred Aileen Brown (1907-1993). Born in Wallasey, Miss Brown worked as a fashion illustrator for the Basnett Street department store, later purchased

by John Lewis, in the 1930s.
A series of monthly talks and tours with Pauline Rushton, Curator of Costume and Textiles at National Museums Liverpool will accompany the exhibition. Find out more information at: liverpoolmuseums.org.uk/glitz
Free entry
Open daily 10am-5pm
Sudley House
Mossley Hill Road, Liverpool
Telephone 0151 478 4016
www.liverpoolmuseums.org.uk/sudley

@sudleyhouse
Notes to Editors
About National Museums Liverpool
National Museums Liverpool comprises eight venues, including some of the most visited museums in England outside of London. Our collections are among the most important and varied in Europe and contain everything from Impressionist paintings and rare beetles to a lifejacket from the Titanic. We attract nearly 2.7 million visitors every year. Our venues are the Museum of Liverpool, World Museum, the Walker Art Gallery, Merseyside Maritime Museum, International Slavery Museum, Border Force National Museum, Sudley House and the Lady Lever Art Gallery.
About Sudley House
Sudley House – located in Mossley Hill, South Liverpool - contains the UK's only Victorian merchant's art collection in its original domestic setting. Highlights include paintings by Landseer and Turner, major Pre-Raphaelite works and a group of 18th-century portraits by Gainsborough, Reynolds, Romney and Leighton.