Grayson Perry at the Walker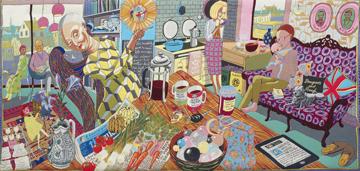 Six stunning tapestries explore taste and class in modern Britain.
Six spectacular tapestries by Turner Prize winning artist (2003), Grayson Perry, tell an epic tale of human nature and social constructs in a new exhibition at the Walker Art Gallery this summer.
Launching as part of LightNight, Liverpool's one night arts and culture festival, The Vanity of Small Differences goes on display from the evening of 16 May to 10 August 2014.
The Vanity of Small Differences is part of National Museums Liverpool's Modern Masters series, part funded by the European Union - the European Regional Development Fund (ERDF).
Perry designed the tapestries as part of a series he made with Channel 4 in 2012, called All in the Best Possible Taste. In the television series Perry went: "on a safari amongst the taste tribes of Britain" (Perry), investigating the tastes of the working class in Sunderland, middle class in Tunbridge Wells and upper class in the Cotswolds.
The fascinating observations Perry made on his journey provide a compelling, snap-shot of modern Britain. Middle class angst, 'old money' snobbery and a community shattered by job losses and industrial decline all come under Perry's scrutiny. Ordinary objects from a football kit, celebrity chef cookbook and Cath Kidston shopping bag, take on new symbolism and provide a rich visual language.
Perry also examines the idea of social mobility between the classes. The tapestries are a modern evocation of A Rake's Progress, the series of paintings by 18th century artist William Hogarth.
Like Hogarth's character, Tom Rakewell, Perry's fictional hero, Tim Rakewell, comes from working class origins, marries into the middle class, makes enough money to buy himself an upper class lifestyle and then dies a tragic death.
Vivid colours, remarkable textures, contrasting patterns and an intriguing commentary which wind through each scene, build a complete picture of the tragic rise and fall of an ordinary man, which "not only delights the eye but also sparks debate about class, taste and British society" (Perry).
Layered on top of this exploration of class and taste, Perry includes visual references to a number of Renaissance paintings in each of the tapestries, creating a timeless quality and the sense of an enduring human condition.
Curator of costume and textiles, Pauline Rushton said: "Their extraordinary detail, colour and texture are captivating. Traditionally tapestries would tell stories or evoke historic events. Grayson's tapestries are just as epic, packed with notions of society, symbolism and references to art history, religion and literature."
Director of Art Galleries, Sandra Penketh said:  "We are very excited to be showing these incredible tapestries. Grayson's fascination in the subtle rules society is governed by is accompanied by a keen eye for detail and a wonderful sense of humour.
"The Walker's own rich collection of medieval and Renaissance art, as well as our commitment to show the very best contemporary art, make it the perfect venue for the tapestries. We're grateful to our partners for helping us bring this important artwork by an international artist to Liverpool."
The Walker Art Gallery is the third venue outside London to be showing Grayson Perry's The Vanity of Small Differences. The UK tour of the tapestries and the joint acquisition of the work by the Arts Council Collection and the British Council has been made possible thanks to a significant act of philanthropy on behalf of the artist and a number of partners involved.  
The Arts Council Collection and the British Council Collection work to maximise opportunities for British artists and arts institutions in the UK and overseas, and this collaboration gives the widest possible audience a chance to see this important work.
Jill Constantine, Acting Head, Arts Council Collection said:  "The Vanity of Small Difference" has attracted huge public interest and we're delighted that the people of Liverpool will now have the opportunity to see these extraordinary tapestries for themselves".
Notes to editors
The Vanity of Small Differences is jointly owned by the Arts Council Collection, Southbank Centre, London and the British Council Collection. Gift of the artist and Victoria Miro Gallery, with the support of Channel 4 Television, the Art Fund and Sfumato Foundation with additional support from Alix Partners.

The UK tour of the tapestries is supported by the Art Fund and the Sfumato Foundation.
About the Arts Council Collection
The Arts Council Collection is one of Britain's foremost national collections of post-war British Art. As a collection 'without walls', it has no permanent gallery; it can be seen on long term loan to museums, galleries, schools, hospitals, colleges and charitable associations and in touring exhibitions and displays at home and abroad.   It is also, importantly, the most widely circulated and easily accessible collection of its kind, with nearly 8000 works available for loan.  It is run by Southbank Centre on behalf of Arts Council England.

Established in 1946 to promote and enrich knowledge of contemporary art, the Collection continues to acquire works by artists, many at an early stage of their career, living and working in Britain and to foster the widest possible access to modern and contemporary across the UK.  It includes work by Francis Bacon, Tracey Emin, Lucian Freud, Antony Gormley, Barbara Hepworth, David Hockney, Anish Kapoor, Henry Moore, Bridget Riley and Wolfgang Tillmans.
www.artscouncilcollection.org.uk
    
Southbank Centre is the UK's largest arts centre, occupying a 21-acre site that sits in the midst of London's most vibrant cultural quarter on the South Bank of the Thames. The site has an extraordinary creative and architectural history stretching back to the 1951 Festival of Britain. Southbank Centre is home to the Royal Festival Hall, Queen Elizabeth Hall, Purcell Room and the Hayward Gallery as well as The Saison Poetry Library and the Arts Council Collection.

The Hayward Gallery at Southbank Centre plays a key role in creating imaginative, high profile exhibitions in London and within the UK through Hayward Touring. The touring programme and the Arts Council Collection are managed by Southbank Centre on behalf of Arts Council England, and add to the organisation's distinctive national remit.

The British Council creates international opportunities for the people of the UK and other countries and builds trust between them worldwide. We are a Royal Charter charity, established as the UK's international organisation for educational opportunities and cultural relations. Our 7000 staff in over 100 countries work with thousands of professionals and policy makers and millions of young people every year through English, arts, education and society programmes. We earn over 75% of our annual turnover of nearly £700 million from services which customers pay for, education and development contracts we bid for and from partnerships. A UK Government grant provides the remaining 25%. We match every £1 of core public funding with over £3 earned in pursuit of our charitable purpose.
For more information, please visit: www.britishcouncil.org. You can also keep in touch with the British Council through http://twitter.com/britishcouncil and http://blog.britishcouncil.org/.
About The Art Fund
The Art Fund is the national fundraising charity for art, helping museums to buy and show great art.  Over the past 5 years we've given £26m to help museums and galleries acquire works of art for their collections, and placed hundreds of gifts and bequests, from ancient sculpture and treasure hoards to Old Master paintings and contemporary commissions. We are independently funded, the majority of our income coming from over 100,000 members who, through the National Art Pass, enjoy free entry to over 220 museums, galleries and historic houses across the UK, as well as 50% off entry to major exhibitions.
Find out more about the Art Fund and the National Art Pass at www.artfund.org.
Please contact Madeline Adeane, Press Relations Manager, on 020 7225 4804 or madeane@artfund.org
About Channel 4's All in the Best Possible Taste with Grayson Perry
For more information: http://www.channel4.com/info/press/programme-information/all-in-the-best-possible-taste-with-grayson-perry.
To watch on 4oD: http://www.channel4.com/programmes/in-the-best-possible-taste-grayson-perry
About ERDF
ERDF is making a real difference to people and businesses in the North West. With €755 million to invest between 2007 and 2013, ERDF is enhancing the competitiveness of the region's economy by supporting growth in enterprise and employment.
ERDF in the North West is managed by the Department for Communities and Local Government – for further information visit https://www.gov.uk/erdf-programmes-progress-and-achievements
About LightNight
Friday 16 May 2014
4pm until late
100+ events across Liverpool city centre
Most events FREE
www.lightnightliverpool.co.uk

Liverpool is set to become the city that never sleeps as LightNight returns for its fifth annual festival.  On Friday 16 May 2014 Liverpool will be unlocking the doors of over 50 of its internationally renowned museums, galleries and heritage sites in a springtime celebration of the regions arts and culture, staging over 100 special cultural events for visitors of all ages. The full LightNight 2014 programme will be released on 1st April.
About National Museums Liverpool
National Museums Liverpool comprises eight venues. Our collections are among the most important and varied in Europe and contain everything from Impressionist paintings and rare beetles to a lifejacket from the Titanic.                                                          
We attract more than 2.7 million visitors every year. Our venues are the International Slavery Museum, Lady Lever Art Gallery, Merseyside Maritime Museum, Museum of Liverpool, Sudley House, Border Force National Museum, Walker Art Gallery and World Museum.

One of the finest art galleries in Europe, the Walker Art Gallery is home to renaissance masterpieces, Tudor portraits and one of the best collections of Victorian and Pre-Raphaelite art in the country. An outstanding display of contemporary art includes work by David Hockney, Lucian Freud and Bridget Riley.

Walker Art Gallery William Brown Street, Liverpool     Admission FREE
Open 10am-5pm every day                                           Information 0151 478 4199

Website liverpoolmuseums.org.uk/walker
Twitter www.twitter.com/walkergallery
Facebook www.facebook.com/walkerartgallery