Hop to it for pots of cash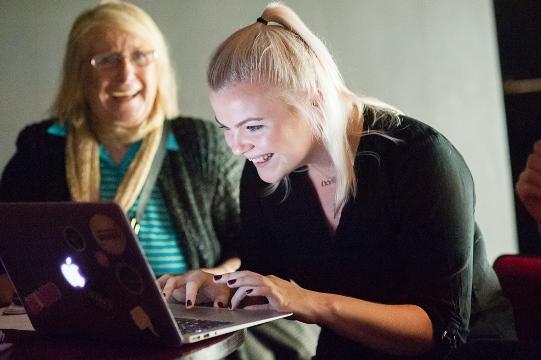 Funding available to help Happy Older People in Liverpool City Region
Local organisations across Liverpool City Region are being encouraged to apply for a new wave of funding to help older people feel less isolated through the enjoyment of arts and culture, meeting new people and learning new skills.
National Museums Liverpool created Happy Older People – HOP – in 2014, and joined forces with LightNight organisers Open Culture to produce and develop a network of organisations with the aim of finding new collaborative ways to engage local older people in arts and culture.
Through the HOP network, six new 'HOP Pots' of up to £300 each are available to put towards new partnership projects developed by an arts or cultural organisation working alongside a community/older people-focused organisation to help make it easier for older people to access the arts.
Rachael Treacher, Happy Older People Project Manager at Open Culture, said:
"The point of HOP is to create an opportunity for arts organisations to connect with older people, and what better way to do this than to go straight to the organisations that work alongside these people on a daily basis?

"Collaborating is of mutual benefit, and although £300 doesn't sound like a lot, it is a great kick starter for creating some simple projects that can make a huge difference to improving the lives of the older people who are being reached."
This is the fourth round of HOP Pot funding since 2014, and previous HOP-funded projects have achieved a variety of outcomes, including a reduction in social isolation by facilitating activities outside the home, improved mental stimulation, increased levels of physical activity and breaking down barriers for older people using new technology.
Projects have included themed craft workshops developed by Helena Partnerships in sheltered housing schemes, a Digital Surgery run by The Royal Court Community Choir alongside Liverpool Girl Geeks, and the Get Active Trackers project whereby Care and Innovation Limited worked with African Elders to offer regular exercise opportunities to members.
Rachael continued:
"Last year our funding pots went towards projects enabling older people to access digital technology in an arts and culture setting. So many older people think they are past the point of being able to use digital technology as it's essentially learning a new skill, but the projects we funded challenged this perception and opened up a whole host of new opportunities to the older people they worked with.

"It just shows that arts and culture is a great starting point for helping isolated older people in our local communities to add more enjoyment and positivity to their lives. Aside from offering funding, the HOP network provides a fantastic opportunity for organisations to get together regularly and find ways to reach out to older people and open doors to new experiences that would have otherwise been closed."
The HOP network consists of a variety of arts organisations, healthcare professionals and providers, older people, housing associations and community groups. The next network meeting will take place on Wednesday 21 June from 1:30 – 3:30pm at Blackburne House. New members and organisations are invited to come along to find out more about HOP.
The deadline for HOP Pot funding applications is Monday 17 July. Further information and the application form can be found at www.happyolderpeople.com or by emailing rachaelt@culture.org.uk
Notes to Editors
About HOP
HOP was created in 2014 by National Museums Liverpool and produced by Open Culture. The Happy Older People network has been successful in engaging older people across the Liverpool City Region with high quality age-friendly arts activity. The network includes a variety of arts organisations, healthcare professionals and providers, older people, housing associations and community groups. The network is designed to create an arena for new partnerships to be formed, connections to be made, and to communicate with the age-friendly arts offer for older people across the city and the region.
About National Museums Liverpool
National Museums Liverpool comprises eight venues, including some of the most visited museums in England outside of London. Our collections are among the most important and varied in Europe and contain everything from Impressionist paintings and rare beetles to a lifejacket from the Titanic. We attract around 3 million visitors every year. Our venues are the Museum of Liverpool, World Museum, the Walker Art Gallery, Merseyside Maritime Museum, International Slavery Museum, Border Force National Museum, Sudley House and the Lady Lever Art Gallery.
About Open Culture
Open Culture works to build partnerships and collaborations that maximise the arts offer in the North West. Projects include LightNight, Liverpool's one-night arts and culture festival, Tickle the Ivories, a street piano busking festival in Liverpool ONE, and the Summer and Winter Arts Markets. www.culture.org.uk