International Slavery Museum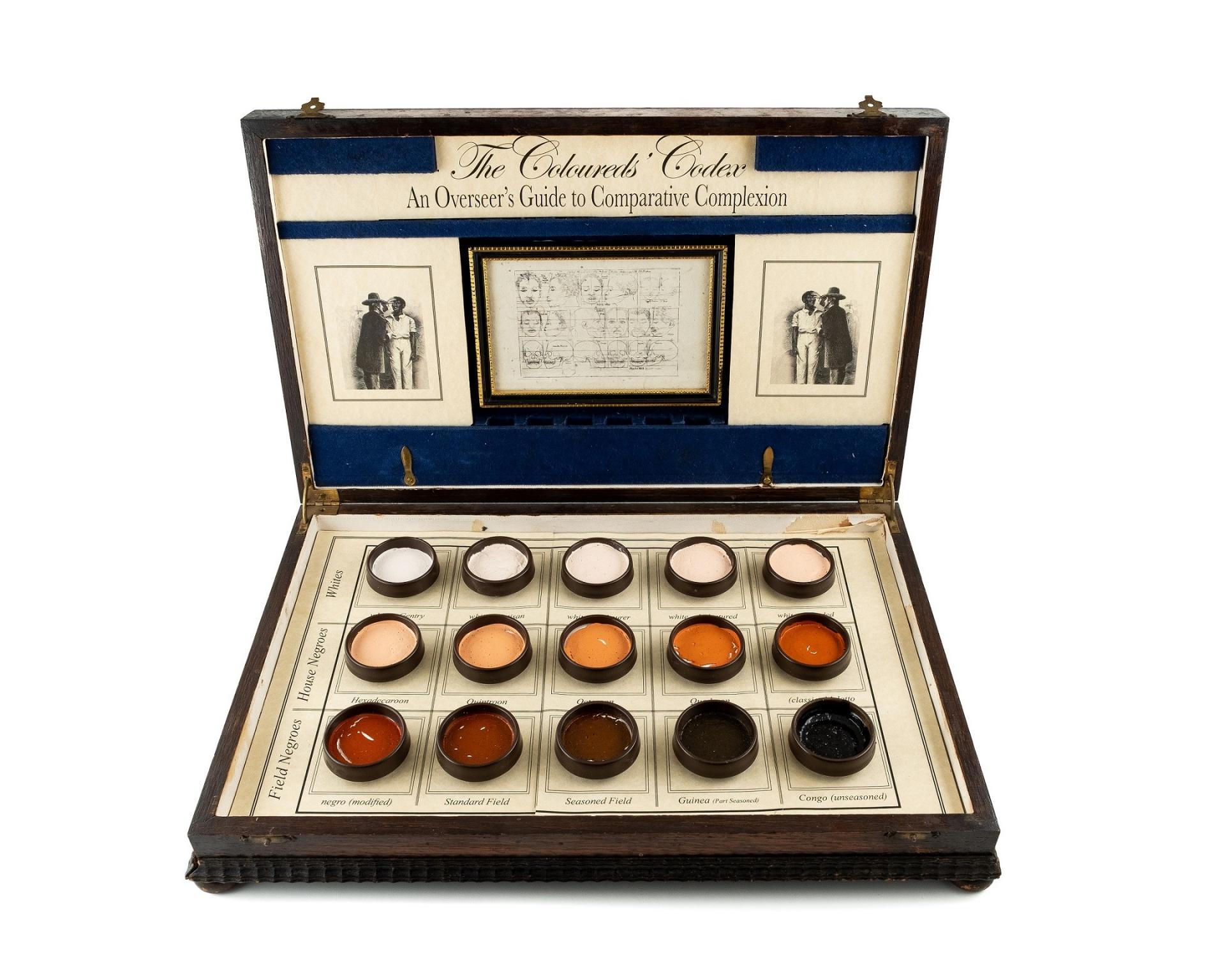 New acquisitions by artist Keith Piper on display from 28 June 2019
The International Slavery Museum in Liverpool has acquired two artworks by contemporary British artist, Keith Piper, which will go on display from 28 June in a display called Challenging histories: Collecting new artworks.
The Keith Piper artworks are part of a fictionalised set of objects and books created by Piper to mimic the look and feel of historical artefacts. They work to challenge narratives which reinforce the perception of British culture during the 17th and 18th century, as the so called 'Age of Enlightenment'.
Stephen Carl-Lokko, Curator, International Slavery Museum said:
"We like to think society is always making progress. But in an age of the Windrush scandal and a fight to see Harriet Tubman on a $20 bill, how much more enlightened are we now?"
The artworks have been bought through the Museum's Transatlanticand Contemporary Slavery Collecting Project, part of the The National Lottery Heritage Fund's Collecting Cultures programme designed to help museums expand their collections.
'The Coloureds' Codex' – Keith Piper, 2007
The ornate display case contains 15 pots of coloured pigment, strongly suggestive of a watercolour paint box. Each relates to a skin tone and classification of a person involved in plantation life (eg 'white overseer'). The interior of the lid of the box features printed illustrations of a plantation owner inspecting an enslaved person. There is also a eugenics diagram featuring cranial, facial and other physical measurements of the enslaved person's body. By this means, Piper parodies the way in which work was organised along racial lines on plantations.
'A Gentleman's Guide to the Restraint of Negroes' – Keith Piper, 2007
This large antique bound volume shows images of restraint and punishment for enslaved Africans suffering from 'drapetomania'. This was a racist pseudo-scientific belief used to justify slavery. Southern plantation owners believed that enslaved Africans who wanted to escape the plantation and a life of slavery were suffering from this form of mental illness. In-part, this artwork aims to parody the books of the period which promoted the supposed 'science and culture' of the Enlightenment era.
Other artworks in the Challenging histories: Collecting new artworks displaybought through the Collecting Project include works by Alice Welsh, Alice Kettle, Christy Symington, Kimathi Donkor and Alex McErlain and Bethan Lloyd Worthington. There are also sculptures called En Blanc and Timalle by artist Francois Piquet.
For more information on the Challenging histories: Collecting new artworks display, please visit www.liverpoolmuseums.org.uk/ism/exhibitions/challenging-histories/
The International Slavery Museum highlights the international importance of enslavement and slavery, both in a historic and modern context. Working in partnership with other organisations with a focus on freedom and enslavement, the Museum provides opportunities for greater awareness and understanding of the legacies of enslavement today.
To learn more about Collecting Cultures, please visit our website or contact us at www.liverpoolmuseums.org.uk/collectingcultures
Notes to Editors
International Slavery Museum
The International Slavery Museum opened in August 2007. It is situated on the third floor of the Merseyside Maritime Museum at the Royal Albert Dock in Liverpool. It is the only national museum in the world to cover the transatlantic slave trade and its legacies as well as contemporary forms of slavery and enslavement. It is also an international hub for resources on human rights issues and campaigning. www.liverpoolmuseums.org.uk/ism
About National Museums Liverpool
National Museums Liverpool comprises eight venues, including some of the most visited museums in England outside of London. Our collections are among the most important and varied in Europe and contain everything from Impressionist paintings and rare beetles to a lifejacket from the Titanic. We attracted more than 4m visitors in 2018. Our venues are the Museum of Liverpool, World Museum, the Walker Art Gallery, Merseyside Maritime Museum, International Slavery Museum, Seized! (UK Border Force National Museum), Sudley House and the Lady Lever Art Gallery. National Museums Liverpool is regulated by the Department of Digital, Culture, Media and Sport (DCMS). Museums and galleries regulated by DCMS are exempt charities under Schedule 3 of the Charities Act 2011. Registered Office: World Museum, William Brown Street, Liverpool L3 8EN. www.liverpoolmuseums.org.uk