It's glam up North for Rankin and co.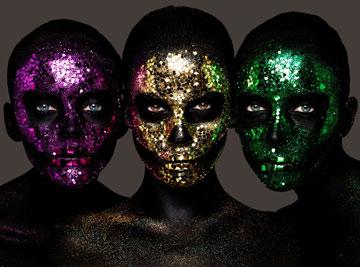 Photographer curates exhibition and charity auction at the Museum of Liverpool
The world famous photographer got more than a little help from his friends when it came to putting together It's Glam Up North: Curated by Rankin, which opens at the Museum of Liverpool from 25 September to 6 December 2015.
A shout out by Rankin to his friends saw contributions to It's Glam Up North pour in. Works from celebrated artists, filmmakers, fashion and graphic designers feature in the exhibition, as well as pieces by Rankin himself. All will be auctioned for charity on Saturday 21 November 2015, on behalf of Claire House Children's Hospice.
The Merseyside-based charity provides care, support and choice for families whose children aren't expected to live to adulthood. Rankin is a patron of Claire House, having been introduced to their work during the run of his exhibition ALIVE: In The Face of Death at the Walker Art Gallery in 2013.
Rankin said:
"I'm overwhelmed and thankful to everyone who has contributed to the exhibition and auction. Each has been positive and supportive of my aim to raise lots of money for Claire House Children's Hospice, recognising the incredible work they do in Merseyside to support children, young people and their families. I'm also excited that the Museum of Liverpool, one of the most iconic buildings on Liverpool's waterfront, is hosting the exhibition and auction ."
Some of the artists featured in the exhibition and auction include:
• Martin Creed - winner of the 2001 Turner Prize with Work No. 227: The lights going on and off.
•s Orchestral Manoeuvres in the Dark. He has collaborated with artist Anna Blessmann for the piece included in this exhibition.
• Nick Park CBE - director, writer and animator, he is best known as the creator of Wallace and Gromit and Shaun the Sheep.
• Mark Farrow - named 2004 Designer of the Year in the Creative Review Peer Poll, he has worked with many musicians including Pet Shop Boys, Manic Street Preachers and Kylie Minogue.
• Keith Coventry - artist and winner of the John Moores Painting Prize 2010.
• Sue Webster - artist who has exhibited worldwide in solo shows and alongside Tim Noble.
• Paul Fryer - artist who has exhibited worldwide and whose mixed media work includes painting, sculpture, photography and light installations.
• Adam Hayes - artist, illustrator and designer, renowned for his hand rendered typography, intricate and imaginative maps and detailed line drawings.
• Scott King - artist and former Art Director of i-D and Creative Director of Sleazenation magazines.
Other items include a specially designed Burberry trenchcoat by Christopher Bailey and a copy of Vivienne Westwood's oversized limited edition book Opus. Cheshire-born milliner to the stars Stephen Jones has donated a bespoke hat.
Janet Dugdale, Director of the Museum of Liverpool, said:
"It's Glam Up North is a contemporary and vibrant collection of works that will look wonderful on display at the Museum of Liverpool. Rankin has curated a stylish exhibition that is also playful and ironic in parts. I'm happy that the Museum of Liverpool can play a part in raising money for Claire House and It's Glam Up North reaffirms our relationship both with them and Rankin for future projects."
David Pastor, Chief Executive at Claire House Children's Hospice, said:
"When you think of glamour, you don't necessarily think of a children's hospice, but Claire House is all about families living their lives to the full, which for many is the very essence of glamour. The children and young people from Claire House thoroughly enjoyed putting their own spin on It's Glam Up North, creating special pieces that will be exhibited alongside the other works to raise vital funds for the charity."
Visit liverpoolmuseums.org.uk/glamupnorth
Twitter #GlamUpNorth ENDS
Image credits Glamortality, 2014 © Rankin From stair carpet to red carpet © Giles Deacon Glamour, East Manchester 2004 © Anna Blessman and Peter Saville So Like Yeh © Adam Hayes
Notes to editors
Museum of Liverpool
The Museum of Liverpool is the largest newly-built national museum in Britain for more than a century, demonstrating Liverpool's unique contribution to the world. Opened in July 2011, it attracted more than 2 million visitors in its first year, and is the first national museum devoted to the history of a regional city. It showcases popular culture while tackling social, historical and contemporary issues and is a fantastic, free family day out.
The Museum has received generous support from several major funders, along with grants from trusts and foundations, corporate support and individual donations. Major funders include the Northwest Regional Development Agency (NWDA), The European Regional Development Fund (ERDF), the Heritage Lottery Fund (HLF) and the Department of Culture Media and Sport (DCMS)
The Northwest Regional Development Agency (NWDA) was responsible for the sustainable economic development and regeneration of England's Northwest and had five key priorities: Business, Skills and Education, People and Jobs, Infrastructure and Quality of Life.
The European Development Fund (ERDF) is making a real difference to people and businesses in the North West. With €755 million to invest between 2007 and 2013, ERDF is enhancing the competitiveness of the region's economy by supporting growth in enterprise and employment. ERDF in the North West is managed by the Department for Communities and Local Government – for further information visit www.communities.gov.uk/erdf.
Using money raised through the National Lottery, the Heritage Lottery Fund (HLF) sustains and transforms a wide range of heritage for present and future generations to take part in, learn from and enjoy. From museums, parks and historic places to archaeology, natural environment and cultural traditions, we invest in every part of our diverse heritage. HLF has supported more than 30,000 projects allocating £4.5billion across the UK. www.hlf.org.uk
About National Museums Liverpool
National Museums Liverpool comprises eight venues, including some of the most visited museums in England outside of London. Our collections are among the most important and varied in Europe and contain everything from Impressionist paintings and rare beetles to a lifejacket from the Titanic. We attract more than 3 million visitors every year. Our venues are the Museum of Liverpool, World Museum, the Walker Art Gallery, Merseyside Maritime Museum, International Slavery Museum, Border Force National Museum, Sudley House and the Lady Lever Art Gallery.
Claire House
Claire House Children's Hospice provides desperately needed support to children who are unlikely to live to be adults. Providing care and support when and where it's needed, Claire House is there for the entire family through various therapies, day care, short breaks, counselling and end of life care.
The charity offer parents some desperately needed time off with the peace of mind that their children are being well looked after. It provides someone to talk to and specialist counselling and family support. Families also get a chance to get to know each other and have fun with other people going through similar experiences.
If you'd like to know more about the support offered by Claire House Children's Hospice, contact the Communications Team on 0151 482 8950/0151 343 0883.
www.claire-house.org.uk
www.facebook.com/ClaireHouseCH
www.twitter.com/ClaireHouse
Rankin
Synonymous with compelling portraiture, Rankin is known for his ability to capture, create and unveil icons. Following the establishment of Dazed & Confused magazine with business partner Jefferson Hack in 1992, Rankin took his photography to the wider market, creating landmark editorial and advertising campaigns. His body of work features some of the most celebrated publications, biggest brands and pioneering charities, including Nike, Swatch, Dove, Pantene, Diageo, Women's Aid, and Breakthrough Breast Cancer. He has shot covers for Elle, German Vogue, Harpers Bazaar, Esquire and GQ.
His work has always endeavoured to question social norms and ideas of beauty. Rankin is often seen as a celebrity photographer, however, his campaigns and projects featuring 'real women' marked him out as a genuinely passionate portrait photographer, no matter who the subject. He has stood out for his creative fearlessness and his first major worldwide and award-winning campaign – Dove's 'Real Women' – epitomised his approach: to reveal the honesty of the connection and collaborative process between photographer and subject. Personal or commercial, Rankin's images have become part of contemporary iconography, evidence of his frankness and passion for all aspects of modern culture, and its representation in the photographed image. Rankin has published over 30 books and is regularly exhibited in galleries around the world.