Jewish Heritage Symposium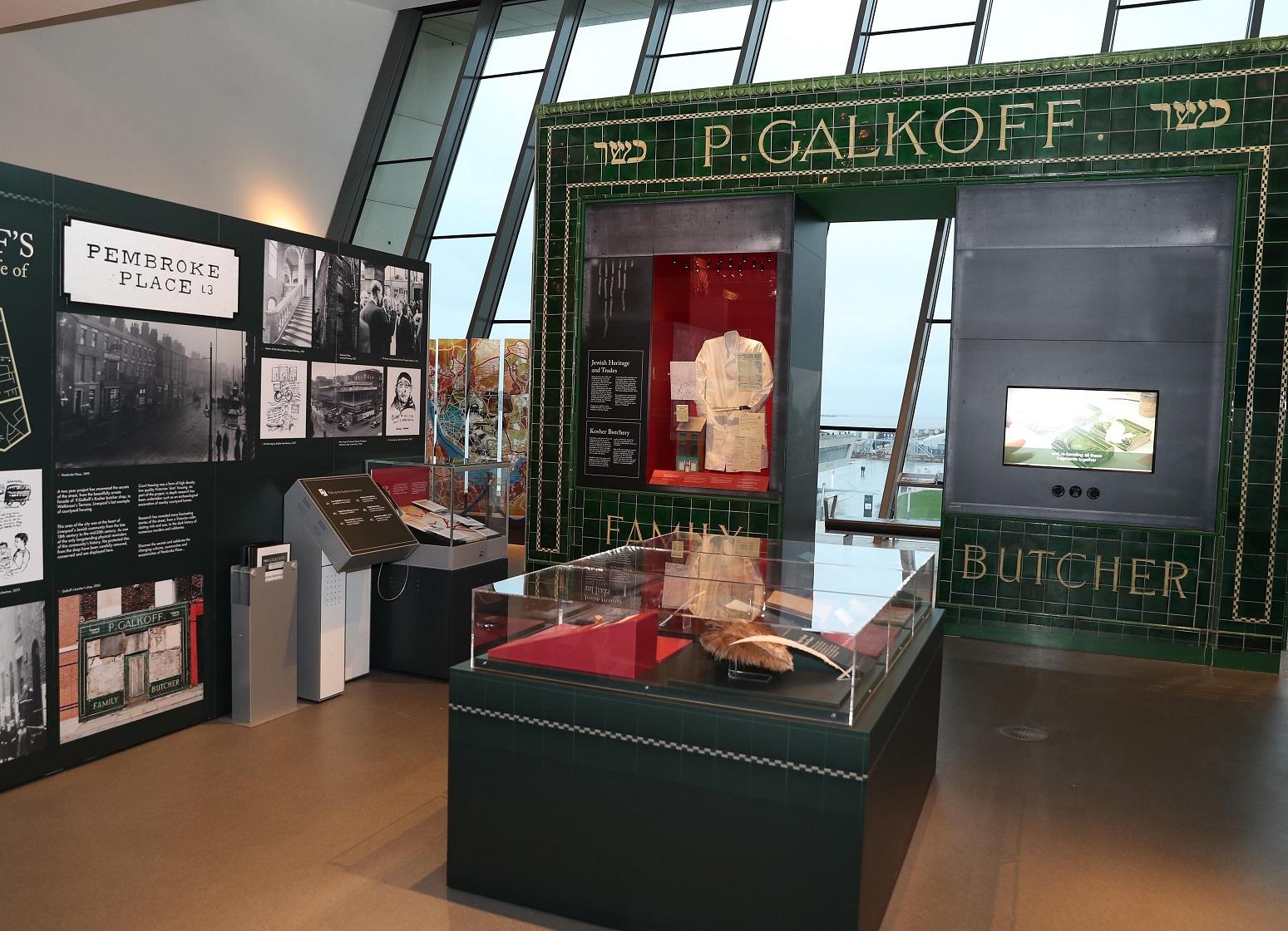 A creative exploration of UK Jewish identity at Museum of Liverpool
Liverpool's Jewish community was once the largest of any provincial UK city. This rich history will be highlighted during a creative exploration of Jewish heritage at the Museum of Liverpool on Sunday 9 December from 10.30-5pm.
Marking the culmination of the Galkoff's and the Secret Life of Pembroke Place project, the symposium will explore Liverpool's Jewish heritage through art, poetry, digital technology and food, as well as exploring these aspects in other Jewish communities beyond the city's boundaries.
Supported by a grant from the Heritage Lottery Fund (HLF), made possible through money raised by National Lottery players, the Galkoff's project enabled the history of this area of Liverpool to be uncovered, which was home to a large proportion of the city's Jewish population during the 19th century.
At the heart of the resulting exhibition is the reconstruction of Liverpool landmark, Galkoff's Jewish butcher's shop frontage. The beautiful 1930s emerald green tiles have undergone careful conservation, or in some cases replacement where the damage, due to weather exposure, was too great. The result is an impressive life-size reconstruction of the façade with the original gold Art Deco embellishments and Hebrew signage.
Accompanied by detailed research into the Galkoff's family, which led curators as far as Poland and New York, the display features photographs, objects and personal memories, and highlights the story of Liverpool's Jewish community as well as its long history of migration.
Highlights of the symposium on 9 December include:
Artist and poet, Sophie Herxheimer, on collecting memories and stories live in ink.
Nadia Valman (Queen Mary, University of London) on using digital technology to unlock layers of heritage.
Vivi Lachs on Jewish immigrant life through Yiddish poetry.
Project Curator, Poppy Learman and Project Manager, Liz Stewart on the Galkoff's and the Secret Life of Pembroke Place project.
Researcher, Daniel Edmonds on Kosher discoveries from Liverpool's past.
Education officer, Chris Kerfoot on House of Memories and dementia awareness.
A screening of Chicken Soup and Scouse will be followed by a Q & A session with film-maker Michael Swerdlow.
Free tickets available on Eventbrite: https://www.eventbrite.com/e/creative-responses-to-jewish-heritage-near-and-far-tickets-52402304704?ref=estw
Or write to Poppy Learman, Museum of Liverpool, Pier Head, Liverpool Waterfront, Liverpool. L3 1DG
Galkoff's and the Secret Life of Pembroke Place opened at the Museum of Liverpool, in partnership with Liverpool School of Tropical Medicine (LSTM), on Friday 26 October 2018.
www.liverpoolmuseums.org.uk/galkoff
#pembrokeplace
Notes to Editors
About the Museum of Liverpool
The Museum of Liverpool is the first national museum devoted to the history of a regional city, it showcases popular culture while tackling social, historical and contemporary issues and demonstrating Liverpool's unique contribution to the world.  It has attracted more than four million visitors since it opened in July 2011. The prestigious Council of Europe Museum Prize for 2013 was awarded to the Museum for its commitment to human rights as well as its work with children and families from all backgrounds.
The Museum has received generous support from several major funders, and grants from trusts and foundations, corporate support and individual donations. Major funders include the Northwest Regional Development Agency (NWDA), The European Regional Development Fund (ERDF), the Heritage Lottery Fund (HLF), the Department for Culture Media and Sport (DCMS),Garfield Weston Foundation and the Clore Duffield Foundation.
About National Museums Liverpool
National Museums Liverpool comprises eight venues, including some of the most visited museums in England outside of London. Our collections are among the most important and varied in Europe and contain everything from Impressionist paintings and rare beetles to a lifejacket from the Titanic. We attract more than 3.3 million visitors every year. Our venues are the Museum of Liverpool, World Museum, the Walker Art Gallery, Merseyside Maritime Museum, International Slavery Museum, Seized! (UK Border Force National Museum), Sudley House and the Lady Lever Art Gallery. 
About LSTM
Liverpool School of Tropical Medicine (LSTM) is the world's oldest centre of excellence in tropical medicine and international public health. It has been engaged in the fight against infectious, debilitating and disabling diseases since 1898 and continues that tradition today with a research portfolio in excess of well over £210 million and a teaching programme attracting students from over 65 countries.
​For further information please visit www.lstmed.ac.uk
About the Heritage Lottery Fund
Thanks to National Lottery players, we invest money to help people across the UK explore, enjoy and protect the heritage they care about - from the archaeology under our feet to the historic parks and buildings we love, from precious memories and collections to rare wildlife. www.hlf.org.uk.  Follow us on Twitter, Facebook and Instagram and use #HLFsupported.