John Moores Jury Announced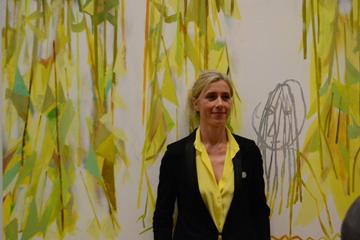 Registration for painting prize opens 22 July 2013
The Walker Art Gallery has brought together a stellar group of international jurors to judge and select the Johns Moores Painting Prize 2014.
The jurors will also decide on the £25,000 first prize and four other prize winners, who each receive £2,500.
The jurors (in alphabetical order) for the John Moores Painting Prize 2014 are:
•    Zeng Fanzhi - The Beijing-based artist has a major international reputation. In May 2008, he set a world auction record when a seminal work, Mask Series 1996 No. 6, was sold for $9.6 million in Hong Kong, the highest grossing work by a contemporary Asian artist.
•    Chantal Joffe - A British artist based in London. Famed for her large-scale paintings of women and children, Chantal is interested in the complex lives of women and the roles their bodies, children and fashion take within their narratives.  She exhibited in the John Moores in 2002.
•    Tim Marlow - Director of Exhibitions at White Cube since 2003. Over the last decade Tim has worked with some of the most important and influential artists of our time. An award-winning radio and television broadcaster, Tim has presented over 100 documentaries on British Television. His latest series Making Faces is broadcast on Sky Arts this autumn.
•    Lynette Yiadom-Boakye - The London-born artist of Ghanian descent, is a nominee for the 2013 Turner Prize. A painter, her works of imaginary scenes populated by invented people, prompt questions of how we interpret paintings. Lynette exhibited in the John Moores in 2004.
As part of the Liverpool Biennial, the UK's biggest painting prize has a track record for reflecting the shifts and latest developments in contemporary painting, not to mention spotting rising stars.
2014 judge Tim Marlow said: "The John Moores Painting Prize is a national institution of international significance with an illustrious but still rather under-rated history. I'm delighted and honoured to be a judge this year and am relishing the opportunity to survey the state of contemporary painting".
The competition opens for registration on 22 July 2013 until 25 October 2013. Online registration can be done at: www.liverpoolmuseums.org.uk/johnmoores
All UK-based artists who work with paint are invited to submit work to be considered for the John Moores Painting Prize 2014 and are in with the chance of winning the £25,000 first prize, one of the four £2,500 runner up prizes and the £2014 Visitors' Choice prize, sponsored by Rathbones.
Running for 56 years the influential competition has traced key developments in painting over the last half a century. Previous winners include: David Hockney, Sir Peter Blake (now patron of the prize), Mary Martin, Peter Doig and in 2012, Sarah Pickstone.
The John Moores Painting Prize is part of National Museums Liverpool's Modern Masters exhibition series part funded by the European Union - the European Regional Development Fund (ERDF).
Alongside the Liverpool Biennial, the exhibition dates coincide with the Liverpool International Festival of Business, which is expected to attract a million visitors from across the globe.
For more information on the history of the prize: www.liverpoolmuseums.org.uk/johnmoores or follow the prize on Twitter (@johnmoores2014) or Facebook.
Notes to Editors
•    John Moores Painting Prize is organised in partnership with the John Moores Liverpool Exhibition Trust.
 •    John Moores Painting Prize is part of Liverpool Biennial, the UK's largest contemporary art festival. The 8th Liverpool Biennial International Festival of Contemporary Art, will take place from 5 July to the end of October 2014. www.biennial.com
•    The competition is £30 to enter.
ERDF in the Northwest
ERDF is making a real difference to people and businesses in the North West. With €755 million to invest between 2007 and 2013, ERDF is enhancing the competitiveness of the region's economy by supporting growth in enterprise and employment.
ERDF in the North West is managed by the Department for Communities and Local Government – for further information visit www.communities.gov.uk/erdf.
National Museums Liverpool
National Museums Liverpool comprises eight venues. Our collections are among the most important and varied in Europe and contain everything from Impressionist paintings and rare beetles to a lifejacket from the Titanic. 
We attract more than three million visitors every year. Our venues are the International Slavery Museum, Lady Lever Art Gallery, Merseyside Maritime Museum, Museum of Liverpool, Sudley House, Border Force National Museum, Walker Art Gallery and World Museum.
One of the finest art galleries in Europe, the Walker Art Gallery is home to renaissance masterpieces, Tudor portraits and one of the best collections of Victorian and Pre-Raphaelite art in the country. An outstanding display of contemporary art includes work by David Hockney, Lucian Freud and Banksy.

Walker Art Gallery William Brown Street, Liverpool     Admission FREE
Open 10am-5pm every day  Information 0151 478 4199

Website liverpoolmuseums.org.uk/walker
Twitter www.twitter.com/walkergallery
Facebook www.facebook.com/walkerartgallery