Juliette Losq is the Visitors' Choice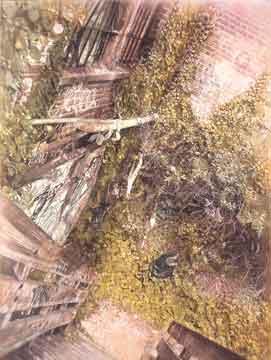 Vertiginous painting lands popular prize and £2,014
An enormous painting of an urban scene strewn with bin bags and graffiti, and overgrown with twisted plants and weeds, is the winner of the John Moores Painting Prize Visitors' Choice 2014, sponsored by Rathbones.
Since the exhibition opened in July, visitors have been voting in their thousands for their favourite work. With such a varied selection people were spoilt for choice between eerie photorealist works, stunning portraiture, landscape and figurative work or intriguing abstract paintings.
However it was the overwhelming Vinculum by London-born Losq which captured the imagination of most visitors, with its dizzying sense of perspective and incredible detail to win the £2,014 award.
Vinculum (watercolour and ink on paper, on canvas, 290 x 220 cm) is a stunning feat. Belying the usual expectations of a watercolour to be small and discreet, this striking painting immerses the viewer and tips them into a seemingly murky space. In keeping with traditional watercolours there are beautiful and delicate elements to the work, which is built up in layers and depicts a steep set of stairs leading down to the hostile-looking yard.
The painting is on display as part of the John Moores Painting Prize, the UK's most prestigious painting prize. The exhibition is free and open daily until 30 November 2014.
Artists Juliette Losq said:
"Winning the Visitors' Choice award is a fantastic way to conclude the great experience of being part of John Moores 2014. It means a great deal that visitors to the Walker have taken the time to vote for my painting Vinculum, and that it has struck a chord with them in some way.

"One of the most exciting things about the John Moores Painting Prize is that you are able to show your work to large numbers of people who have never seen it before, it's an opportunity for all of the participating artists to gain a broader audience for their work in a fantastic setting."
Attracted to its mystery, beauty and the clever way Losq has played with perspective and creates an almost optical illusion, the large and imposing painting was a popular choice with visitors. As one visitor described it:
"… it is beautiful and disorientating at the same time. I feel as if I may fall into it."
Another marvelled at the strong reactions the painting provokes:
"(the painting) manages to have a powerful impact despite its muted tone and colour and watercolour medium."
Alex Richmond, Director of Tax, Rathbone Brothers, Liverpool says:
"The popular appreciation for Juliette Losq's Vinculum in the votes for the JM Visitors Prize is no surprise. The work is immediately striking and draws the viewer's attention deeper into its imagery. The picture is also beautifully painted."
Once again visitors are at odds with the judges, who although shortlisted Losq for the main prize, this year awarded the £25,000 first prize, sponsored by David M Robinson, to Rose Wylie for PV Windows and Floorboards.
Dubbed the 'Oscars of the painting world', the Prize, organised in partnership with the John Moores Liverpool Exhibition Trust, has been keeping its finger on the pulse of contemporary painting for almost 60 years.
A major part of the Liverpool Biennial, the John Moores Painting Prize comprises fifty paintings, selected for exhibition from more than 2,500 entries.
The 2014 judges were Tim Marlow, Director of Artistic Programmes at the Royal Academy and artists Lynette Yiadom-Boakye, Zeng Fanzhi, Chantal Joffe and Tom Benson.
The John Moores Painting Prize is part of National Museums Liverpool's Modern Masters series, part funded by the European Union - the European Regional Development Fund (ERDF).
It is also supported by our exhibition partner Weightmans and sponsor Investec.
For a full list of exhibiting artists:
www.liverpoolmuseums.org.uk/johnmoores
Twitter: @johnmoores2014 #jm2014
Facebook: www.facebook.com/johnmoorespaintingprize
Notes to editors
Artist biography
Born London 1978, Juliette Losq studied there at Wimbledon College of Art (WCA) 2004-7, Royal Academy Schools 2007-10. Group shows include 'Jerwood Drawing Prize' (Winner) Jerwood Space London (touring) 2005, 'Drawing Breath: Surveying 10 years of the Jerwood Drawing Prize' WCA (touring) 2006, 'Catlin Art Prize' Tramshed London 2011, 'AVA The Collection' All Visual Arts London 2012, 'Another Room' R O O M London 2013, 'Viewing Room' AVA at The Crypt London 2013, 'Epic Fail' Storefront NY 2013, 'The Open West' Newark Park Gloucestershire (touring) 2013. Solos include 'Lucaria Theodore' Art NY 2012, 'Dans la poussière de cette planète' Galerie Arcturus Paris 2013.
Rathbones
Rathbone Investment Management is one of the UK's largest and longest-established providers of high-quality, personalised discretionary investment services. It manages over £23.9 billion* of funds (as at 30 June 2014) for individuals, charities and trustees, and is part of Rathbone Brothers Plc, an independent company with a listing on the London Stock Exchange.
Investment management services are offered in Aberdeen, Birmingham, Bristol, Cambridge, Chichester, Edinburgh, Exeter, Kendal, Liverpool, London, Lymington, Newcastle and Winchester.
*Includes funds managed by Rathbone Unit Trust Management.
John Moores Painting Prize facts: 
The John Moores Painting Prize is the UK's biggest painting prize. The competition is entered and judged anonymously and open to all UK-based artists working with paint. 
Sir Peter Blake, winner of the junior award in 1961, became the first patron of the Prize in 2011. 
The John Moores Painting Prize is organised in partnership with the John Moores Liverpool Exhibition Trust. 
The John Moores Painting Prize is part of Liverpool Biennial, one of the UK's largest and most exciting contemporary visual arts events. The 8th Liverpool Biennial International Festival of Contemporary Art ended on Sunday 26 October 2014. 
The five prize winners from the John Moores Painting Prize China 2014 are also on display.
ERDF in the Northwest
ERDF is making a real difference to people and businesses in the North West. The current programme, which is worth €755 million, is enhancing the competitiveness of the region's economy by supporting growth in enterprise and employment.
ERDF in the North West is managed by the Department for Communities and Local Government – for further information visit https://www.gov.uk/erdf-programmes-progress-and-achievements
About National Museums Liverpool
National Museums Liverpool comprises eight venues. Our collections are among the most important and varied in Europe and contain everything from Impressionist paintings and rare beetles to a lifejacket from the Titanic.
We attract more than 2.7 million visitors every year. Our venues are the International Slavery Museum, Lady Lever Art Gallery, Merseyside Maritime Museum, Museum of Liverpool, Sudley House, Border Force National Museum (Seized! The Border and Customs Uncovered), Walker Art Gallery and World Museum.
One of the finest art galleries in Europe, the Walker Art Gallery is home to renaissance masterpieces, Tudor portraits and one of the best collections of Victorian and Pre-Raphaelite art in the country. An outstanding display of contemporary art includes work by David Hockney, Lucian Freud and Bridget Riley.
Walker Art Gallery William Brown Street, Liverpool
Admission FREE
Open 10am-5pm every day
Information 0151 478 4199
Website www.liverpoolmuseums.org.uk/walker
Twitter www.twitter.com/walkergallery
Facebook www.facebook.com/walkerartgallery