Kaleidoscope: Colour and Sequence in 1960s British Art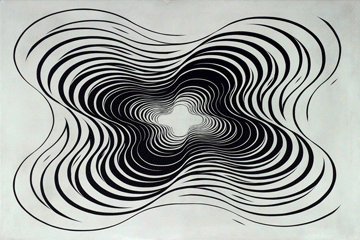 An Arts Council Collection National Partners exhibition at Walker Art Gallery
Bold and colourful examples of British painting and sculpture from the 1960s will form part of a new exhibition at Liverpool's Walker Art Gallery. Kaleidoscope: Colour and Sequence in 1960s British Art, a touring exhibition from the Arts Council Collection, will run from 24 February until 3 June 2018.
Works on show include sculptures by artists such as Eduardo Paolozzi, Anthony Caro, Phillip King and Tim Scott, alongside paintings by Bridget Riley, Tess Jaray, Joe Tilson and Richard Smith among other leading names.
British abstract art of the 1960s is noted for its use of vivid colours, alluring surfaces and unpredictable forms. However, these qualities are often underpinned by a strong sense of order, founded on repetition, sequence and symmetry. The exhibition explores the relationship between colour and form, rationality and irrationality, order and waywardness.
Representing more than 20 artists, Kaleidoscope brings together artworks from the Arts Council Collection and other major UK collections. It examines the art of the 1960s through a fresh lens and explores the radical transformation of British painting and sculpture during this decade.
Sandra Penketh, Director of Art Galleries at National Museums Liverpool, said:
"The 1960s was a hugely influential decade in Britain. Many artists expressed themselves through their clever use of pattern, shape and colour. These stylistic preferences were also reflected in other areas of popular culture at the time, including fashion and interior design.

"Kaleidoscope invites us to walk around some of the wonderful works on display, taking in sculptures from different angles and enjoying the fabulous bold colours and shapes on show. It's a lively and vibrant exhibition, and one that visitors of all ages can enjoy."
The exhibition includes the mind-bending surfaces of op art, the repeated imagery of pop art, the mathematical order of Constructivism, and the sequential placement of brightly-coloured free-standing artworks in New Generation sculpture.
Many of the works in Kaleidoscope are large scale pieces. Sculpture is placed on the gallery floor, encouraging visitors to engage with them as the walk through the exhibition. Presented together, the works continue to display a freshness and vitality, some 50 years after they were made.
Kaleidoscope is an Arts Council Collection touring exhibition on display as part of the Arts Council Collection National Partners Programme at the Walker Art Gallery. The exhibition is accompanied by a fully-illustrated publication, which is available to purchase priced at £9.99.
www.liverpoolmuseums.org.uk/kaleidoscope
#Kaleidoscope
#ACCNationalPartners
#artscouncilcollection
Free entry
Open daily 10am-5pm
Walker Art Gallery
William Brown Street, Liverpool, L3 8EL
Telephone 0151 478 4199
www.liverpoolmuseums.org.uk/walker
Follow the Walker Art Gallery online:
Twitter: www.twitter.com/walkergallery
Facebook: www.facebook.com/walkerartgallery
Instagram: www.instagram.com/walkerartgallery
Notes to Editors
About the Walker Art Gallery The Walker Art Gallery houses an internationally-renowned collection of paintings, sculpture and decorative art. It is one of Europe's finest galleries, with a collection that ranges from outstanding modern and contemporary works to Medieval and Renaissance masterpieces. Some of the greatest British artists of the last century are represented in the contemporary galleries, from Lucian Freud to David Hockney, while the Gallery's Impressionist collection is not to be missed. Visitors can also see paintings by 17th and 18th century masters including Poussin, Rembrandt and Gainsborough, before taking in the Walker's famed Pre-Raphaelite collection. Younger visitors will love Big Art for Little Artists, a gallery designed to introduce children to art in a fun and interactive way. The Walker Art Gallery is an Arts Council Collection National Partner. Between April 2016 and March 2019, the Gallery will curate and host an exciting and innovative series of contemporary art exhibitions, drawn from the Arts Council Collection. www.liverpoolmuseums.org.uk/walker
About National Museums Liverpool National Museums Liverpool comprises eight venues, including some of the most visited museums in England outside of London. Our collections are among the most important and varied in Europe and contain everything from Impressionist paintings and rare beetles to a lifejacket from the Titanic. We attract around 3 million visitors every year. Our venues are the Museum of Liverpool, World Museum, the Walker Art Gallery, Merseyside Maritime Museum, International Slavery Museum, Border Force National Museum, Sudley House and the Lady Lever Art Gallery. National Museums Liverpool is regulated by the Department of Digital, Culture, Media and Sport (DCMS). Museums and galleries regulated by DCMS are exempt charities under Schedule 3 of the Charities Act 2011. Registered Office: World Museum, William Brown Street, Liverpool L3 8EN. www.liverpoolmuseums.org.uk
About Arts Council Collection The Arts Council Collection is a national loan collection of British art from 1946 to the present day. With more than 8,000 works and more than 1,000 loans made to over 100 venues a year, it is seen by millions of people in public spaces from galleries and museums to hospitals, libraries and universities. Representing one of the most important collections of British modern and contemporary art in the world, it includes work from Francis Bacon, Barbara Hepworth and Henry Moore to Lucian Freud, Antony Gormley and Grayson Perry. The Collection supports and promotes British artists by acquiring art at an early stage of their careers. The Arts Council Collection is managed by Southbank Centre, London and includes the Sculpture Centre located at Longside, Yorkshire Sculpture Park. www.artscouncilcollection.org.uk
About National Partners Programme To mark the Arts Council Collection's 70th anniversary in 2017, Arts Council England invested in a network of four National Partner museums and galleries across England, Towner Art Gallery, Eastbourne, Birmingham Museums Trust, The Walker Art Gallery, National Museums Liverpool and the Collection's existing partner, Yorkshire Sculpture Park. The partners will provide a year-round home for art works within the Collection, hosting a special programme of at least 24 National Partner exhibitions between April 2016 and spring 2019.
About Arts Council England Arts Council England champions, develops and invests in artistic and cultural experiences that enrich people's lives. We support a range of activities across the arts, museums and libraries – from theatre to digital art, reading to dance, music to literature, and crafts to collections. www.artscouncil.org.uk
About Southbank Centre The Arts Council Collection is managed by Southbank Centre, London on behalf of Arts Council England. Southbank Centre is the UK's largest arts centre, occupying a 21-acre site that sits in the midst of London's most vibrant cultural quarter on the South Bank of the Thames. The site has an extraordinary creative and architectural history stretching back to the 1951 Festival of Britain. Southbank Centre is home to the Royal Festival Hall, Queen Elizabeth Hall, Purcell Room and the Hayward Gallery as well as The Poetry Library and the Arts Council Collection. The Arts Council Collection is managed by Southbank Centre, London on behalf of Arts Council England. www.southbankcentre.co.uk