Launching: Destination Space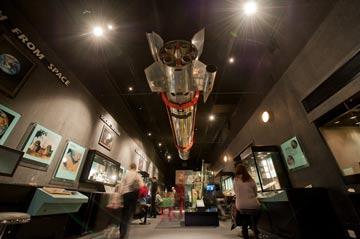 World Museum to host new national space programme
World Museum has joined forces with the European Space Agency's first British astronaut, Tim Peake, to provide children with an opportunity to learn about human space flight and follow life on the International Space Station.
Backed by the UK Space Agency, the Museum is one of 20 centres across the UK to be selected to deliver a programme of activity to schools and families which will give children the chance to learn about Tim Peake's mission. These include hands-on experiments, rocket demonstrations, space equipment and live video footage from the International Space Station.
As well as discovering all about Tim Peake's work on the International Space Station, the two-year Destination Space programme will celebrate the team behind Tim, highlighting great opportunities for young people across the science and space sector.
Families and schools across Merseyside will be invited to join Destination Space through a calendar of free shows and live events taking place at the Museum from October 2015. News of the programme was officially announced at the UK Space Conference 2015, which is taking place in Liverpool this week.
Dr Steve Judd, Director of World Museum, said:
"We're thrilled to have been selected to deliver this unique programme, which is brimming with opportunities for children and families to be inspired by the wonders of science and space travel.


"Our Space and Time gallery, with its fantastic Planetarium, is a real highlight for many families visiting World Museum. Destination Space will allow us to reach even wider audiences through innovative, interactive events that will bring to life the fascinating science that makes space travel possible, and the incredible opportunities that it offers to today's younger generations."
The programme will include special events for Tim Peake's launch, meet-the-expert sessions and a fabulous astronaut show that will engage and inspire family audiences with Tim's mission. Special curriculum-linked activities for school children aged 5-14 will begin in January 2016, during Tim's time in space.
Online, Destination Space will allow people to follow Tim Peake's adventures in space in real time, learning about inspiring figures within the field of human space flight and finding out what role in the crew would suit them.
Dr Penny Fidler, CEO of ASDC and Director of Destination Space, said:
"Tim Peake is the European Space Agency's first British astronaut and we want children and families to feel they are truly a part of his exciting mission. His journey and time on the International Space Station provides a great opportunity to encourage children to be more curious, ask big questions and to enjoy science.


"By following Destination Space online or joining us for one of our science centre events, young people all over the UK can explore human space flight in a hands-on, fun and involving way.


"We want to show there is a huge crew of women and men from all areas of science and engineering who work to make space missions possible. This is a chance to celebrate their endeavours, giving young people the confidence and curiosity to explore and ask questions long after they leave the science and discovery centres."
Destination Space will take place at World Museum, William Brown Street, Liverpool from October 2015.
Notes to editors
Additional Quote
Jo Johnson, Minister for Universities and Science, said:
"Tim Peake's space mission will be a huge moment in British history that we want young people all across the country to share in. I hope that schools and students will get involved with these fantastic projects to follow Tim's journey and learn alongside him as he flies into space to carry out experiments aboard the International Space Station."
About Destination Space
Twenty Science and Discovery centres have been selected to run Destination Space.
This two-year programme is funded by The UK Space Agency and aims to inspire young minds with the wonders of human spaceflight and the importance of Science, Technology, Engineering and Mathematical skills that make spaceflight possible. Find out about the team behind Tim Peake and his mission and the technology required to travel to, live on and safely return from the International Space Station.
The UK Association for Science and Discovery Centres (ASDC) is a national charity that brings together the UK's major science engagement organisations to play a strategic role in the nation's engagement with science. Within our membership are over 60 of the nation's largest publically accessible science centres, discovery centres, science museums and scientific bodies. Together our vision is for a society where people of all backgrounds and in all parts of the UK are inspired and fully involved with the sciences.
Every year in the UK, 20 million people of all ages and backgrounds choose to get involved with science at one of the UK's science and discovery centres or science museums. This equates to 385,000 people every week who come to our member centres to explore and discuss science in an involving and personal way. www.sciencecentres.org.uk
The UK Space Agency is at the heart of UK efforts to explore and benefit from space. It is responsible for all strategic decisions on the UK civil space programme and provides a clear, single voice for UK space ambitions.
The Agency is responsible for ensuring that the UK retains and grows a strategic capability in the space-based systems, technologies, science and applications. It leads the UK's civil space programme in order to win sustainable economic growth, secure new scientific knowledge and provide benefits to all citizens.
Tim Peake is the first British ESA astronaut. After more than three years of training with the European Space Agency's (ESA) Astronaut Programme, Tim was selected to live and work on the International Space Station (ISS) for six months. He will carry out a comprehensive science programme and take part in a European education outreach programme in the build up to and during his mission. Tim is one of six astronauts who was selected from among 8,000 hopefuls. His flight is expected to take place in December 2015.
Tim is working with the UK Space Agency to help build a strong programme of science. For example, Tim's flight could expand our international competitiveness in health research, innovative materials and processes, or help us to achieve important scientific results in plasma physics, exobiology or bone and muscle research.
In addition to hard science, Tim's combined programme helps to raise the profile of space with the general public and to inspire students and schoolchildren around the world. The UK will have 100,000 extra jobs in the Space Sector by 2030 and needs talented and creative women and men to design the future. We hope that some of the children inspired by Tim's mission could be the space scientists, engineers and developers of tomorrow.
The first ever British Astronaut was a woman named Helen Sharman who went into Space in 1991.
About World Museum
From the sea to the stars, a visit to World Museum reveals millions of years of the Earth's history through thousands of exhibits and hands on activities. Find out how humans have created the world we inhabit, from Africa to the Americas, Asia and Europe. Look out for the Ancient Egypt gallery where our collection is amongst the finest in Europe, bringing this age old civilisation to life. Discover the wonders of the natural world in the Clore Natural History Centre, packed full of mounted and preserved specimens of all types of animals, as well as rocks, minerals, fossils and plants. The Aquarium is home to fish from Australia to Anglesey, while an array of creepy crawlies live in the Bug House. Then, blast off on a spectacular journey through space and time as the universe unfolds around you in the Planetarium. Open daily, 10am-5pm. Free entry. liverpoolmuseums.org.uk/wml
About National Museums Liverpool
National Museums Liverpool comprises eight venues, including some of the most visited museums in England outside of London. Our collections are among the most important and varied in Europe and contain everything from Impressionist paintings and rare beetles to a lifejacket from the Titanic. We attract almost 2.7 million visitors every year. Our venues are the Museum of Liverpool, World Museum, the Walker Art Gallery, Merseyside Maritime Museum, International Slavery Museum, Border Force National Museum, Sudley House and the Lady Lever Art Gallery. liverpoolmuseums.org.uk