Launching soon: Afro Supa Hero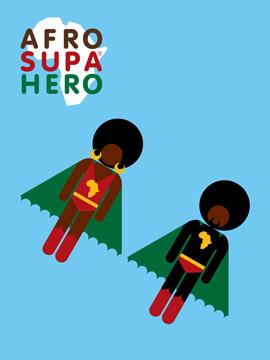 Exhibition of Black cultural icons in comics, action figures & games
Launching soon: the Afro Supa Hero exhibition, displaying independent creative director Jon Daniel's personal collection of Black pop cultural heroes and heroines of the African diaspora, through comics, action figures, memorabilia and games.

Opening at the International Slavery Museum in Liverpool on 13 May 2016, action figures of real-life icons Muhammad Ali, Dr. Martin Luther King, Jr and Nelson Mandela will stand alongside pop cultural figures including Mr. T and Lieutenant Uhura.

Afro Supa Hero explores the importance of role models and icons in combating the legacies of racism and discrimination, providing a snapshot of Jon Daniel's childhood journey to adulthood, shown through this very personal collection
In the exhibition, Jon introduces himself, his family and why he started collecting before his narrative guides visitors through five main sections:

• Real Afro Supa Heroes. Includes action figures of Muhammad Ali, Dr. Martin Luther King, Jr and Nelson Mandela. 2016 marks the 50th anniversary of the founding of the Black Panther Party, and this section features a pamphlet and membership card for the Party, as well as a Black and Brown stamp album. Ten editions of The Golden Legacy comic book series, first published in 1966 showing real-life icons from history, will be on display including volume 2, which focusses on Harriet Tubman, the African American Abolitionist who will soon be featured on the American $20 note.

• Inspirational Afro Supa Heroes. A range of nine action figures including Apollo Creed from the Rocky films, Mr. T and Star Trek's Lieutenant Uhura, alongside a Harlem Globetrotters board game from 1971, and a signed 7 inch Parliament single, 'Aqua Boogie'.

• British Afro Supa Heroes. A look at Blake's 7, Red Dwarf, Panini football stickers of 1979 and a very special edition of The Hornet spotlighting Michael Jackson.

• Invincible Afro Supa Heroes. Exploring Marvel and DC fictional superheroes including both rare comics and action figures of Meteor Man, The Falcon and Black Lightning. There is an additional Luke Cage action figure and further, rare comics featuring The Black Panther, Nubia - in the New Adventures of the Original Wonder Woman, Black Goliath, Brother Voodoo and Green Lantern.

• AFROSUPASTARS. Jon Daniel is an award-winning, independent creative director. This section is a collection of Jon's Afro Supa Hero collectible designware, including, bowls and badges. A range of Jon's merchandise, including superhero capes, will be available to buy at the Museum and online.
A new series of Afro Supa events to accompany the exhibition has just been announced, including talks and a range of family friendly crafts such as badge-making and super comic sessions: www.liverpoolmuseums.org.uk/supaevents

Jon Daniel said:
"Growing up in suburban Britain in the 1960s and 70s, there weren't many positive Black roles models or cultural icons to identify with. Instead, I looked to the African Caribbean culture of my family, and the African American culture of the US."
Jon began collecting comics, games and action figures featuring positive Black role models of history and fiction in his late twenties, feeling that they most strongly embodied the era of his childhood and his search for identity. There are more than 100 pieces in the collection today, collected over 22 years.

Dr Richard Benjamin, Head of the International Slavery Museum said:
"The legacies of transatlantic slavery and enslavement are an integral part of the Museum narrative. Through an exhibition on Black role models and iconography in popular culture, the Museum is able to approach this narrative in an innovative and thought-provoking way. One that highlights just some of the methods that can be applied to challenge issues such as racism and discrimination."

Stephen Carl Lokko, Curator, International Slavery Museum said:
"Afro Supa Hero is both retrospective and bang up to date. In this wide-ranging exhibition, visitors will see Marvel characters including Luke Cage and the Falcon, ahead of new film and TV releases later in the year.
"Liverpool visitors and Red Dwarf fans may also be pleased to find a there's copy of the Smegazine and an action figure of Dave Lister, both on display for the first time".

The International Slavery Museum highlights the international importance of enslavement and slavery, both in a historic and modern context. Working in partnership with other organisations with a focus on freedom and enslavement, the Museum provides opportunities for greater awareness and understanding of the legacies of slavery today. This includes highlighting positive Black role models from history and popular culture.

The opening date of Afro Supa Hero coincides with the launch of Liverpool's LightNight 2016. The Museum will be open late to mark this special occasion, and LightNight visitors will be among the first people in the city to see this unique and inspirational exhibition. From 6 – 7pm Jon Daniel is walking through some of his favourite pieces in Afro Supa Hero, to celebrate the opening of the exhibition. This will be accompanied by two family craft sessions from 6-8pm, where visitors can make badges based on 1980s superheroes or design their own comic. www.liverpoolmuseums.org.uk/lightnight

On Saturday 21 May Jon Daniel will also be taking part in Future|Journeys: Afrofuturism at WoWfest - a unique event looking at how to find new ways of expressing the voices of the marginalised, exploring race and gender as alternative technologies for creating new ways of co-existing. http://festival.writingonthewall.org.uk/

For more information about the exhibition, see #afrosupahero and www.liverpoolmuseums.org.uk/afrosupahero
Notes to Editors
International Slavery Museum
The International Slavery Museum opened in August 2007. It is situated on the third floor of the Merseyside Maritime Museum at the Albert Dock. It is the only national museum in the world to cover transatlantic slavery and its legacies as well as modern forms of slavery and enslavement. It is also an international hub for resources on human rights issues and campaigning.

Jon Daniel
Jon Daniel is a British-born, award-winning creative of African Caribbean heritage. Classically trained as a graphic designer, Jon has worked primarily as an art director for many of London's leading advertising agencies, in a career spanning over twenty-five years.

Creating effective and award-winning campaigns for a diverse range of clients including IBM, the COI, Drink Drive, the Inland Revenue, The Institute of Contemporary Arts, Philips, Virgin Direct and most notably NHS Careers, which was recognised at the time as the most successful recruitment campaign ever within the public sector.

He has co-founded and served as Executive Creative Director with two creative companies: Headland; a creative partnership. And ebb&flow®, a boutique branding company who produced work for a diverse range of corporate, cultural commercial and governmental clients including the Mayor of London and the GLA; Greenpeace; and groundbreaking charity, Keep a Child Alive, co-founded by internationally renowned recording artist Alicia Keys.

As one of the most prominent and recognised Black creatives of his generation, Jon has always been a strong advocate for the promotion of the rich historical legacy of African diaspora people. And when relevant, has taken every opportunity to ensure that the ingenuity and innovation of works by people of African diaspora heritage are rightfully recognised by the art, design and visual communications establishment.

This ethos is currently most evident in his unique role as a regular columnist for the leading UK design publication, Design Week, where his monthly column "4 Corners" celebrating pioneering, established and emerging creatives from the African diaspora has proved to be a popular fixture in Design Week's editorial repertoire since it was launched in January 2013.

But it can also be found in a huge body of work creating campaigns and branding for many of the UK's foremost Black organisations and individuals such as OBV; Ms. Dynamite; Colourful Radio and most recently providing the key design concept and creative direction behind the brand identity of the UK's first dedicated Black heritage institution, the Black Cultural Archives (BCA) opened in Windrush Square, Brixton in July 2014.

Now, alongside his commercial work, Jon has also begun to forge a reputation in the cultural arena. Curating the successful "POST-COLONIAL: Stamps from the African Diaspora" and "JA50" exhibitions with global stamp emporium, Stanley Gibbon; Creating a large pop-up outdoor display of his "Jamaicons" exhibition; as part of the Brixton Splash 2012 street festival, which he also rebranded the same year; and his AFRO SUPA HERO exhibition based on his personal collection of Black action figures and comic books, which was on display at the V&A Museum of Childhood in 2014,and will be exhibited at the International Slavery Museum, Liverpool from 13 May –11 December 2016. Based in London, he is married with two children.

Afro Supa® is a registered trademark owned by Jon Daniel. All Rights Reserved.

National Museums Liverpool
National Museums Liverpool comprises eight venues, including some of the most visited museums in England outside of London. Our collections are among the most important and varied in Europe and contain everything from Impressionist paintings and rare beetles to a lifejacket from the Titanic. We attract nearly 2.7 million visitors every year. Our venues are the Museum of Liverpool, World Museum, the Walker Art Gallery, Merseyside Maritime Museum, International Slavery Museum, Border Force National Museum, Sudley House and the Lady Lever Art Gallery.