Life on Board
New permanent gallery at Merseyside Maritime Museum explores life at sea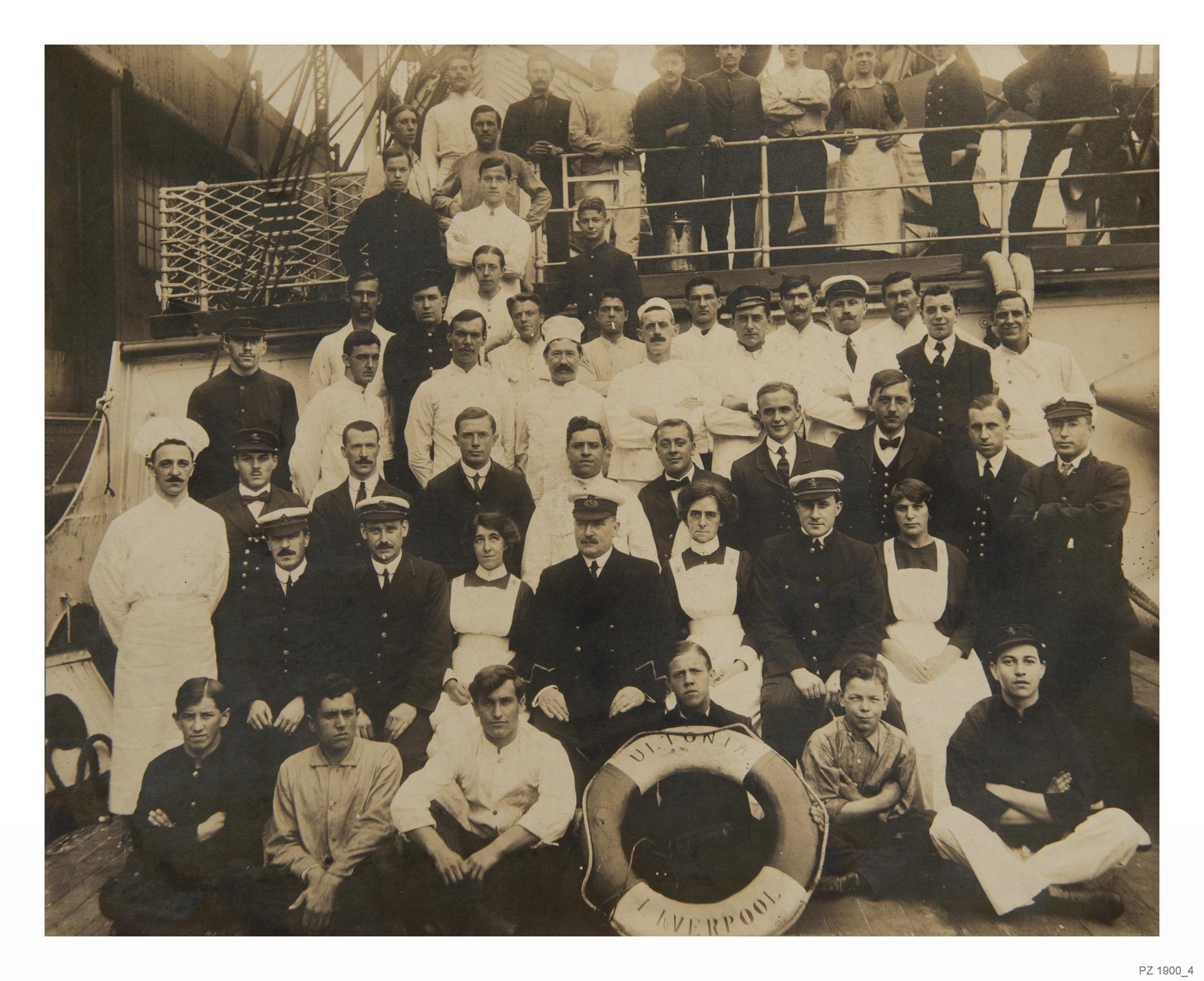 A new permanent gallery which reveals the dangers, joys, cultures and community at the heart of seafaring opens at the Merseyside Maritime Museum.
Life on Board shares the moving and fascinating stories of Liverpool's seafarers and passengers. From the merchant sailors who drove the city's prosperity, to glamorous tales of the people who sailed aboard leisure liners, the gallery comprises a diverse selection of voices and personal accounts told through digital projections and soundscapes alongside more than 250 objects.
Ellie Moffat, Lead Curator of Maritime History, said: "The many voices featured in Life on Board are the reflections and memories of real people and their fascinating lives. We're very grateful to those who've shared their experiences to create this new space and make it so rich in personal details which we know will resonate with visitors."
As Britain remains heavily dependent on shipping, with 95% of all goods travelling to us by sea, Life on Board also explores the unique environment and distinctive culture experienced by seafarers, and looks at the traditions of music, language, entertainment and art that have been shaped by global sailing throughout history.
Highlights include the recently conserved Arandora Star ship model, which hasn't been displayed since it was damaged during the Liverpool Blitz in 1940. The Museum holds one of the largest collections of ship models in the UK and the selection on show represents the many shipping companies that sailed in and out of Liverpool.
Life on Board also explores the style and comfort of passenger travel, looking at the 'floating palaces' of the early 20th century. It will consider how competition between shipping companies created a market for distinctive maritime design. Transatlantic liners were sumptuously styled, with interiors and fittings reminiscent of stately homes.
By the 1930s, architects and artists were employed to remodel the liners, representing a modern Art Deco style. The introduction of the new Tourist Third Cabin Class made sailing more affordable and, by the mid-20th century, cruise ships were enjoyed by many more people.
A number of striking Art Deco glass panels from the Mauretania II are on display. These would have graced the Cabin (first) Class Dining Room in the 1930s, representing the tradition of excellence that the newly merged Cunard White Star wanted to promote at the time.
Another highlight is the selection of outfits belonging to passenger, Gertrude Walker and her daughters, who regularly travelled by sea in the first half of the 20th century. Extracts from Gertrude's diary provide insight into her experiences.
The new gallery also explores the significance of campaigning within seafaring history, which has been pivotal in addressing a range of issues from environmental concerns to conditions for seafarers. There is a particular focus on the story of the MV Derbyshire; a bulk carrier owned by Liverpool's Bibby Line.
When MV Derbyshire was lost in a typhoon in 1980, 42 crew members and two of their wives perished. The Derbyshire Family Association (DFA) campaigned for twenty years to discover how their loved ones were lost, with the re-opened formal investigation concluding in 2000. Their campaigning has greatly helped to improve safety procedures for bulk carriers.
Life on Board has been funded thanks to a £200,000 award from DCMS/Wolfson Museums and Galleries Improvement Fund.
The gallery has also been supported by The Molly Tomlinson Bequests  and The Sir John Fisher Foundation. 
liverpoolmuseums.org.uk/lifeonboard
Notes to editors
About Merseyside Maritime Museum
Merseyside Maritime Museum was the first public building to open at Royal Albert Dock Liverpool more than 30 years ago in 1986, heralding the renaissance of Liverpool's iconic waterfront. Once a warehouse for high value goods like tea, silk, sugar and spirits, the Museum now explores Liverpool's maritime history through its large and varied collection. Highlights include a lifejacket from a Titanic survivor, beautiful ship models, maritime paintings, colourful posters from the golden age of liners and even some full-sized vessels. Two major exhibitions tell the stories and history behind the tragic sinkings of Lusitania and Titanic*, and their links to Liverpool. Visitors can also learn what it's like to be a customs officer and captain a high speed cutter to stop smugglers in the hands-on gallery Seized! the Border and Customs uncovered. www.liverpoolmuseums.org.uk/maritime
About National Museums Liverpool
National Museums Liverpool comprises eight venues, including some of the most visited museums in England outside of London. Our collections are among the most important and varied in Europe and contain everything from Impressionist paintings and rare beetles to a lifejacket from the Titanic. We attracted more than 4 million visitors in 2018. Our venues are the Museum of Liverpool, World Museum, the Walker Art Gallery, Merseyside Maritime Museum, International Slavery Museum, Border Force National Museum, Sudley House and the Lady Lever Art Gallery. National Museums Liverpool is regulated by the Department of Digital, Culture, Media and Sport (DCMS). Museums and galleries regulated by DCMS are exempt charities under Schedule 3 of the Charities Act 2011. Registered Office: World Museum, William Brown Street, Liverpool L3 8EN.