Into The Light: An Intervention by Nahem Shoa
Powerful depictions of British diversity to be positioned next to iconic artworks from the Walker Art Gallery's permanent collection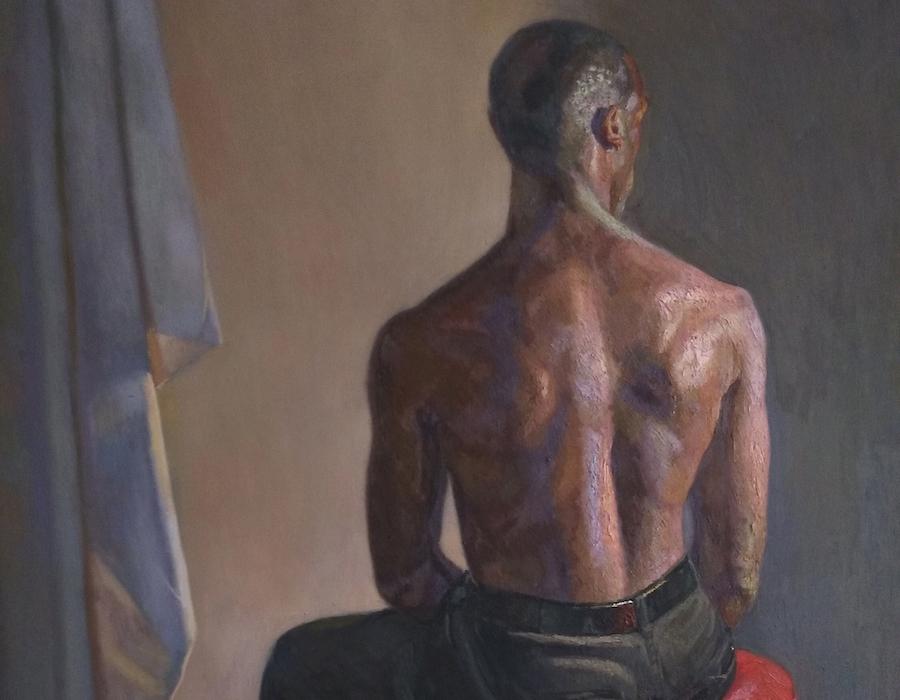 Into the Light by Nahem Shoa will be on display from 6 October 2023 until 31 March 2024 

Six of Shoa's ground-breaking portraits will be positioned next to iconic artworks from the Walker Art Gallery's permanent collections, inviting the viewer to see them from new perspectives 

Shoa's work deals with themes of race, identity, diversity and the objectification of women 
Liverpool's Walker Art Gallery will host a display of works by artist Nahem Shoa from 6 October 2023 to 31 March 2024, in an intervention encouraging visitors to look at iconic works from the Walker's collection with fresh eyes.  
Asking uncomfortable questions related to Transatlantic slavery, Liverpool's cotton industry and the objectification of women in art, Into the Light will see six of Nahem Shoa's paintings displayed beside famous artworks from the Walker's permanent collections – including artists such as Joseph Wright of Derby, David Hockney, Lucien Freud and James Tissot.  
Shoa's intervention also celebrates the Walker Art Gallery's newest acquisition by the artist, The back of Gbenga Ilumoka's Head. This ground-breaking and provocative painting is part of Shoa's pioneering body of work around themes of race, identity, diversity and the human condition. 
Born in London in 1968, Nahem Shoa's Eritean, Yemeni, Iraqi, Latvian and Scottish heritage plays a vital part in his work. His work champions the people and communities that have been made to feel invisible or othered throughout British history. 
Nahem Shoa said: "These interventions at the Walker are particularly important and relevant today because the prejudices and biases of British society continue to be reflected in the collections of public art galleries. The portraits I have selected celebrate my friends for their talent and individuality. I have intentionally chosen masterpieces from the Walker's collection that I love, and it is a dream come true to show my artworks alongside them. My intervention addresses the important issues that continue to face British society today, drawing them out of the shadows and into the light." 
Alex Patterson, Assistant Curator of Fine Art, National Museums Liverpool, said: "Shoa's powerful and expressive works celebrating British multiculturalism, friendship and community will make a wonderful and significant addition to the Walker's displays. 
"Their presence draws attention to the lack of diversity within the Walker's historic collections. These important interventions also challenge deeply rooted racism and stereotyping that continue to exist in our society. We are delighted that his groundbreaking painting Back of Gbenga's Ilumoka's Head will be joining the Walker's collection permanently." 
Other works on display will include Gbenga Ilumoka Looking Away, to be positioned next to David Hockney's iconic painting Peter Getting out of Nick's Pool (1966). Shoa's painting challenges stereotypes linking Black men to aggression and presents the subjects gentle and loving nature. The painting also explores a private world, in contrast to the liberating environment of Hockney's painting. 
Shoa's work Group Scene, Notting Hill, London will be positioned beside James Tissot's Portrait of Catherine Smith Gill and her Two Children (1887). The two group portraits reflect British society 120 years apart. Tissot's portrait shows Britain's once idealised version of white middle-class society whereas Shoa's portrait reflects on the rich diversity in Britain today, emphasising renewed values of family and friendship. 
Nahem Shoa's works will be in Rooms 5, 8, 9, 10 and 11 of the Walker Art Gallery from 6 October 2023 to 31 March 2024. 
liverpoolmuseums.org.uk/nahemshoa