Liverpool and Argentina unite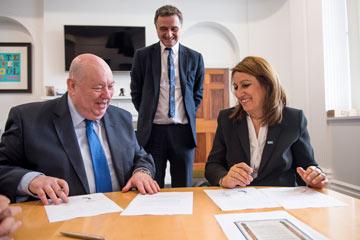 New agreement signed based on commitment to human rights
National Museums Liverpool has facilitated a visit to the city from Monica Fein, the first female elected Socialist Mayor in Argentine history.
On 22 February, Mayor Fein visited the International Slavery Museum and also met with Liverpool's Mayor, Joe Anderson, to sign a concord agreement between the cities of Rosario (Argentina) and Liverpool (UK).
The agreement is based on a combined commitment to human rights through the work of the cities' two museums, the International Slavery Museum in Liverpool and the Museum for International Democracy, led by the Fundación para la Democracia Internacional, in Rosario.
The concord pledges to establish a basis for cooperation between the two cities, encouraging tolerance, promoting inclusion and fostering human rights.
The Mayors will further agree to support the efforts of both the International Slavery Museum and the Museo Para la Democracia Internacional in their active campaigning work against modern slavery and discrimination.
Both Museums are represented on the Council of the Federation of International Human Rights Museums (FIHRM).
David Fleming, Director of National Museums Liverpool, said:
"This is a milestone for the city of Liverpool. Mayor Fein is a major player in Argentinian politics and we're proud that her visit to Liverpool to meet Mayor Anderson is a result of the international partnership work between two cultural organisations. It is testament to the power of our Museums which campaign actively to combat injustice and encourage social inclusion. This campaigning has never been more important than right now.

"International cooperation is critical for the development of culture and progression of human rights. We look forward to continuing our close work with the Museo Para la Democracia Internacional and its inspirational leader, Guillermo Whpei in Argentina and beyond".
Mayor of Liverpool, Joe Anderson, said: "The vision of the city of Liverpool is to be a distinctive global city. One of its key priorities is to empower people to enjoy the best possible quality of life and reach their full potential by reducing inequalities and improving life chances."
Mayor Fein said: "
The city of Rosario has an international outlook, and is working to create a city of solidarity which is inclusive and has equal opportunities for all. The city is developing its' public spaces to encourage inclusion and enhance relationships based on identity, participation and citizenship. The potential of working with Liverpool is compelling".
The International Slavery Museum is the only national museum in the world to cover transatlantic slavery and its legacies as well as modern forms of slavery and enslavement. It highlights the international importance of enslavement and slavery, both in an historic and modern context. Working in partnership with other organisations with a focus on freedom and enslavement, the Museum provides opportunities for greater awareness and understanding of the legacies of slavery today. This includes highlighting positive Black role models from history and popular culture.
For more information see www.liverpoolmuseums.org.uk/ism
Notes to editors:
International Slavery Museum
Albert Dock, Liverpool
L3 4AQ
Open daily 10am-5pm
www.liverpoolmuseums.org.uk/ism
Tel: 0151 478 4499
Free entry
International Slavery Museum
The International Slavery Museum opened in August 2007. It will be marking its 10th anniversary in 2017 with a special programme of events and activities. It is situated on the third floor of the Merseyside Maritime Museum at the Albert Dock. It is the only national museum in the world to cover transatlantic slavery and its legacies as well as modern forms of slavery and enslavement. It is also an international hub for resources on human rights issues and campaigning.
National Museums Liverpool
National Museums Liverpool comprises eight venues, including some of the most visited museums in England outside of London. Our collections are among the most important and varied in Europe and contain everything from Impressionist paintings and rare beetles to a lifejacket from the Titanic. We attract around three million visitors every year. Our venues are the Museum of Liverpool, World Museum, the Walker Art Gallery, Merseyside Maritime Museum, International Slavery Museum, Border Force National Museum, Sudley House and the Lady Lever Art Gallery. www.liverpoolmuseums.org.uk