Liverpool museums top charts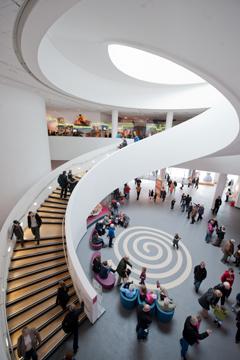 ALVA visitor figures for 2015 released
The Association of Leading Visitor Attractions (ALVA) has announced its members' visitor figures for 2015, which include National Museums Liverpool's eight venues.
With a visitor increase of 6% compared to 2014, the Museum of Liverpool still rates in the top five museums in the country to visit outside London, and is the number one attraction in the city.
The Museum is joined by Merseyside Maritime Museum in second place in Liverpool with a visitor increase of 5%, and World Museum in third place, having increased its figures by 8% and moved 10 places up the national chart.
2015 saw the opening Merseyside Maritime Museum's Lusitania exhibition marking 100 years since the tragic sinking of ship, and visitor figures at World Museum grew with the opening of a major exhibition focusing on the history of the Mayas; the only place in the UK where the exhibition could be seen.
As a whole, National Museums Liverpool, which also includes the International Slavery Museum, Walker Art Gallery and Lady Lever Art Gallery, is the most-visited group of museums in England outside London.
David Fleming, Director of National Museums Liverpool said:
"In 2015, more than 2.7million people visited our museums and galleries. It's incredibly rewarding to see visitors coming through the doors each day, and that we're part of a fantastic cultural scene in Liverpool, which draws people from far and wide.

"National Museums Liverpool makes a significant economic impact on the city region, with more than half our visitors coming from outside Liverpool. It's great to know people are visiting and re-visiting our museums and galleries to be inspired and excited by our collections and the exhibitions and events programmes that our staff work so hard to create."
The International Slavery Museum also moved up the national ALVA chart and is joined by the Walker Art Gallery and Lady Lever Art Gallery in the top half of the table, which includes 230 free and charging attractions such as museums, galleries, castles, zoos and historic houses across England, Northern Ireland, Scotland and Wales.
Notes to Editors
National Museums Liverpool
National Museums Liverpool comprises eight venues, including some of the most visited museums in England outside of London. Our collections are among the most important and varied in Europe and contain everything from Impressionist paintings and rare beetles to a lifejacket from the Titanic. We attract nearly 2.7 million visitors every year. Our venues are the Museum of Liverpool, World Museum, the Walker Art Gallery, Merseyside Maritime Museum, International Slavery Museum, Seized! (UK Border Force National Museum), Sudley House and the Lady Lever Art Gallery.
ALVA
ALVA's members are the UK's most popular iconic and important museums, galleries, palaces, castles, cathedrals, zoos, historic houses, heritage sites, gardens and leisure attractions. The 64 ALVA members manage some nearly 2,200 tourist sites and welcome more than 119 million domestic and overseas visitors each year: some 28% of the visits made annually in the United Kingdom.